The Outback Australia Travel Guide Is
A Guide To The Real Australian Outback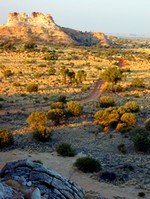 This Australian Outback travel guide is written by a real person, who has a very real life here out back.
That's why the guide covers a lot more than the usual tourist attractions in Outback Australia (although it covers those as well).
The Australia Travel Guide contains everything I've discovered and learned over the years, living and travelling in the Outback of Australia: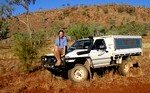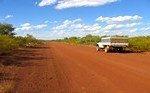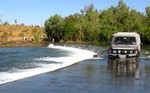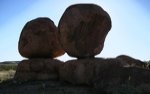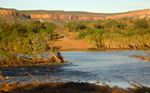 You will see that the Australian Outback is not all desert (with one big rock and a few kangaroos...), far from it. And it's not as dangerous as they make you believe.

Learn about our snakes, discover the myths about our spiders, and find out how to stay alive amongst our crocodiles.

Read how to avoid the tourist crowds even at the most popular and overrun destinations.

And most importantly, find all those secret places that only the locals know about...
Thirteen Years In The Australian Outback And Counting...
The Australian Outback has been my home for over thirteen years. I get seriously homesick every time I try to leave. Homesick although I'm not originally from Australia...
I arrived here as an Australia traveller myself, backpacking up and down, around and across the continent, usually on my own (though I hadn't planned it that way...)
What happened then was that I fell hopelessly in love with the Outback, and stayed.
I created the Outback Australia Travel Guide to show you why, and to help you with the preparation for your own trip.
The Australian Outback is more beautiful than you ever imagined, to travel here gives you a sense of space and freedom you never thought possible, and it is nowhere near as dangerous as they try to make you believe.
All you need is enough information, and a reasonable measure of common sense. I like to think that I can offer you plenty of both, so lets get started.
How to find your way around
the Australian Outback (Guide)
The navigation column to the left (top) contains links to all the major sections of the Outback Australia Travel Guide, and I think the titles are self explanatory. You also find links to all the same sections at the bottom of this page, together with a short explanation of what you can find in each section.
At the top left of each page, right below the Australian Outback picture, you find a "breadcrumb" trail that tells you where exactly you are within the site. If you ever get lost just click "Home" and you'll end up back here.
If you are looking for specific information you have two options.
One is to use the Outback Australia Travel Guide Site Map which has a comprehensive list of all pages of this Australian Outback guide. A link to the site map is on the bottom of each page.
The other and maybe easier option is to use the search box below the navigation on your left. You find it on every page. To use it just enter the precise word or term you are looking for and click "Search". You will be taken to a list of pages that contain your chosen word or phrase. And if all else fails you can even use that box to search the web.
Subscribe to my RSS feed and you will always be notified of new articles. (No email address needed, click here if you don't know what RSS is.)
Let others know about this site by bookmarking it at your favourite social bookmarking engine:
---
There is a lot more here than you will be able to see on one trip. So before you plan your travel to Australia in detail take some time and explore your options.
Explore this Australia travel guide, and when you set out for the big Australian Outback trip you will know exactly how and where you want to go.
I hope I will make Outback Australia come alive in your imagination, and when you visit I hope you will love it as much as I do.
Your Outback Australia Travel Guide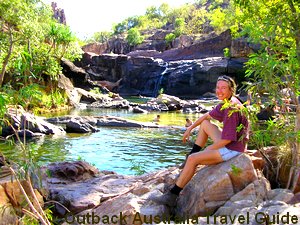 Outback Australia Travel Guide
Table Of Contents
A Visa For Australia: Requirements, Application Forms, Advice
How to get your visa for Australia, which Australian visa to get and where to get it. Online and paper applications explained.
Cheap Australia Fights
Where is the best place to look for cheap Australian flights? Should you book online? Are there any tips and tricks?
Travel In Australia
Advice and information about tours and coach travel, trains, car rentals and other ways to travel around Australia.
Campervan Hire Australia - Motorhome Hire Australia
What are your options? What do you need to know about campervan hire in Australia? And why is it the only way to go?
Train Travel In Australia
Rail travel in Australia is a great way to cover long distances, especially in the Australian Outback. Find out why, how and where to get on board.
Travel Around Australia On A Budget
Budget travel around Australia is possible, it can be very cheap indeed, even in the Australian Outback. This page shows you how to travel around Australia on a budget, especially if you bring some time.
Australia Work Visa - What An Opportunity
The Australia Work Visa lets young people holiday in Australia for one year and pay for it by working here. Who's eligible? Where do you find work?
The Australian Outback
Answers to all your questions about the Australian Outback, lots of travel information, background information, pictures... This is the main page for all Outback related articles.
Outback Australia - Cities And Towns
No matter if you are looking at a three week Outback desert crossing on camel back, or if you prefer the air-conditioned comfort of a big coach, you have to start somewhere. And somewhere will most likely be one of these cities or towns.
Alice Springs, Australia - Heart Of The Outback
Alice Springs in Australia - THE place to go if you want to see all the famous Australian Outback attractions.
Find The Perfect Australian Outback Tours
Browse a huge range of Australian Outback Tours and request free brochures.
Kimberly Australia, The Western Australia Kimberly Region
A guide to the Kimberley region in Western Australia, a remote wilderness sometimes referred to as the Outback of the Australian Outback...
Ayers Rock Australia - Uluru
Make sure that your visit to Ayers Rock in Australia doesn't end in disappointment. This is what you need to know about Uluru.
Kakadu National Park - Magnificent Wilderness in Tropical Australia
Kakadu National Park is a must see for anyone visiting northern Australia, and this section of the Australian Outback Guide is a must read for anyone visiting Kakadu.
Litchfield National Park, Australia, Northern Territory
Litchfield National Park in Australia's Northern Territory has so much to offer: read about the walks and waterfalls, swimming, camping, how to get there...
Katherine Gorge Australia - The Best Ways To Explore Katherine Gorge
Katherine Gorge is a jewel in the harsh Australian Outback. Find out how to make the most of your visit to Katherine Gorge. Canoeing, boating, swimming, hiking, camping and more in Nitmiluk National Park.
Australian National Parks, NT and Western Australia National Parks
A virtual tour through Australian national parks. Travel information and pictures for national parks in the Northern Territory and Western Australia.
Australian Outback Animals
Australian Outback animals are a varied and unusual bunch. Here is a guide to pictures, videos and information about the animals of the Outback.
Australia Outback Pictures - Outback Photo Gallery
A gallery of Australian Outback Pictures. The photos are grouped by regions and themes, and come with explanations and links to more information about the area.
Australia Outback Videos And DVDs
This page has two beautiful Australian Outback videos to watch right here, a directory of video clips, and a directory of full length Australia travel DVDs.
Unique Australian Animals - Cuddly and Scary Outback Creatures
Our unique Australian animals: Stories and photos of fascinating and sometimes dangerous animals in Australia.
Australian Wildlife - A Picture Gallery Of Outback Animals
The Australian wildlife is one of the most fascinating aspects of the Outback. Start in the pictures gallery to learn more about the Australian animals.
Australia facts, population, climate, food, lingo...
Information on the most requested Australia facts. Read about our population, the climate, language, food... and life in Australia in general.
Travel Guide Australia, Site Map
This site map should help you to find your way around the Outback Australia Travel Guide, and to locate the information you are looking for.