Please Share This Site With Others
If you found this site helpful, please help other travellers to find the information as well.
This is a one woman operation, without the marketing specialists and advertising budgets of the bigwigs. So it would be great if you could help spread the word and help other travellers to find this site.
When you talk to friends or family tell them about "www.TheOutbackGuide.com". (Easier to remember then the real address, and it will redirect them here.)
Do you have a website or blog? Please consider adding a link to this site. Any page that you particularly enjoyed? Link to that page. You can even use some of my pictures for that (more on that below).
Do you visit travel forums? Tell people about this site, and give them a link.
You can easily link to this site by using the simple html code that I have prepared for you below. It only takes a minute or so, and your visitors will appreciate it. I'd like to think that your visitors will enjoy what they find here and will be grateful. And they will return to your site knowing that they can count on you to provide them with helpful information.
Thanks in advance!
How To Share This Site
It' easy. Choose which link you'd like to use. Highlight all the text in the box, just right click inside the box and choose "Select All" from the pop up menu. Then just copy and paste the code in the box to anywhere on your website or blog.
All codes will make the links open into a new window. So, when the visitor closes that window, the current window (yours) will still be open underneath it. After all I don't want to steal away your visitors...
Codes for text links
Outback Australia Travel Guide

A travel guide to the "real" Australian Outback
with lots of tips, photos, stories and insider information.
Outback Australia Travel Guide
Codes for pictures with links
There are several pictures in different sizes. All are hosted on my site, so there is nothing to upload for you. Just place the code on your site or blog and the picture will appear.
Some legal stuff here: The copyright notice and the link has to stay with the picture! Be aware that you can't use any other pictures from my site. All of them are copyright protected! Also, not all of them are mine, someone else owns the copyright, so you don't even know who will be suing you when you steal them...
If there is another picture that you really like just ask, you never know your luck. It might just be available...
Ok, here's a start. More will be coming soon.

Australian Outback Colours © Outback Australia Travel Guide
Sunset On Outback Beach © Outback Australia Travel Guide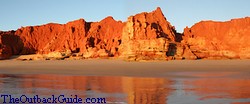 Sunset On Outback Beach
© Outback Australia Travel Guide
Boab Tree
© Outback Australia Travel Guide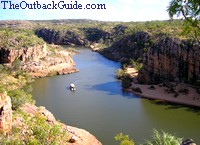 Katherine Gorge
© Outback Australia Travel Guide
Barramundi Gorge In Kakadu National Park
© Outback Australia Travel Guide
The Secret Rockhole In Kakadu NP
© Outback Australia Travel Guide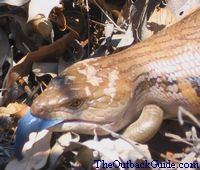 Blue Tongue Lizard
© Outback Australia Travel Guide
Hope you like them. Let me know if you have any problems with the code, or need help, or a different size etc.
As I said, I'll probably be adding more, so feel free to make a wish :).
---