Broome Western Australia

Attractions Near Broome - The Kimberley
Broome in Western Australia is great, just like the rest of the Kimberley or even the Northern Territory, when it comes to "getting away from it all".
Australia's North West is definitely not overrun with tourists like the east coast is. And that is not because it has less to offer. The most marketed regions are not necessarily the most beautiful...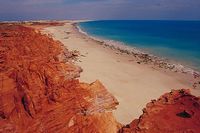 The best example is the little known Kimberley in Australia...
In Broome, Western Australia, and the Kimberley you can have the best of both worlds. The tourism industry is well developed. Everything you need is here.
All it takes is an adventurous spirit and a four wheel drive (Not that adventurous? Join a small four wheel drive tour...), and you will discover why words like last frontier, remote, wilderness, pristine, but also stunning, awesome, fascinating etc. are used whenever people talk about Australia's North West.
On this page I will introduce you to the area north of Broome, Western Australia's hidden gem in a remote corner of the Kimberley...
Attractions near Broome - Western Australia
The Dampier Peninsula
This is a unique and beautiful area north of Broome in Western Australia (map). To me the Dampier Peninsula is the main reason for visiting Broome... A spectacular coastline, swimming and snorkeling, peaceful holiday retreats, the best fishing, pristine wilderness... and best of all: no crowds!
You will also find Aboriginal communities that welcome interested visitors and are happy to share their knowledge about bush foods and medicines, traditional hunting and fishing techniques and their special relationship with their land.
What you need to know:
You will need a four wheel drive to explore the Dampier Peninsula. All the roads here are unsealed, sandy and corrugated. That also means you can't take your caravan. It's important to be aware of the extreme tides that the area experiences. Best get a tide chart from the Broome Visitor Centre before you venture north...
Please realise that you will be travelling through Aboriginal communities. Respect the culture and privacy of the people that live here. That means observe the no entry signs on private roads! They protect law grounds, burial sites and other areas of traditional significance. Camping on the peninsula is prohibited except in designated areas.
If you'd rather leave the planning and driving to someone else see the staff at the Broome Western Australia Visitor Centre (on the corner of Bagot St and Broome Hwy, phone 61 8 9192 2222). They will help you to find the best tour for you.
Places To Visit And Things To Do
The Northern Beaches can be visited in a day trip from Broome, but you can also camp here for up to three days. Free. The Northern Beaches are becoming increasingly popular with Broome residents and tourists. The downside is the impact of visitors on the wader bird population in this area...
Bard Creek and Willie Creek are popular locations for creek fishing. The pearl farm on Willie Creek has already been mentioned on the previous page about Broome attractions.
Beagle Bay is located about 120km from Broome. It is an interesting Aboriginal community. Originally it was used as a home for separated Aboriginal children. Now these very children administer the community. By the way, you need to contact the office on arrival and pay a fee of A$5 (as of 2005) to enter the community.
The community is mostly known for the Sacred Heart Church. It was built entirely by hand from 1914 - 1917 by the Pallotine monks and local Aboriginals with raw materials from the area, including the beautiful altar decorated with mother-of-pearl shell.
Middle Lagoon, 170 km from Broome, is one of the sleepy holiday retreats I mentioned. Accommodation is basic. Beach shelters, cabins and camping is available and guests need to be semi self-contained. This is for nature lovers. For people who want to wake up and hear only the sounds of waves and birds and cicadas, see the beach from their bed, and only be faced with the hard decision whether to go swimming, snorkelling, fishing or for an early morning stroll along the magnificent beaches...
Lombadina, 200 km from Broome, a Western Australia Aboriginal community, has embraced tourism. Accommodation is available in units but camping is not allowed. The entry permit is available on arrival and costs A$5 (as of 2005).
The local mission church is a true masterpiece. Built of corrugated iron on the outside (very Kimberley style!) it is lined with paperbark on the inside and supported by bush timbers.
Once a mission settlement Lombadina is now aiming for self sufficiency as a working Aboriginal community. Lombadina offers several day or overnight tours for fishing, mudcrabbing, whale watching, bush walking and more. You can also find a general store, a bakery, and an artefact and craft store.
Cape Leveque is the far end, the tip of the Dampier Peninsula. This is where the road ends, 220 km or three and a half hours from Broome.
Kooljaman at Cape Leveque offers different levels of accommodation. You can choose from safari tents, beach shelters, units or use the camping facilities. Tours, dinghy hire, boat charters and scenic flights are available. There is even a seasonal restaurant and a kiosk. Bookings are essential at Kooljaman as it does get quite busy...
Be prepared: everywhere on the peninsula you will be faced with these difficult decisions: swimming or snorkelling, fishing or relaxing, boat cruise or Aboriginal guided walk, tranquil beaches or fascinating bush wilderness...
And everywhere you look you will see turquoise waters, white beaches and red rocks fringing one of the world's most pristine wildernesses. So luckily it doesn't matter much what you decide, you can't go wrong here... The hardest thing to do will be leaving...
You heard negative things about Broome? You might be interested in this article: Broome, Western Australia - Overrated Holiday Destination?
---