Australian National Parks

Pictures And Travel Info For National Parks In Australia
There are so many Australian national parks, and the Australian national parks section of this guide has grown so big, I had to turn this page into a small site map.
Below are links to all the information about Australia's national parks that's available on this site.
Here is a summary page: National Parks In Australia. It has a short intro and description for every national park.
Australian National Parks In The NT
Kakadu National Park
The biggest of the Australian national parks, three hours south-east of Darwin, is well known by name. But no matter how many photos you have looked at, and how many times you have watched Crocodile Dundee, you ain't seen nothing yet.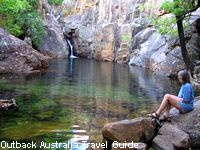 It would be a shame to race through Kakadu National Park on a one day trip, and it would be a shame for me to race through on only one page.
I have devoted a whole section to this magnificent park, and still I feel it deserves more. I will be visiting Kakadu again and again, and I will be adding more information here.
Litchfield National Park
This small Australian national park has long been overshadowed by its huge neighbour Kakadu. Not any more...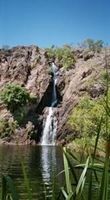 Katherine Gorge
This is my favourite Australian national park and in this section you can find out why.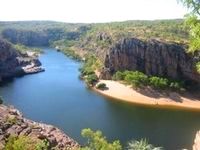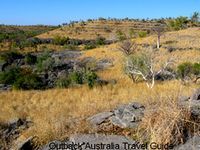 Gregory National Park
This rugged Australian national park is little known by tourists but popular with locals.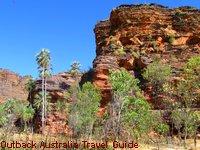 Keep River National Park
Small park, big scenery. This Australian national park is located on the border of the Northern Territory and the Western Australia Kimberley.
Uluru - Kata Tjuta National Park (Ayers Rock)
Ayers Rock is of course the most famous of all Australian national parks. The popularity brings commercialism and huge numbers of people, and both can spoil the experience. The articles in this section try to help you avoid that.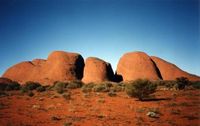 Australian National Parks In WA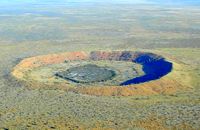 Wolfe Creek National Park
Previously receiving little attention, this park has been made famous by the Wolf Creek murder movie.
Right now Wolfe Creek National Park is the most famous Western Australian national park.
All the following links will take you to my other site, the Kimberley Travel Guide, where the West Australian national parks are covered in detail. The links will open in a new window. (Hold down your CTRL key and click if your pop up blocker prevents them from opening.) Once you have finished browsing the Kimberley Travel Guide just close that window to return to this page.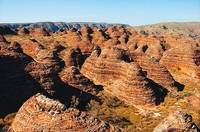 The Bungle Bungles
Also known as Purnululu National Park, this world heritage listed Australian national park is one of the main tourist magnets in the Western Australian Kimberley.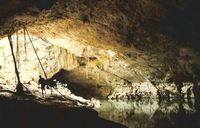 Tunnel Creek National Park
A small park, but lots of fun. Provided you remembered to bring a torch...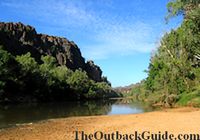 Windjana Gorge National Park
This popular Western Australian national park offers only one walk, which follows the river in between the towering gorge walls.
It's one of the best places in Australia's north to spot the shy freshwater crocodiles. You will see dozens of them...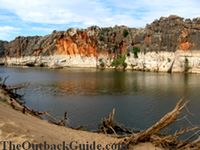 Geikie Gorge National Park
Only a few kilometres outside the small town Fitzroy Crossing this national park is known for the colourful cliffs of the gorge.
It's the only bigger national park in Australia's Kimberley that you can access via an all sealed road.
---
Return from Australian National Parks to the Outback Australia Travel Guide home page.