Travel Australia - Getting Around

"Travel Australia by bus, plane, train, car..."
To travel Australia - all of Australia - would take many months. The major attractions for Australia travellers are hundreds, if not thousands of kilometres apart...
Most people want to travel to the Australian Outback and the reef and see some of the cities on the coast.
And then there are the amazing beaches, the rainforest, the wildlife, Ayers Rock, Kakadu...
Just have a look at the video below and you will agree, you can't miss any of it.
To travel Australia means you have to cover some ground... This page tells you how to best go about it.
This is an awesome country with an amazing variety of attractions, and you'd like to see as much as possible, right? But remember you are on holidays, and you don't want your holidays to become stressful and hectic as you race from one location to the next.
Some planning is in order.
I will look at the different possibilities you have for travel in Australia and the Australian Outback, and at some decisions you have to make:
Travel Australia - Flying or Driving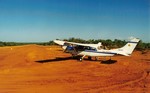 The first thing you need to decide is, do you want to fly or drive? I can't emphasize this enough - travel in Australia means huge distances.
To find the driving distances between major Australian cities and in regional areas go here.
If your time is limited it is a good idea to pick two or three locations to visit within Australia, and fly between them.
The Australian airline Qantas has partnered with many international airlines. No matter which airline you prefer, you should be able to book a flight package to Australia with them that includes one or more domestic flights.
If you have a little more time - and I hope you do - then you might prefer to stay on the ground.
(Find information for driving in Australia here and read about driving in the Australian Outback here.)
You will find detailed information for particular drives in the relevant regional sections of this guide. The big interstate or transcontinental drives are a great experience. But as I said, you really have to have the time...
But people on a tight schedule need not miss out. The best way to travel Australia in the course of several weeks is to combine one or two inland flights with one or two trips in a rental car.
For example if you arrive in Sydney you could fly to Ayers Rock and fly to Darwin from there. Drive a rental car from Darwin through Kakadu, Katherine Gorge, Litchfield National Park and back.
Or drive all the way across the magnificent Kimberley, and finish your trip on the pristine beaches of tropical Broome.
Or drive from Ayers Rock to Darwin, then fly to the Great Barrier Reef. Or any other combination...
Car rental is available everywhere, and the big companies all have one way hire deals. You can rent a small car to explore the city and the outskirts on your own terms and schedule, or a 4x4 to head for the Australian Outback.
The top choice for travel around the Australian Outback would have to be four wheel drive campervan hire. No need to worry about or pay for accommodation. Pick up your car in Sydney, and drop it off in Broome, at the opposite end of the continent... 6 weeks later. Sounds too expensive? Read on.
When I first came to Australia I was a student on a break from uni, so I had plenty of time. Read how I travelled around Australia back then - the same way backpackers travel Australia today.
(And if you want to know more about how I ended up here, how I built this site, and how I make time for travel in my life today, read the page about me.)
Travel Australia - Tours
If you don't want to drive and plan all the details yourself you can join an organised tour. They come in all shapes and colours. Buses and groups of all sizes, trips of any length, focusing on depth of experience or on distance covered...
One interesting option for the Australian Outback are tagalong tours. You drive your own (or a rental) vehicle, following an experienced guide. No need to plan the route, to find out what's worth seeing, what the road conditions are like etc. It removes a lot of questions and hassles. You will meet great people, see fantastic country, and you are not herded and carted around in a bus...
Most likely you will also gain enough knowledge and four wheel driving experience to be able to set out on your next trip by yourself. So if you're adventurous, but a bit unsure about going it alone, tagalong tours are for you.
Another type of semi organised tour are the self-drive packages offered by several operators. You will be driving on your own, but you are supplied with all the necessary instructions, directions and maps, even the camping equipment, and your schedule is already worked out for you. It takes a lot of hassle out of the planning of such an adventure but leaves you with the highest possible amount of freedom. Self-drive tours would be my choice if I didn't live here anyway...
Coach or Bus Travel in Australia
If you prefer to travel Australia independently and don't want to or can't afford to drive yourself, you can travel around Australia by coach. Greyhound services all of Australia. Yes, the Outback, too.
They have a selection of passes that include a certain number of kilometres or number of trips and more. You can look at your options and make bookings on their website. Coach travel is cheaper than flying, unfortunately you still won't see much of the country.
Train Travel in Australia
Australia also offers three really great train journeys. The latest addition is the Adelaide-Darwin trip on the Ghan. This amazing 2979km trip crosses the Australian continent from south to north and has received a lot of publicity since the track was finally completed in 2003.
The Indian Pacific from Sydney to Perth covers even more distance. 4352km, including 478 km of straight railway tracks, the world's longest straight track section.
The Overland was the pioneer, the first inter-capital railway track in Australia. The historic route between Melbourne and Adelaide was opened in 1887!
You can find out more about these trips and others, including time tables and fares, on the page Train Travel in Australia.
---
Read about Budget Travel around Australia
Read about Campervan Hire in Australia
Return from Travel Australia to Outback Australia Travel Guide home page