Outback Australia Travel Blog
This "Australian Outback Blog" page will always show you the latest additions and updates I made to the Outback Australia Travel Guide.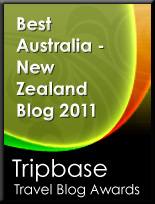 If you subscribe to my RSS feed the information on this page will be delivered straight to your RSS reader.
No need for you to come back here and check for it.
Just right-click on the orange RSS button below the navigation on the left and then paste the URL into your RSS reader.
Or click on the My Yahoo! button, My MSN or Add to Google button if you keep a personalized home page there.
Not sure what RSS is all about? Find out here. Once you get started with it you will be amazed at what you can do...
Finding unskilled mining jobs in WA
This page is a bit unusual in that it isn't for travellers. Or rather I should say not for tourists, because for long term travellers it may well be very interesting!
In the section on this website about financing your travels by working in Australia I wrote about the possibility to get temporary jobs in the mining industry, which is VERY lucrative. And that page became very popular also with Australians and New Zealanders looking for permanent mining jobs.
I also have two reader pages on the site where people looked for advice on finding mining jobs. No other pages on my site have received anywhere near the same amount of comments! All comments are from people looking for help with getting a mining job.
Hence the new page. I hope it helps!
---
Go to Outback Australia Travel Guide home page