Longest drive out of the Chambers Pillar
by jmorning
(Sydney)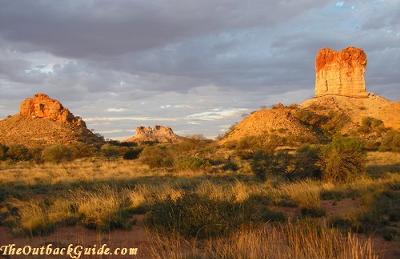 Chambers Pillar
Well, this is all shameful story. However, I want to share with visitors of this website, especially with people new to 4WD vehicle and unsealed road.

I by myself arrived at Alice Springs airport on 17/01/09 and picked up Nissan Patrol. The model might be the most common in the area's hired car market. At some places there are so many Nissan Patrols that you may think it's a kind of vehicle club day.

The model is "part-time" 4WD and has "manual" locking-hub. I learned this after coming back to Sydney. (Now you can guess what happened to me.)

I was (am) total stranger to 4WD vehicle and the only reason I hired a 4WD was that it's too painful to drive on unsealed road with conventional car (experience from driving around Broken Hill region for a couple of days).

It started raining from the day I arrived, and still raining to the day (19/01/09) I was heading to the Chambers Pillar (Yep, getting serious).

Last 45 kms driving from Maryvale to the Chambers Pillar was a really hard job for me. Dips, waters, muds... Anyway, I managed to get to the destination and had wonderful time there. I was the only camper at the site. No more rain, no other people and so many stars.

The next morning, on the way from the Chambers Pillar to Maryvale, my car got bogged in mud. From 8 o'clock, I spent four and a half hours digging and pouring something (stones, branch, grass, towel..) under wheels to find of no use.

(In the meantime I found the car was at 2WD position. So I transmitted the lever to 4WD position).

I should make a decision. No car passed the road from yesterday and never knew when the next passing would be. I checked the distance gauge and do some calculation to find the location was only 12~16km away from Maryvale.

With several bottles of water in my backpack, I walked to the mid-day sun and flies' cloud. It took 3 hours' walk and 1 hour's rest to get to Maryvale. I guess it's less than 12 km because I walked very slowly (my feet were in bad condition after bungle in the mud).

I came across three locals in a 4WD and asked them for help with my ever-politest english (of course offering some reward). I expected some kind of hard-boiled rope action, however, these kind people drove my car out of the mud in one second.

Of course before that they "LOCKED" the front wheels. Which meant until then it's not really a 4WD and what I did was eagerly deepening the bog with the rear wheels.

(Do you remember the advice from B? "If you have no experience with 4x4 and are renting a car, make sure you know how to engage the four wheel drive.") After two and a half hours, I joined a blessed sealed road.

Yes, this is my shameful story. Lessons? You will find them in the "Driving Through The Australian Outback" section of this site. The saddest thing is I read the section very carefully before my trip :)

* Please excuse all the faults in the article. I'm not from an English speaking country.

---
Return to Outback Australia Travel Guide home page