Chambers Pillar

"Real" Australian Outback Near Alice Springs
Chambers Pillar is easily the most photogenic rock formation near Alice Springs. (Ok, ok, there's Uluru to be considered, I realise that...)
I bet, if Chambers Pillar was a bit more conveniently located it would be a huge tourist attraction.
But it's a bit out of the way, down a rough road, with only a rough bush campground at the end, so there are hardly any people. And that can be a huge attraction in itself.
I know that a lot of people who visit Alice Springs do of course want to go and see Uluru. But there are also many who say the one thing they want to do while here, is camping in the Outback.
And as far as real Australian Outback experiences near Alice Springs go, Chambers Pillar is amongst my top choices.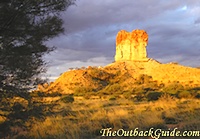 The Chambers Pillar Historical Reserve
Chambers Pillar itself is a dramatic red and yellow sandstone column, towering at the top of a small hill in an endless plain in the middle of nowhere. For the explorers of the early days it was a very important landmark. Obviously. It's pretty hard to miss.
John MacDouall Stuart was the first white person to see it and gave it its name, after his sponsor and friend James Chambers. Plenty of other explorers and travellers followed.
Messages were often buried at the foot of the pillar, and many of the early visitors carved their names into the soft sandstone.
(The examples below are from John Ross, the leader of the exploring party for the Overland Telegraph Line construction, and Alfred Giles, his second in command.)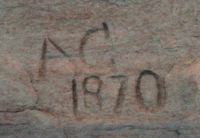 Look at the pillar today and you're looking at a who's who of the early days of the Australian Outback.
There is a shelter with displays that show photos of the signatures of the most famous personalities and that tell some stories associated with them.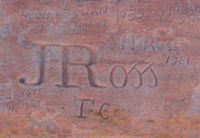 Unfortunately there were also lots of recent visitors that felt the need to leave their scribbles, desecrating this important and impressive historical document.
Why people think they're so significant that their initials ought to appear next to those of John Ross and Alfred Giles is beyond me. But I do know that there are plenty of morons out there, so let's move on.
Walking And Camping In The Reserve
Chambers Pillar is not the only interesting rock formation here. Others are Castle Rock, Window Rock and Eagle Rock. Like the pillar they are sandstone mesas. (A mesa is the left over core of hard sandstone, after the softer earth of a hill has worn away. You see mesas all through the Outback.)
There are several walking tracks, all starting from somewhere near the camping area.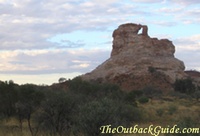 One track leads you around Castle Rock, and has a side track to Window Rock. The other track leads from the campground to Chambers Pillar (you could also drive that part) and then around the whole pillar.
It includes a sunset viewing area, and a side track up the hill to the foot of the actual column, to view the carvings.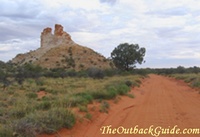 Of all the rocks in the reserve Chambers Pillar has the most dramatic shape and also the most dramatic colour.
to really see and appreciate the colours you have to be here in the late evening and early morning. During bright daylight it looks a bit plain.
But during sunset it's as if all the rocks are on fire and glow from the inside. It blew me away. (Sunrise is similar, but you only get a few seconds of the glow.) At night you can hear the dingoes howl and there is no human noise anywhere.
We were here in early May and we had the whole place to ourselves. It was awesome.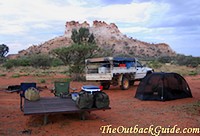 The campground is basic but spacious, and beautifully located between Chambers Pillar and Castle Rock, with views of both.
There are no showers, only pit toilets, picnic tables and wood barbecues. Collecting fire wood inside the reserve is not allowed so bring your own.
I think the camping fee was $3.30 per person, paid on the honour system. You just put the change into a provided envelope and that into a slot.
Getting There From Alice Springs
Chambers Pillar is about 160 km south of Alice Springs and to get there you definitely need a four wheel drive. (I think it's a great drive for people who are inexperienced, because although it looks and feels very adventurous, it doesn't actually require any skill, just a reasonable car.)
Initially you follow the Stuart Highway for about 10 km, and then you turn into the Airport Road, and from there straight away onto the Old South Road.
The Old South Road is unsealed, but apart from the corrugations it's not too bad, and the scenery you drive through is captivating all the way. I find the drive alone is worth the trip.
(There is also another historical site on the way that's worth checking out: the Ewaninga Rock Carvings Conservation Reserve is situated about 20 km along the track. What you find here are the same kind of petroglyphs that also see at N'Dhala Gorge and at the little known Roma Gorge near Redbank Gorge.)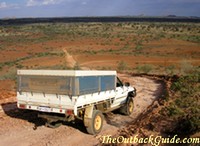 Maryvale Homestead is about 115 km from Alice Springs and has fuel and stuff like lollies and soft drinks. After the homestead the road gets narrower and narrower and rougher.
The first time you'll need a 4x4 is when you drive over this range. Actually, you won't need the four wheel drive, but you will need the low range gears that a normal car doesn't have.
Once you carefully made your car walk down on the other side you have to climb a series of blind sand dunes, and you will need 4wd here. The dunes are not difficult to negotiate, but they are totally blind and the track is narrow, so you have to be very slow and careful.
Signs recommend that you use UHF channel 10 to check for oncoming traffic, but obviously that only works as long as both vehicles are equipped with UHF. I for one am not. A flag pole would help, too, but I don't have that either, so I just crawled up those dunes very, very slowly and kept my fingers crossed that there wasn't some idiot barreling up the other side... And there wasn't.
And that's all I can tell you about Chambers Pillar. Hope you like it and you don't run into any idiots either!
Read about other Tourist Attractions In Alice Springs
---
Return to Alice Springs, Australia index
Return from Tourist Attractions in Alice Springs to Outback Australia Travel Guide home page