Tourist Attractions In Alice Springs
There are so many tourist attractions in Alice Springs or nearby, you can easily spend a few weeks here.
In fact, many of the famous Australian Outback tourist attractions are in the Alice Springs area.
Most sources recommend to take three to five days to see Alice Springs, including Uluru and maybe Kings Canyon. If that's all you have, well, then that's all you have.
But to really do the place justice and to experience some of the real Australian Outback you would need more time. At least three days for the town itself, then another week for the MacDonnell Ranges (west and east).
And that does not include time for Kings Canyon and Uluru yet (add three days), or the Finke Gorge National Park (one or two more days), or Chambers Pillar (another one), ...
Have a look at some of the places listed below, and you might just reconsider your schedule...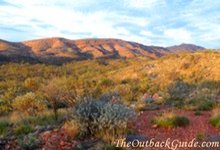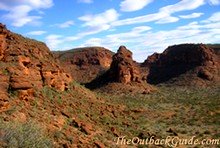 Tourist Attractions In Alice Springs Itself
The town itself, although tiny compared to the cities on the coast, has so much to offer, it takes a few days to see everything properly.
To me there are two main aspects that make up the attraction of Alice Springs: nature and history.
Nature
If you thought the Australian Outback is a flat, lifeless, boring desert with a few interesting rock formations, then Alice Springs will quickly teach you otherwise.
I personally consider the Alice Springs Desert Park a real Australian Outback attraction in its own right. If you want to take more away from your Australian Outback trip than the obligatory Uluru sunset shot and souvenir T-shirt, then I really recommend you visit the Desert Park before you visit anything else.
Another must is the Alice Springs Reptile Centre, especially if you have children!
I also love the Olive Pink Botanic Gardens for walking, as well as the Telegraph Station Historical Reserve (where you find the original "Alice Spring" that gave the town its name). And if you don't mind a bit of exercise you can hire a bicycle and have a look at Simpsons Gap.
History
A strong sense of Australian Outback history is present everywhere you go in Alice Springs. It's as if the spirits of those intrepid early pioneers were still hanging around...
The history of Alice Springs is the history of the Outback, and a walk through the centre of Alice Springs takes you to some of the major exhibitions and displays about the early days. My personal favourite bits of Outback history: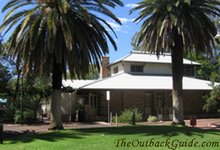 The history of the Royal Flying Doctor Service.

(The John Flynn Memorial Church and Adelaide House honour the man whose big vision and tireless work was the foundation of the RFDS. You can visit the RFDS itself, too).
The history of women in the Australian Outback, shown in the "Women Of The Heart" exhibition in the National Pioneer Women's Hall Of Fame. Very, very impressive and thought provoking. It made me feel like such a whimp... (This exhibition has moved from the Old Courthouse to the Old Alice Springs Goal!)
Other historical and cultural attractions in Alice Springs:
The Aralauen Centre in the Cultural Precinct (several galleries showing Aboriginal art from the surrounding desert regions, and also paintings from Albert Namatjira and his mentor Rex Batterbee)
Museum of Central Australia
Old Stuart Town Goal
Alice Springs Memorial Cemetery (Albert Namatjira, Harold Lasseter and Olive Pink are buried here, as well as some of the first Afghan cameleers)
The Telegraph Station Historical Reserve
Attractions In The Alice Springs Area
The Big Three
By far the biggest attraction in the Alice Springs area is Uluru (Ayers Rock), and it's not really near Alice Springs!
Uluru is the main reason most people visit Alice Springs. Unfortunately many of them do not make the effort to find out much about our country beforehand.
Then they are less than pleased to discover it takes at least a four hour to drive from Alice to Uluru...
(The resulting speeding made the Lasseter Highway to Uluru one of the deadliest roads in Australia until a speed limit was imposed.)
Please. It doesn't take that much research to find out that Ayers Rock is over 450 km from Alice Springs!
It also doesn't take that much research to find out what else there is to do but climb it and watch the sunset.
Take the time to find out a bit about the area. It's worth the effort.
Kata Tjuta - The Olgas are part of the same national park (the Uluru Kata Tjuta National Park) and are 50 km from Uluru. Definitely make time for them!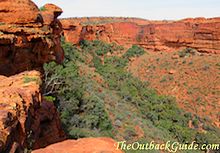 The third big attraction in the Alice Springs area is Kings Canyon.
This is a different national park (Watarrka National Park), and is 300 km from Uluru.
All the roads are bitumen and there is accommodation - anything from flash hotels to camping - at both parks.
Most tours from Alice Springs take in those three main attractions (unless they only do Uluru), and you'll see big coaches and busloads of people everywhere here.
(You may want to look at or print out a map of the Alice Springs area, so you get a better idea of where everything is.)
Australian Outback Attractions Near Alice Springs
Most other attractions in the Alice Springs area are in the West MacDonnell Ranges: Glen Helen, Standley Chasm, Ormiston Gorge...
The West Macs, as we call them for short, are so close to Alice Springs that you can visit them in a day trip. All the roads are bitumen so any car will do, and during the peak tourist season most of the places get absolutely flooded with tourists. But if you get to Alice Springs a bit earlier or later it's not too bad.
And there is a reason why this area is so popular... It really is beautiful!
---
So what if you prefer quiet places? Somewhere without tour buses and masses of people, a bit more remote, more adventurous, with more of an Outback feel to it? No problem! It's all there, not too far from Alice, and not too difficult to access.
But, same as anywhere else in the touristy Outback regions: if you want to get away from the masses you either need four wheel drive, or you need to do some walking. But most of all, you need to bring some time!
Redbank Gorge and Mt. Sonder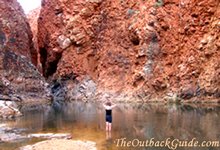 Redbank Gorge is still in the West Macs, 135 km from Alice Springs, but only the last 7 km are dirt.
You don't really need a four wheel drive to get here, but it is recommended. And that alone means you leave a lot of the other tourists behind. For some reason many of them don't like it when there is no bitumen.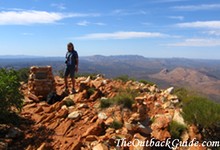 Redbank Gorge also doesn't have the name recognition that other places in the West Macs have.
I guess most people don't even have any idea how beautiful it is here, because if you really want to see the place you need to know - and bring - a couple of things. And hardly anybody knows that...
(More coming soon)
Trephina Gorge, N'Dhala Gorge and Ruby Gap
These gorges are in the East MacDonnell Ranges, and the East Macs are at least as beautiful as the West Macs, if not more so. But for some reason the tourists haven't quite woken up to that yet.
The road is sealed all the way to Trephina Gorge, which does get a bit busier than the other places. Still nothing compared to the West Macs. N'Dhala Gorge and Ruby Gap are strictly 4wd only.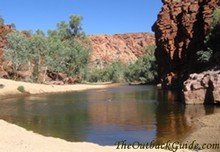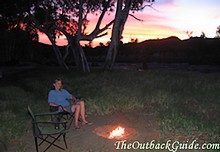 Finke Gorge National Park
Palm Valley and Boggy Hole are two separate attractions in this park. Both are strictly 4wd only, and Boggy Hole in particular can be a challenge to get to for inexperienced drivers.
Palm Valley on the other hand is so beautiful and in demand that a lot of four wheel drive tour operators visit it. So despite the rugged access road it can get a bit busy here.
Historic Hermannsburg
Hermannsburg is 130 km from Alice Springs along a sealed road (and on your way if you visit the Finke Gorge National Park). Hermannsburg was the first mission in Central Australia and also the birthplace and home of Albert Namatjira. I consider the Historic Precinct and the Kata-Anga Tearooms and Galleriy a must if you're in the area.
The Chambers Pillar Historical Reserve is 160 km south of Alice Springs, strictly four wheel drive only. I don't recommend doing a day trip, because the real attraction here is the late afternoon and early morning light. And that means strictly bush camping only, too.
There is nothing out here but rocks, red sand dunes, kangaroos and dingoes. The drive alone is worth it, and if you haven't done any four wheel driving in your life it will also be a real adventure. But it's very doable, even for inexperienced drivers.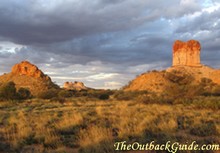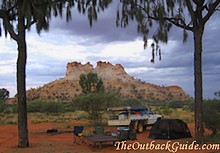 ---
Return to Alice Springs, Australia index
Return from Tourist Attractions in Alice Springs to Outback Australia Travel Guide home page