Olive Pink Botanic Garden - Alice Springs
I asked a lady I met in Alice Springs about the Olive Pink Botanic Garden. She answered:
"I drove past the other day, but there was nothing to see, it's just brown dirt and nothing grows. I didn't bother going in."
I love botanic gardens so she didn't manage to put me off. I did bother and I'm glad I did. If you have a couple of hours in the afternoon this is a lovely place to spend them.
Apart from the Australian desert plants there are great views over Alice Springs, and loads of different birds and lizards to watch. We even came across a little snake (a harmless python) in the waterhole area.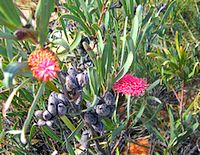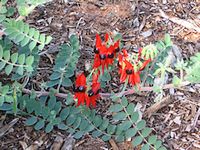 About The Olive Pink Botanic Garden
It's true that the Olive Pink Botanic Gardens don't appear all that attractive when you first arrive, but give them a chance.
It's only because the areas out at the front are relatively new. It takes a while for trees and shrubs to grow up.
The older areas behind the Visitor Centre are well established and they are lovely.
And full of wildlife, too. Many of the mature trees you see here were actually planted by Miss Olive Pink and her Aboriginal gardener Johnny Jambijimba Yannrilyi, starting back in the late 1950s and 60s.
Olive Pink was an infamous anthropologist, who tirelessly campaigned for justice for Aboriginal people. She is mainly remembered for her strong will, her individuality, and her frequent clashes with officialdom.
In 1955 she asked that some land in this area be made a native flora reserve, and in 1956 the 20 hectare Australian Arid Regions Flora Reserve was gazetted. Olive Pink was given an occupational lease over a half acre lot, where she went to live. Her goal was to eventually have the reserve contain a representative collection of plants of Central Australia.
Amongst the early plantings were also a dozen or so trees which she named after politicians and prominent Alice Springs citizens. And the care each tree received was directly proportional to how she felt about that person...
Apparently she also liked to send politicians bunches of pretty but poisonous flowers when she wasn't happy with them.
When first visiting her grave her old friend Reg Harris noticed that her headstone faced west, in a cemetery where all headstones faced east:
"The old lady would appreciate the fact that she is still a rebel even in death"
Olive Pink died in 1975 and the Northern Territory Government and a Board of Trustees have been developing the botanic gardens since. Today the gardens house an extensive collection of plants from the desert regions around Alice Springs, just as Miss Pink intended.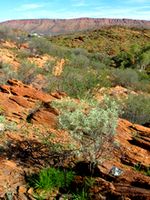 There are several walks through the different planted areas and habitats. Those planted areas cover about 5 hectares of the whole 16 hectares. The rest is made up of the surrounding hills and their natural vegetation.
The nicest walking track leads up one of those hills, called Meyers Hill, and from up there you have excellent views over all of Alice Springs and in all directions. The views alone are worth the visit, even if you aren't interested in plants and nature.
The other walks take you through different desert settings, like sand dunes, saline plains, woodlands, waterholes etc.
Some of the walks have printed guides at the beginning, with photos and numbers, that tell you more about the plants in the area (the plants are identified with numbers, too).
On other walks you have signs near the plants with information, and the Visitor Centre has some good displays and brochures as well.
Olive Pink Botanic Garden - Visitor Information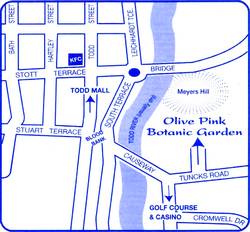 Access to the Olive Pink Botanic Gardens is from Tuncks Road (eastern side of the Todd River).
Entry is free and the gardens are open from 10am to 6pm every day. (The cafe, gift shop and visitor centre close at 4pm)
Read about other Tourist Attractions In Alice Springs
---
Return to Alice Springs, Australia index
Return from Tourist Attractions in Alice Springs to Outback Australia Travel Guide home page