Train Travel In Australia

"In Australia Train Travel Has Come A Long Way..."
Train Travel in Australia is not only about getting from A to B. Especially the big intercontinental train journeys are just as much about the experience:
See the Australian Outback in all its splendour, in air-conditioned comfort, while enjoying fine food and a good night's sleep.
Beats buses and coaches any day...
This page tells you more about Australian train journeys, and how and where you can get on board.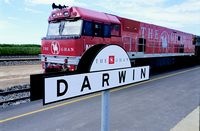 © NT Tourist Commission
Lately train travel in Australia has been enjoying a boom, not least because February 2004 saw the completion of the track for The Ghan, a 2979 km journey through the red heart of Australia.
The event brought a lot of publicity and train travel in Australia has enjoyed the increased attention ever since.
Mind you, to finally connect Darwin and Adelaide by train was a hundred year old dream come true...
On these pages I will tell you more about this dream, about it's completion and about this and other great rail journeys in Australia today.
I'll start with The Ghan, since this is the train that travels across Australia's Outback heart, and is probably the most interesting journey for Outback travellers. It's also the most famous of our trains. I never knew train travel in Australia had such a fascinating history until I started reading more about The Ghan...
But The Ghan is not the only great train journey across Australia:
The Indian Pacific - Travel from Sydney to Perth across the Nullarbor desert, along the worlds longest straight track.
The Overland - Travel from Melbourne to Adelaide on Australia's historic pioneer.
Train Travel Australia - The Ghan
History and Construction
(Read about Train travel in Australia today - The Ghan)
The Ghan began its life in the 1880s. Back then you could travel by train to Port Augusta, Maree, and Oodnadatta, but from here you had to continue on camel back.
120 camels had been brought into Australia in the 1960s, together with Afghan tribesmen, to make this form of transport possible. They thrived in our desert and soon the camel caravans were criss-crossing the Australian Outback, opening it up for settlers. Australians love abbreviations, so the Afghans became Ghans...
There is a nice story with that: it says when the first train in 1923 pulled into one of the intermediate stations an Afghan jumped from the nearly empty train. It was sunset and he headed for the Mekka side of the platform to say his prayers. The train driver wryly commented: "We'll have to call it the 'Afghan Express', I guess". And the name stuck...
40 years later a one track narrow gauge line had been extended to Alice Springs (which back then was still called Stuart), and this was The Ghan that became legend.
Train travel in Australia was an arduous undertaking back then and the trip could take months. The desert climate wasn't easy on neither passengers nor equipment. Rails buckled in the heat, torrential downpours caused wash outs, drifting sand caused delays. Drivers and passengers needed to be as tough as the country they were crossing.
There are tales of trains being stranded by floods for so long, the drivers were shooting wild goats and fishing in the new rivers to feed their passengers. The Ghan was known as "The train you can walk faster than"...
Since 1980 Adelaide and Alice Springs have been connected by a fairly standard long distance train. But it was another 21 years until the 1420 km link from Alice Springs to Darwin was tackled. Three years the construction work lasted, in summer temperatures reaching into the fifties, and through our monsoon seasons. It was a major logistical exercise and the details are quite interesting:
There were two construction depots, one in Katherine, and one in Tennant Creek. From here two teams were working towards each other. They met half way, and then each worked from their depot into the other direction, to connect Katherine to Darwin, and Tennant Creek to Alice Springs.
On a good day the teams laid about 2 km of a track. That's 2500 tons of material. That means every morning 2500 tons of gear had to be moved from the depot to the work site, which at its furthest point was 300 km from the depot. Impressive. The total earthworks for the project tallied 15 million cubic metres...
The planners and workers obviously did a good job, because the new Ghan link opened as planned in early 2004, and train travel in Australia entered a new chapter.
Train Travel across Australia aboard The Ghan
Train travel in Australia is a wonderful and unusual opportunity to experience the endless expanse of the Australian Outback: barren plains where salt lakes shimmer in all colours of the rainbow, vast mountain ranges glowing tangerine and crimson at sunrise and sunset, glimpses of wildlife and human settlements in the ever-changing desert, it all can be experienced in comfort.
Today the 2797 km train journey form Adelaide to Darwin takes only two nights, not two months like it used to on the legendary Ghan of the old days.
(You can connect to the Indian Pacific or Overland if you want to travel from Sydney or Melbourne.)
You can choose between two accommodation options: Gold and Red Kangaroo and the Platinum service. Gold Kangaroo is obviously flashier than Red, you can have twin cabins with private ensuites. The single cabins have shared facilities at the end of the carriage. The meals are included in this fare and this section of the train has a lounge with a bar.
If you go for Red Kangaroo you an also have twin cabins with seats during the day, which convert to bunks at night (no ensuite of course). Or you get the standard reclining seat, which is very affordable. It would have to be one of the cheapest options to cross the continent.
(But keep in mind that when it comes to Australia train travel you get what you pay for. I wouldn't say the Ghan is noticeable for excellent service.)
The sleeper cabins have the better beds, but the day night seaters have the more comfortable seats.
Space in the cabins is at a premium, which is why you aren't allowed to take big bags on board.
You can buy your meals, drinks and snacks in the diner car, which is also fully licensed (meaning you can buy alcohol).
There is also a lounge where you can watch videos. You might appreciate it, because despite of what I said above, I know many people find train travel in Australia rather boring scenically. And admittedly the country looks very flat in the middle of the day, especially the southern parts. It's only the sunrises and sunsets that are so spectacular.
I love it anyway and never seem to get enough of the views, but everybody is different...
Stretch your legs along your Australia train travel:
You have the option to go off-train touring at stops along the way, for example on a boat cruise into Katherine Gorge during the four hour stop at Katherine (that's just one of many options in Katherine). And you can get off along the way for a night or two if you want to explore further, say for example at Alice Springs.
You can find out more about train travel in Australia on GSR's (Great Southern Rail's) website.
---
Read about other ways to travel Australia
Return from Train Travel Australia to Outback Australia Travel Guide home page