Travel in the Australian Outback
So you want to see the Australian Outback? Great idea! Australian Outback travel is nowhere near as difficult or dangerous as you might think...
On this page I talk about driving in the Australian Outback.
For more travel information see the Australian Outback section.
Driving is a great way to appreciate the dimensions of this vast country and to see some spectacular scenery.
However, such a drive needs some preparation, and these pages contain all the information you need to plan the big trip.
I will start by talking about drives that anybody can do.
If you are more adventurous and want to leave the bitumen make sure you read this additional info on driving in the "real" Australian Outback.
The Major Australian Outback Highways
The Highways that cross our country from North to South or from East to West are very well maintained bitumen roads.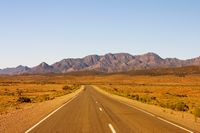 The best known Australian Outback Highway, the drive most people think about when talking about driving through the Austrailian Outback, is the Stuart Highway.
The 3042 km road connects Adelaide in the south with Darwin in the north, via the intriguing opal mining town Coober Pedy and Alice Springs.
You find famous Uluru or Ayers Rock at the end of the Lasseter Highway, a 242 km stretch of bitumen, turning west off the Stuart Highway about 200 km south of Alice Springs.
Other Highways that are considered great Austrailian Outback drives are:
Eyre Highway: the road across the Nullarbor desert between Adelaide in the south and Perth on the west coast. The road is mainly known for the long stretches of perfectly straight road...
Don't fall asleep!
Barkly and Flinders Highway: starting in Townsville in northern Queensland you will join the Stuart Highway at Three Ways Roadhouse, nearly 1000 km south of Darwin, a good 500 km north of Alice Springs.
Victoria and Great Northern Highway: leaving the Stuart Highway in Katherine, 320 km south of Darwin, this trip takes you through Australia's north west, the spectacular Kimberly plateau, to the west coast.

It continues south along the west coast before turning inland again through more Outback country, like the beautiful Pilbara region, until you reach Perth. 4161 km all up!

Of course you don't have to drive the lot.

But the trip from Darwin across the Kimberley to Broome, the most fascinating part, is still just under 2000 km.
On all these highways you will find roadhouses along the way where you can buy fuel, have a meal and get accommodation.
The distances between them are several hundred kilometres, so always make sure you have enough fuel and water to make it to the next one.
Many of these Austrailian Outback roadhouses will show on your map looking like any other country town near the coast, but make no mistake: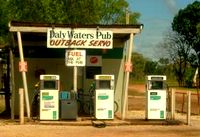 You will often only find a couple of buildings, a few bowsers, several cabins and a small caravan park.
In other places you will find that a small community has developed around the roadhouse. There are many quirky pubs to discover, and Outback characters to meet.
If you like camping you don't have to spend the night at the roadhouses. It's very common for travellers with campers and caravans to set up camp in one of the many parking bays or other nice spots at the side of the road. Maybe it doesn't sound nice, but it is. The parking bays are often well back from the road and very scenic. They are located where you would want to stop anyway to take photos of the beautiful views...
You don't need to miss out on your shower either. All off the roadhouses offer showers for everybody travelling through, not just for people staying there.
As you see, it doesn't take much special knowledge or equipment to enjoy a great trip through the Austrailian Outback. Just a set of wheels, which brings me to the next point.
Is Your Car Up To It?
If you are in a rental car your vehicle will be reliable, and you shouldn't need to worry about any mechanical trouble. But if you drive your own car you should make sure that it is up to the drive. You won't get stuck without help, all the highways see plenty of traffic. But plenty is relative. Yes, someone will stop and offer help, this is a friendly country. In the Austrailian Outback helping each other is still important, so we all do it. Because next time it might be us who need that help.
But you have to keep in mind that you will be a long way from anywhere. So even if you can get hold of a mechanic, it will cost you a fortune. There is no guarantee that there will be someone who can fix your tyre at the next roadhouse. And how many days do you want to wait in a roadhouse caravan park for that spare part?
Make sure your car is reliable, and carry at least one good spare tyre. Learn how to change it, and check it before you leave.
Driving Hazards in the Australian Outback
As you saw above, the driving distances in Australia are enormous, in some parts the roads go on forever with not much to distract the eye and keep you awake.
Have frequent breaks, swap drivers, don't just push on.
Driving at dusk and dawn is particularly risky.
A lot of the Austrailian Outback is cattle country. Many roads lead through cattle stations (you might call them ranches in your country) and are unfenced. Cattle wander out on the road, and so do kangaroos.
Then there are donkeys, camels, wild horses... many things to hit at twilight time.
It's better to just stop for breakfast or dinner.
And last but not least: if you are driving through northern Australia in the wet season roads might be flooded. The wettest months, and the biggest chances of floods, are January to March. That does not mean you won't see water on the road in December or April!
If you know that it rained a lot recently, drive accordingly.
Keep this story in mind, it appeared in our local newspaper:
A reader described driving back from Katherine to Kununurra and noticing a small sign at the side of the road, just before a bend:
"Slow Down, Traffic Hazard Ahead!" Good thing he did slow down, he said. Just around the bend he skidded to a halt, and his jaw dropped. There was the Victoria River, eight meters above the bridge and over a kilometre wide!
Yup, a bit of a hazard there... Ok, that's extreme. But even a little bit of water on the road can cause an accident if you're too fast!
Find out from locals or roadhouses if the roads are open before you leave. That saves you waiting at the side of a river for days for the water to go down.
If you come across a small floodway, and there are plenty, you will usually see markers at the side of the road indicating the depth. Look for them in the dry season, and try to imagine the country under water. Hard to imagine, isn't it?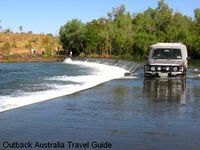 If you're not sure how deep it is, get out of your car and check. Still not sure if your car will make it? Don't go!
These small creeks rise and fall very quickly, in an hour or two you might be able to continue your journey, without risking to lose your car.
Take the advice above on board, and you will enjoy your drive through the Austrailian Outback.
If you would like to read more about driving through the Australian Outback, about what to consider when leaving the bitumen, go here.
---
Read more about Australian Outback travel
Return from Driving in the Austrailian Outback to the Outback Australia Travel Guide home page