Litchfield National Park
Litchfield National Park in Australia's Northern Territory is a true little gem.
The small park had long been overshadowed by its huge and hugely popular, bigger neighbour, the Kakadu National Park.
But Litchfield has many advantages: it is close to Darwin, it's small (at least by Outback standards...), and a bitumen road takes you to all its main attractions, which are a lot closer together than Kakadu's.
That means you can easily visit Litchfield National Park on a day trip from Darwin, and you can spend most of the day exploring rather than driving.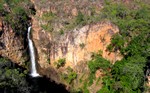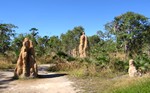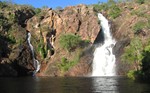 In the past Litchfield was only known to the locals from Darwin. In those days you had to get a permit to access the area, and you definitely needed a four wheel drive. But then you could go and set up camp right at the top of one of the many waterfalls and you had it all to yourself. Ah, those were the days... but I digress.
Litchfield was made a national park only in 1986. No more permits are required and the roads and facilities are being improved all the time. Over the last years Litchfield has seen a surge in popularity. The result is that the solitude and the bush feeling has been lost, at least at the bigger attractions like Wangi and Florence Falls.
Unless you are brand new to this site you probably know that I have some sort of mass tourism phobia, so I see this development with mixed feelings...
But it seems that most people prefer convenience over adventure, and anyway: Litchfield National Park is stunningly beautiful, and it is possible to get away from the tour buses and the crowds. The strategies to do so are the same as always: bring plenty of time, and do some walking. I'll tell you where...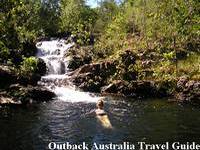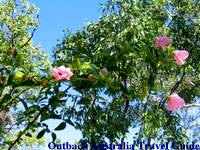 About Litchfield National Park
Visitor Information
On this page you can find out about how to get there, campgrounds, facilities, best time to visit etc. All you need to know to plan your trip.
Litchfield National Park Attractions
Here you can read about all the attractions and waterfalls. I tell you what to expect, what you can do, how much time to bring, and there are many pictures as well.
Strategies To Avoid Tour Buses and Crowds
It's the same in Litchfield as in other national parks. There are magnificent places where the tour buses don't bother stopping. Why? Because you'd have to do some walking to get there. There are also some fantastic overnight walking tracks, and then there's the 4WD only southern access track... On this page you can find out more.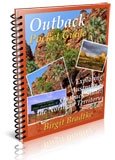 Travelling the Northern Territory?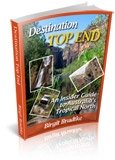 The free Outback Pocket Guide
is a great introduction to travel in the region.
The full Top End Travel Guide


shows you how to make the most of your adventure in Australia's tropical north.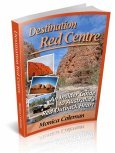 NEW! Destination Red Centre is the latest addition in this popular series. Monica Coleman takes you through Australia's red Outback heart, offering all the detail and insider tips that you have come to know and love about our guides. With special emphasis on Aboriginal communities and culture.

A must have if you travel to or from Alice Springs/Uluru.
---
Read about other National Parks in Australia
Australian National Parks Site Map
Return from Litchfield National Park to Outback Australia Travel Guide home page