Sandy Creek Falls, Litchfield
by Bill
(Darwin)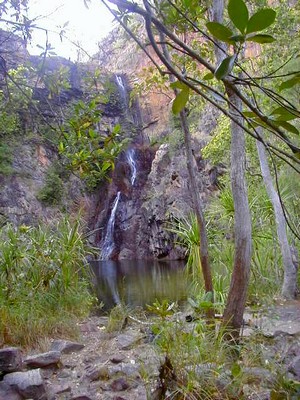 Sandy Creek falls, late in the dry season.
Last year towards the end of the dry, I drove south from Darwin for three hours or so and I camped at Wangi Falls in the Territory's Litchfield National Park.

Around dusk I got chatting to a German couple who had only arrived in Australia that same morning, they had picked up their hire 4WD, done some shopping and headed south as soon as they could. They were telling me that they came from a city, (Hamburg) and they had no inclination to see any Aussie one's, at least not on this trip.

With the light fading fast Gunter was telling me about their proposed trip along the Gibb River Road, and I had to hold my hand up to quieten him. I silently pointed overhead.

"Unbelievable!..................... Ah, this is why we came to Australia." was his hushed comment.

Hundreds upon hundreds of flying foxes were flying low over us. They were leaving their roosts and heading out for a nights feeding. A truly unforgettable sight.

The following morning we said our cheerios and they headed out on their adventure to West Aussie. I headed south also, on a lot less ambitious trip but no less of an adventure for me. I was peddling my bike to Sandy Creek along a 4WD only track.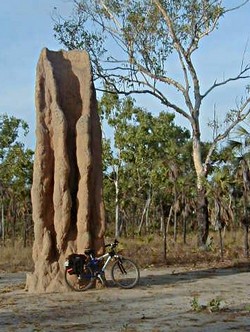 Early morning, onto the dirt road by 7:30 and I was in heaven. Total peace and calm, disturbed only by bird calls. The low angle of the sun showed all the lumps, rocks and corrugations, but far from putting me off they seemed to add to the experience.

One thing I have noticed about travelling on these remote tracks by foot or by bike is the amount of animals and animal tracks that you see crossing the road. Quite a few wallabies and a solitary Dingo. With the first couple of vehicles that passed me around 10am the tracks disappeared for the day.

I arrived at Sandy Creek after about a three hour ride, through a scrub of fairly open trees, with a fair sprinkling of our Territory icons, the giant termite mounds.

From the camp ground at Sandy Creek it is a stiff half an hour walk up a rocky track along the creek side. The whole of one hillside that the track goes through is covered in those most ancient plants, Cycads.

The country slowly changed from parched and dry, to a tropical oasis. A cool pool surrounded by native palms. In no time at all I was idly swimming along and cooling off.

All to soon after my swim and a strategic snooze (there are not many better spots to sling a hammock) I had to head back to civilisation.

---
(By Bill from www.builderbill-diy-help.com)


Join in and write your own page! It's easy to do. How? Simply click here to return to Litchfield National Park Australia.
---
Return to Outback Australia Travel Guide home page