Katherine Gorge Australia

Exploring Nitmiluk National Park
Katherine Gorge, Australia is probably my favourite national park in the Northern Territory.
As you would have seen on photos, the scenery is absolutely spellbinding.
But there's more to it. Natural beauty, flora and fauna, Aboriginal history, culture and rock art...
And most importantly, space to get way from the tourism side of things.
180,353 hectares to discover. And many people are not even aware of how much there is to see and do!
Yes, you can do much here more than the standard two hour tourist boat cruise...
How do you make the most of your visit to Katherine Gorge National Park? That's what I show you in this section of the Australian Outback Guide.
It depends on the time of the year and on your interests. Read below about how to get there, the best time to visit and about the many different ways to explore Katherine Gorge in Australia.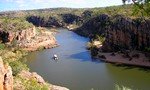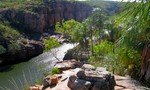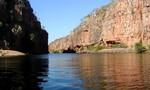 Katherine Gorge, Australia
Background Information

Nitmiluk National Park, Australia
How to get to the gorge (it's in Nitmiluk National Park), distances, the Nitmiluk Visitor Centre, campground and facilities.
---

The Northern Territory: When is the best time to visit?
Nitmiluk National Park, like most of the Northern Territory, changes dramatically with the seasons. Some times of the year are better for certain things than others. Read how the dry and wet season affect your visit.
---

Katherine Gorge Pictures
In the photo gallery you can find a page devoted to photos of the gorge and the park.
Katherine Gorge Australia - Activities
No visit to the Australian Outback is complete without a boat cruise, canoe trip or hike up the spectacular 12 km gorge, winding its way between red sandstone cliffs up to 70 metres high.
23 million years it took the Katherine River to form this natural wonder... How much time do you have to explore? Find out how much you need:

Katherine Gorge Cruises
The cruises are the most popular option to see the gorge. Find out what you can expect on a tour, when they leave, what you need to bring etc. Also includes some info on scenic flights.
---

Canoeing The Gorges
This is in my opinion the very best way to discover this amazing park. It's the only way to see the full length of all thirteen gorges, and one of the best ways to get away from the tourist crowds. Read about canoe hire and day and overnight trips.
---

Bushwalking Tracks in Nitmiluk National Park
Hiking is my other favourite activity in Nitmiluk National Park. The park has a lot more to offer than "only" its main attraction, the gorge. Find everything you need to know to go hiking and discover more of Nitmiluk National Park: distances, where to get maps, descriptions and photos.
What's Your Favourite Way To See Such A Place?
The adventurous way, with everything that comes with it? Sweat, scratches and blisters, sore muscles, wind and sunburn, not to mention the capsized canoe?

Or rather the comfort of a pre-booked boat cruise and a bed in Katherine at night?

Other readers would love to hear your tips, see your photos, and read about your experiences. So please share them with us.

Still at the planning stage? You can also ask a question.

It's easy. Just fill in the form below.

Read what others have said or asked.

Read What Others Had To Say
About Katherine Gorge, Australia
Click below to read the opinions, experiences and questions of other readers.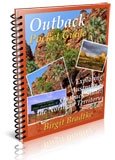 Travelling the Northern Territory?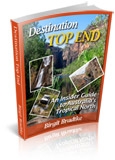 The free Outback Pocket Guide
is a great introduction to travel in the region.
The full Top End Travel Guide


shows you how to make the most of your adventure in Australia's tropical north.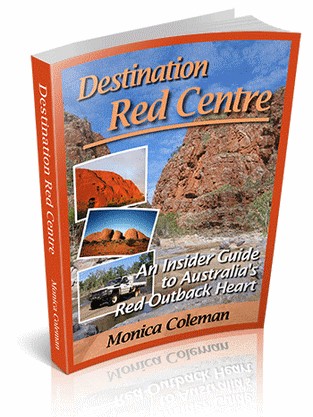 NEW! Destination Red Centre is the latest addition in this popular series. Monica Coleman takes you through Australia's red Outback heart, offering all the detail and insider tips that you have come to know and love about our guides. With special emphasis on Aboriginal communities and culture.

A must have if you travel to or from Alice Springs/Uluru.
---
Read about other National Parks in Australia
Australian National Parks Site Map
Return to Outback Australia Travel Guide home page