Saltwater crocodiles in Katherine Gorge
by Allison
(Darwin)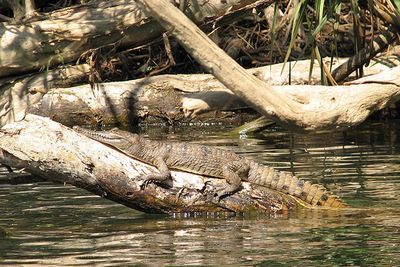 Freshwater Crocodile At Katherine Gorge
I am concerned about saltwater crocodiles in Katherine Gorge as I am doing the overnight canoe trip next week (Nov 15). Have there been any found in the Katherine Gorge?

I look forward to your reply.


Response To: Are There Saltwater Crocodiles In Katherine Gorge?
Hi Allison,
Nice time of the year for a
canoe trip in Katherine Gorge
. I'd rather be in the water there myself right now...
I would not worry for a second about saltwater crocodiles when canoeing in Katherine Gorge.
There are saltwater crocodiles in the Katherine River, further downstream. There is even a tourism company that offers canoe trips on the river (something I still haven't done but would love to) and they regularly see saltwater crocodiles on the banks there.
But the
Katherine Gorge
is a "no-go" zone for saltwater crocodiles. It is not a suitable habitat to start with, and on top of that it is closely monitored at all times. There are traps located downstream from the gorge entrance, the direction where any crocodiles would be coming from.
The wet season is the time when young male crocodiles move around and move upstream, looking for a new place to live, since every grown male croc needs its own territory.
Katherine Gorge is closed to swimmers and canoeists during the wet season. Before it reopens the rangers thoroughly search the area for a few weeks. If they find a croc they relocate it. (This happened in 2006 and 1999. Both crocs were young males.)
The authorities will make
very
sure there aren't any saltwater crocodiles before Katherine Gorge is opened to swimmers. (There's way too much money at stake to risk anything...)
In October 2005 two canoeists claimed they had seen a saltwater crocodile. What followed was the most intensive crocodile surveying done in the park since it became jointly managed in 1989. No crocodile. The rangers could never confirm the sighting.
Seeing that the Katherine Gorge supports a large population of freshwater crocodiles, and considering how much the average tourist knows about crocodiles, I doubt what they saw was a salty...
There are three large male freshwater crocodiles living in the lower gorges. They are around three metres long. I bet their size alone is enough to convince most people that they must be salties :-).
Any confirmed sightings in the Katherine River occurred during or just after a big wet season, in the bottom area, as in boat ramp and further downstream, and not in the gorge. I'm not aware of any sightings that occurred
ever
in areas further upstream, and this is where you will be canoeing.
As I already said, I wouldn't worry for a second.
Worry about the heat and the sun! That's a lot more dangerous. I remember my October trip. I spent that much time in and out and in and out of the water that it was impossible to keep sunscreen on the skin for long. And since I was also wet all the time (the only way to stay cool) I got wickedly sunburnt...
Hope you'll have a great trip!
General info:
Katherine Gorge
Saltwater Crocodiles
---
Return to Outback Australia Travel Guide home page