Darwin, Australia: City Or Outback?

Discover The Laid Back Capital of the Northern Territory
"Darwin, Australia: the only capital city in Australia where you can cross the main street blindfolded at any time of the day."
I can't remember who wrote that, but I can assure you it's true.
Darwin in Australia is a fascinating mixture of cosmopolitan city and Australian Outback.
It's also the perfect starting point for any travel to the Northern Territory and the Australian Outback.
Coming to think of it, it might just be the best place to start any Australia travel...
In this section I will introduce you to my favourite Australian city, tell you how to get here, what to see and do, and where to travel from here.
Welcome to Darwin in Australia!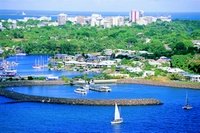 © NT Tourist Commission
Darwin Australia
Cosmopolitan Flair Meets Australian Outback
The vibrant cosmopolitan city is located on the far northern coast, right on the edge of the Timor Sea. The tropical climate and the ocean and beaches encourage an outdoor lifestyle that is hard to beat...
Its closeness to Asia makes Darwin a hub for international and domestic air travel, and it is an important port.
Darwin Australia is also close to the most popular national parks: Kakadu National Park, Litchfield and Katherine Gorge.
With a population of 120,000 Darwin in Australia is small for a city, which makes it easy to get around. It also makes for a relaxed atmosphere.
I'm not a city person, but I love Darwin. This is a place where you don't get funny looks if you start a conversation with a stranger in a pub. Nobody beeps the horn impatiently when you hesitate, approaching an intersection while trying to decipher the signs. Even the rush hour traffic seems relaxed...
Although you are in a city you are still in the Australian Outback... In Darwin you can enjoy all the benefits of a city: museums, cultural events, shopping malls and fine dining. But you will also see many four wheel drives on the roads, and come across quirky Outback characters. The people are genuine, open and friendly.
They also speak their mind and are known to drink a lot of beer... Hey, give us a break. It does get hot in Darwin...
You can find out more about Darwin's interesting history - and how it came to be the city it is today - below.
To find out how to get there and what Darwin has to offer follow the links at the top or bottom of the page.
---
Darwin Australia:
---
Return from Darwin Australia to Outback Australia Travel Guide home page