Darwin City - Things To See And Do

Tourist Attractions of the city of Darwin, Australia
Darwin city is not exactly the hard-bitten Outback frontier town that some expect to find.
Despite its small size it has everything you'd expect in an Australian city: international restaurants, trendy cafes, shopping malls, marinas, a beach-side casino...
On the other hand Darwin isn't really a city, even by Australian standards. Too laid back, too small, too friendly...
Which is great, because it makes it very easy to get around. Everything in Darwin is only 20 minutes away.
Darwin city is also great because, well, I usually can't stand cities... If you are like me and prefer to have a simple beer in a simple pub, where you can easily strike up a down-to-earth conversation with down-to-earth people, even though you've never met them before, then you'll like Darwin, too.
Darwin is a great holiday destination in its own right, not just a gateway to the Australian Outback.
It has an interesting history, which is visible everywhere. Its location on a peninsula, surrounded by ocean on three sides, makes for a great tropical lifestyle. And it has many other attractions that will keep you busy for a while. So lets have a look at what there is to see and do for those who have a few days to spend in Darwin city.
Attractions in Darwin City
Here are some things to do and discover in the inner city. You don't even need transport to visit most of these places if you don't mind walking a bit.
The best place to start is Top End Tourism, the Northern Territory tourism information place at the corner of Knuckey and Mitchell Street.
If you don't already have one you can grab a free Darwin city map of them, and also information for a self guided tour.
Darwin's City Mall is just around the corner from the tourism information.
If you follow it to the bottom and turn left you get to the Chinese Temple (Woods St). The building has quite a history. It was destroyed in the 1973 cyclone, again by the 1942 Japanese bombing raids and once more by cyclone Tracy in 1974. What was left has been incorporated in the new temple, a place where local Buddhists, Taoists and Confucians still worship.
If you continue straight on from the mall you get to the Esplanade. On the way you find more of Darwin's historical buildings like The Old Ruins of the Town Hall and Brown's Mart. Both buildings were victims of cyclone Tracy. Brown's Mart had already been severely damaged in the 1897 cyclone, but has been restored both times. It's the oldest commercial building still standing and a very impressive and beautiful reminder of the Darwin of the 19th century. The Old Courthouse and Police Station is in the same area, so are the modern Parliament House and The Government House.
My favourite historical attraction in that area are the World War II Oil Storage Tunnels below the Esplanade on Kitchener Drive (look for a path and stairs down). Those are huge tunnels that have been hand dug during WWII to serve as safe oil storage tanks. Today they are nearly something like a museum with over hundred black and white photos from the area adorning the walls. Before you actually enter the caves you will be told the whole story of how they have been built. Very, very impressive!
At Stokes Hill Wharf you find the Australian Pearling Exhibition, and also, housed in the same building, Indo Pacific Marine. The aquarium with exhibits of brilliant living coral formations is the most awarded attraction in the Northern Territory. (At least that's what they claim).
The Wharf Precinct is basically a tourist development on Darwin Harbour. Great place for seafood, sunset drinks and al fresco dining. The location is awesome (but the buffet style restaurant is a bit busy and noisy...)
More Attractions Near Darwin City
The walk from the bottom of Darwin city along the Esplanade through Bicentennial Park is a nice stroll past several lookouts with many memorial plaques and historical information boards.
At the other end you find Doctor's Gully where a lovely boardwalk through one of the last remaining patches of rainforest in Darwin will take you to Aquascene, one of Darwin's most popular attractions.
Every day at high tide hundreds to thousands of wild fish (mullet, milkfish, bream, barramundi, and many others) come here to be hand fed by enthusiastic kids, and adults pretending they're only here for the kid's sake... It's good fun.
The tides change everyday so the opening times change, too!
(I'd say this is the maximum walking distance from the city, anything after here you better hire a bicycle or grab a bus. If you are not sure which is the nearest bus stop to where you want to go just ask the driver to tell you when to get off. That's what I do.)
If you continue in the same direction you get to the Marina at Cullen Bay, the Skycity Darwin Casino, and then to Mindil Beach (see Darwin markets below) and Fanny Bay.
The Botanic Gardens just opposite Mindil Beach are currently being planted and expanded (I think). But they feature some beautiful tropical walks already. The gardens were started in the late 1870s by the German botanist Dr. Maurice Holtze and contain over 400 species of tropical plants through those older lovely shady parts.
Not much further along the bay is the Museum & Art Gallery of the Northern Territory, another one of my favourites and definitely in the must see category. Impressive displays of natural history, both ancient and contemporary Aboriginal art, a maritime museum and more. Particularly popular are the unsettling cyclone Tracy exhibition and of course "Sweetheart" the crocodile. The museum also has a good restaurant, the "Cornucopia".
If you don't need a restaurant but just want to relax from your museum visit with a cold beer, overlooking the water, try the nearby Ski Club.
Continuing in the same direction you get to Parap with its village shops and markets. The Fannie Bay Gaol Museum is also located here.
East Point, the headland at the far end of Fannie Bay, is a nature reserve (see Darwin nature walks below). But it also a historical area where WWII remnants are still very visible: bunkers, command posts, ammunition facilities, gun emplacements, and not to forget the excellent East Point Military Museum.
A fair way out of Darwin city is the Crocodylus Park (McMillans Rd, Berrimah) which has not only crocodiles but also big cats, monkeys and more. I've never been there myself so I can't say much about it.
About the same distance from the city is the Australian Aviation Heritage Centre (Stuart Hwy) which has a massive B-52 Bomber, the remains of a Zero that was shot down during the Japanese bombings of Darwin, and around that are more aircraft and displays, both civil and military, covering everything from the early pioneers through WWII into the jet age.
Darwin City Markets
Mindil Beach Sunset Markets: ask anybody about Darwin, and Mindil Beach is one of the first things they'll tell you about. In my opinion the popular sunset markets have somewhat become a victim of their own popularity. They are just way too crowded, which is a shame. But you still can't afford to miss them...
The markets used to be held every Thursday night during the dry season, but because of their increasing popularity (they attract between 10,000 and 15,000 people a week!) they are now on twice a week, Thursday (5pm - 10pm) and Sunday (4pm - 9pm).
This market used to be a great home grown art and crafts market, but today many of the over 200 stalls just sell the usual tourist rip off stuff. But there are still some gems to discover amongst them. You can also get a massage or a tarot reading, have your palm read or just watch the performing artists and buskers. If you can see them amongst the masses of people...
And you can watch the sunset across the ocean, naturally. But if you want to sit down for that on the nice grassy area you better get there early.
One thing that hasn't changed is that you get fantastic and very affordable food here, mostly Asian. There are nearly 60 food stalls from over 30 different countries! If I was living in Darwin I'd go down here and buy my dinner for the whole week and freeze it. It would be cheaper, better and more variety than my own cooking I'm afraid...
As I said, these markets are awfully crowded, mainly during the peak of the tourist season (mid June to mid August). It's not too bad early or late in the season. And during the wet season, November to April, they don't operate at all.
The Mindil Beach Markets aren't the only markets in Darwin city. There are a few more and they all operate during the wet, they all have great fresh food and a good selection of mostly Asian cuisine:
Parap Markets: Saturday 7.30 am - 1.30pm
Nightcliff Markets: Sunday 8am - 2pm
Rapid Creek Markets: Sunday 7am - 1pm
Nature Walks Around Darwin City
One of the (many) things that I love about Darwin is that the city hasn't totally displaced nature yet, and there are quite a few areas that are surprisingly wild and natural.
Some shorter walks for people who love walking through greenery have already been mentioned: Doctor's Gully and the Botanic Gardens. Another nice walk leads along the water at Fannie Bay, from the casino and museum to the sailing and the boat trailer club at the other end.
But there are also some longer "real" nature walks:
East Point Reserve: the whole headland at the far end of Fannie Bay is a nature reserve, and an area where you can totally forget that you are near a city. The main path, which is also popular with bike riders, starts near the car park and the playground and picnic area on the beach there. Great place for a barbecue and very popular with local families.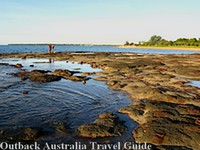 The walk just follows the coast. It has some beautiful beach views that later on make room for cliffs and mangroves. If the tide is right you can walk on the rocks. Alternatively you can look for the not so busy path through the bush that branches of near PeeWee's restaurant (which is a nice and very popular place overlooking the water).
Another little known walk starts near Lake Alexander and takes you out into the mangrove estuaries.
Normally you will see many wallabies grazing and hanging around the grassy areas here.
Casuarina Coastal Reserve: Casuarina beach is more of a local spot rather than a tourist spot. Which makes it a good place :). The reserve protects the area between the Rapid Creek and Buffalo Creek estuaries. There is a several kilometre walk here, starting from the car park at Dripstone Park. (And again this is a great place for a barbecue after...)
The walk takes you through a range of habitats including tropical rainforest, along the beach and the foreshore, all the way to Lee Point Reserve. You can also simply follow the beach if you don't want to take the same track back. Similar to East Point reserve you find not only nature but also remnants of WWII fortifications along the way.
Holmes Jungle Nature Park is another one of the remnant monsoon forest areas near Darwin city. The walk is lovely, cool and shady, and most of it is suspended above the ground. There is lots of wildlife, the clear water of Palm Creek, it's hard to believe you're near a sprawling city... Holmes Jungle is not far from the Crocodylus Park, so you could do the two together.
Charles Darwin National Park is a small and fairly new park that has been established to protect parts of the Port Darwin wetland and is located on Frances Bay (Winnellie). The park has a network of cycle paths and walking tracks, and from the picnic area you have great views of the harbour and the wetlands, and of the Darwin city panorama.
---
Return to Darwin Australia main page
Return to Outback Australia Travel Guide home page