Outback Australia

Cities And Towns In The Australian Outback
Outback Australia travel - endless horizons and open spaces, red rocks and coloured sands.
More and more travellers are touring the Australian Outback every year, attracted by the stunning scenery, the dramatic gorges and chasms, but also by the promise of something profoundly different:
The quietness and solitude of this vast, remote and empty country...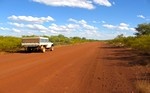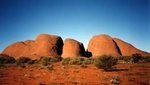 Outback Australia makes up about 70% of Australia's landmass, but is inhabited by less than 3% of our population. There are many areas that have yet to be charted at ground level, parts that no white man has seen unless in an aerial survey.
The Australian Outback is often portrayed as a hostile and forbidding place, full of dangerous creatures, and unforgiving if you are unfit, careless, or ill prepared. Yet tourism thrives and travellers love it. Obviously there is a bit more to it...
Outback Australia is not entirely hostile, dangerous desert country, and more importantly, it's not entirely empty. There are modern towns and airports sprinkled all through it (albeit at considerable distance from each other), the network of highways and bitumen roads is continually upgraded, and countless Australian Outback tour operators and accommodation providers compete for your attention.
Australian Outback travel today is as adventurous or as comfortable as you want it to be. But no matter if you are looking at a three week Outback desert crossing on camel back, or if you prefer the air-conditioned comfort of a big coach, you have to start somewhere. And somewhere will most likely be one of the cities or towns listed below.
The best starting points for
travel into the Australian Outback
Darwin on the northern coast is my favourite city in Australia. It's a fast growing cosmopolitan city and a melting pot of 50 nationalities, offering everything you'd expect from a tropical city by the sea. But it is also a rough frontier town where you see many four wheel drives covered in red dust on the roads and come across many bush characters. City life meets Outback Australia, resulting in perfectly happy co-existence. That's Darwin.
Darwin is the best starting point to travel northern Outback Australia.
---
Alice Springs is known as the "Capital of the Outback". It's located more or less in the middle of Australia, as far away from every coast and every other major city as possible. But close to Ayers Rock. Most people who visit Ayers Rock visit Alice Springs as well. It's the best starting point to travel "the red centre" of Outback Australia.
---
Yulara is the name of the township just outside the Uluru - Kata Tjuta National Park (Ayers Rock). It's not a real town, but it has everything you need, offers the only accommodation options near Ayers Rock, and has its own airport. If you are pressed for time but don't want to miss out on visiting Uluru you best start your Outback Australia visit here.
---
Coober Pedy is the "Opal Capital of Australia". It's a bit out of the way, half way between Adelaide and Alice Springs. But anybody driving to Alice Springs from the south will come through Coober Pedy. Schedule a day in your trip to have a look around. There is no town in the world that is anything like this one. Well worth a visit!
---
Kununurra is the best starting point to travel the Kimberley region (the Outback of Outback Australia, as it's been called...)
---
Tropical Broome on the west coast is the other gateway town to the Kimberley, or the perfect place to be reintroduced to civilisation after crossing the Kimberley.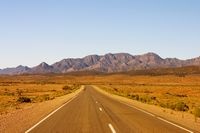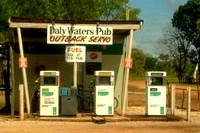 There are many more towns in Outback Australia and I will cover them soon, so watch this space for more information.
---
Learn more about the Australian Outback here
Return to Outback Australia Travel Guide home page