Coober Pedy Map
On this page you can find several Coober Pedy maps:
An overview map of Coober Pedy's location within Australia, an interactive map that lets you zoom in close enough to see cars and buildings, and a free, printable map and street index of the town.
The first map shows where Coober Pedy is located in Australia: about half way between Adelaide and Alice Springs. The Stuart Highway (not shown in this map) connects the three towns and continues to Darwin.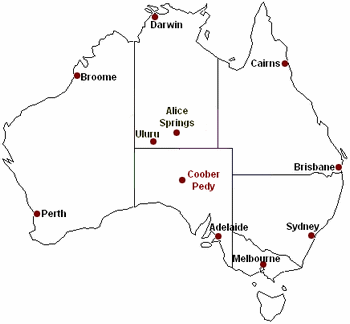 ---
Interactive Coober Pedy Map
This is a detailed map of Coober Pedy.
Click the (+) and (-) buttons to zoom in and out, and the arrows to move around.
Unfortunately the satellite view only works at the lower zoom levels. It would be nice if you could zoom in to see buildings and cars, like you can on other maps on this site...
(The hybrid view is the satellite image overlaid with the map, and both satellite and hybrid view are recommended for broadband users only.)
---
Printable Map
Here is a free, printable map of Coober Pedy, and it comes with a street index.
(This map is a .pdf document. You need Adobe Acrobat reader to view and print it. If it's not installed on your computer get it here for free.)
---
Return to Coober Pedy, Australia index
Return from Coober Pedy Map to Outback Australia Travel Guide home page