Alice Springs, Australia

A Guide To The Heart Of The Australian Outback
Alice Springs in Australia - its location smack bang in the middle of the continent makes it THE place to go if you want to see some of the Australian Outback.
Its historical sites and attractions make it THE place to be if you want to get a feel for what it used to be like, over hundred years ago...
...when the first explorers and then the first settlers ventured into the red heart of Australia.
(And since Alice Springs is a modern town with all the usual comforts and facilities you won't have to endure any of the hardships they had to deal with...)
As much as I am a fan of Australia's far north and the tropical regions, there is no denying that Alice Springs is the heart and the centre of the Australian Outback, both in a geographical and a metaphorical sense.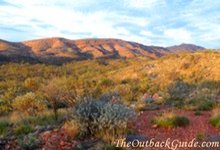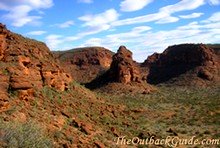 Last time I visited central Australia I spent four weeks in the Alice Springs area. That was in April. April is in my opinion the best time to visit Alice Springs, Australia.
Find out why, find out how to get there and how to get around.
Discover what there is to see and do in Alice Springs, the attractions near it, what's easy to access, what's wilder, where the real Australian Outback is, and more...
A Guide To Alice Springs, Australia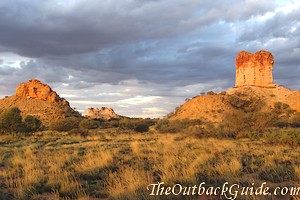 Alice Springs Facts And Information
All the facts like location, size, driving distances to other cities, airport, ... (coming)
Alice Springs Climate And Temperatures
What is the best time to visit Alice Springs and central Australia?
Alice Springs Maps
Interactive maps, town maps, regional maps, and free, printable maps.
Tourist Attractions In Alice Springs
Alice Springs Accommodation
Until I find the time to write about this in detail, I can recommend two services:
This link takes you to TripAdvisor. There you can read reviews for individual hotels and backpackers written by other travellers, but mostly Tripadvisor is good for finding hotel special deals, flight/accommodation packages, car hire deals etc.
A similar and maybe even better service is HotelsCombined, an accommodation search engine that compares prices at all online booking sites and finds you the best Alice Springs accommodation prices with one click.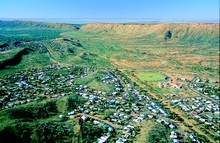 © Tourism NT
Alice Springs, Australia, Surrounds
Uluru Kata Tjuta National Park
Ayers Rock is the main reason people travel to Alice Springs (and Australia).
Many fly in, climb the rock, look at the sunset, and fly out. Many tourists aren't even aware of the existence of Kata Tjuta/the Olgas. And they always underestimate the distances. Ayers Rock doesn't exactly sit on the outskirts of town...
Kings Canyon / Watarrka National Park
This is the next most popular destination from Alice Springs. Many tourists go on tours that take them to Uluru, Kata Tjuta (the Olgas) and Kings Canyon, "the big three".
The unsealed Mereenie Loop Road is a scenic drive that provides an option to get from Uluru / Kings Canyon to the West MacDonnell Ranges without backtracking.
The West MacDonnell Ranges
In the "West Macs", as we call them for short, you find all the other places that Alice Springs is famous for. All those destinations are close enough to be seen in a day trip, and the road is all bitumen (except the last bit to Redbank Gorge). As a result this area gets totally flooded with day visitors...
Standley Chasm
Ellery Creek Big Hole (swimming)
Ormiston Gorge
Glen Helen
Redbank Gorge and Mt. Sonder
The Larapinta Trail
The East MacDonnell Ranges
At least as beautiful as the West Macs, close to Alice Springs, with a sealed road up to Trephina Gorge... But for some reason most tourists don't seem to be aware of all that. I love this area.
Trephina Gorge
N'Dhala Gorge (4wd only)
Arltunga Historical Reserve
Ruby Gap and Glen Annie Gorge (4wd only)
More Attractions Near Alice Springs
Except for Rainbow Valley these are all destinations for the more adventurous:
---
Return from Alice Springs, Australia to Outback Australia Travel Guide home page