The East MacDonnell Ranges
Waterholes, Gorges And Superb Walking Tracks In
The Mountain Ranges Near Alice Springs
The East MacDonnell Ranges near Alice Springs are still a bit of a secret tip. This little visited area has at least as much to offer as the West MacDonnells.
Good access, great scenery, walking tracks of any length or difficulty level, seasonal swimming holes, wildlife, wildflowers, great camping, four wheel driving if you want to...
What else could you ask for?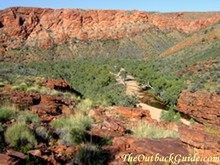 Why this area is so much quieter than the West Mac Donnell Ranges is a mystery to me, but let's just be grateful and enjoy it while it lasts.
Where are the East MacDonnell Ranges?
As the name says, this part of the MacDonnell Ranges is east of Alice Springs. The road is sealed for the first 74 km. Any car can easily drive as far as Trephina Gorge, which is one of the nicest places in the whole Alice Springs area. (You can read more about it below.)
To get there you just follow the Stuart Highway. Only a few kilometres south of Alice Springs you turn east onto the Ross Highway.
That's it. You're in the East MacDonnell Ranges.
A Map Of The East MacDonnell Ranges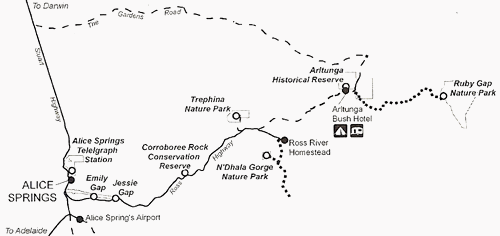 Attractions in the East MacDonnell Ranges
There are a few places along the first kilometres that are worth checking out: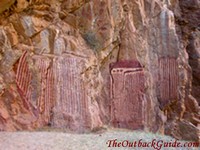 The Emily and Jessie Gaps Nature Park protects two small gaps in the ranges. Emily Gap (14 km from Alice Springs) has some Aboriginal rock paintings and is a registered sacred site.
Jessie Gap (at 21 km) has good picnic facilities. Since it's close to Alice Springs it would be a nice place for a barbecue at the end of a day trip (for those who don't like camping).
Corroboree Rock Conservation Reserve (at 46 km) is another important Aboriginal site, though its actual significance isn't known. Despite the name it's unlikely that it was used for Corroborees, because there is no water in this area. It's an unusual rock formation and a circular walking track lets you appreciate its strange shape from all directions.
---
Trephina Gorge Nature Park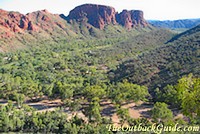 Now this is where it gets really interesting. Once you leave Corroboree Rock behind the scenery becomes more and more spectacular.
As I said at the top, Trephina Gorge is one of the nicest places in the whole area. The road into Trephina Gorge is sealed to the turn off at 69 km.
From there it is another 9 km, and the last five are unsealed. But it's a good road and you certainly don't need four wheel drive.
There are actually two gorges within the park, Trephina Gorge and the John Hayes Rockhole. If you want to drive to the Rockhole you do need four wheel drive, but you can also get there by walking from Trephina Gorge.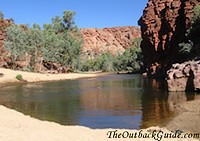 There are many walks in this lovely area, they lead through the gorges and along the ridges. There are also three campgrounds, and early in the season there is enough water in Trephina Gorge to have a swim.
It's great as a base camp to explore the whole area further.
---
N'Dhala Gorge Nature Park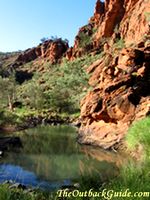 To get to this beautiful little gorge you need a four wheel drive. The turn of is 12 km beyond the Trephina Gorge turn off, and then it's another 11 km of four wheel driving through great scenery.
N'Dhala Gorge is mostly known for the 5900 (!) ancient petroglyphs (rock carvings) that adorn the rocks here, but it's also a wonderful walk just for the nature and views.
The gorge is much narrower and steeper than Trephina Gorge, and a lot more dramatic and more overgrown.
There is also a nice little campground. During the main season, when I imagine Trephina Gorge gets a bit busy, this would be a great alternative.
(There is also a small commercial campground, the Ross River campground, right after the initial turn off.)

---
Arltunga Historical Reserve
At Arltunga Historical Reserve you can wander between the ruins of what used to be central Australia's first town. Why anybody would have wanted to live here in those days is beyond me. I know the reason of course. Gold!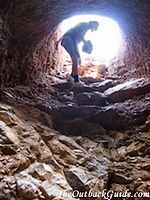 But following the foot steps of those old miners, reading about the conditions they lived in and crawling through the low shafts they used to work in, it left me baffled.
We live in such an awesome country full of riches. That people would leave all that behind, to come to such a desolate place and endure such hardships, for some cold metal...
Check it out, it's impressive. Impressively desolate.
To get there you turn left 5 km past the Trephina Gorge turn off, and then follow a good unsealed road for another 36 km.
(A campground with facilties is available nearby at the Arltunga Bush Hotel, which sounds great but from what I've heard isn't. And it's never open.)
Arltunga Tourist Drive - The Gardens Road
The Gardens Road is shown on the map above. This drive is an alternative route to return from the East MacDonnell Ranges to Alice Springs. The road is unsealed all the way and can be a bit rough after rain. But I think usually it's okay for all vehicles. Check at the Visitor Centre at Arltunga before you leave, to make sure.
It's 130 km from Arltunga to the Stuart Highway, and then another 50 km along the highway to get back to Alice Springs.
(I imagine as an evening drive this would be great if you were heading east. We were of course going west, back to Alice Springs, and I had the sun in my eyes for most of the time...)
---
Ruby Gap Nature Park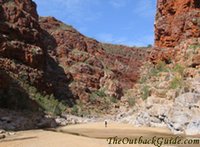 In one word: awesome. My favourite, favourite place in central Australia. Supposedly it's rated as the best gorge in central Australia. I don't know who did the rating, but I add my vote without hesitation.
However, it's not exactly easy to get there.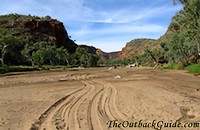 Access is via the Arltunga Historical Reserve. From there it's another 40 km on a very rough track. A high clearance four wheel drive is absolutely essential.
The track inside the park is even more challenging, as it follows the Hale River bed. For that part an experienced driver is also essential.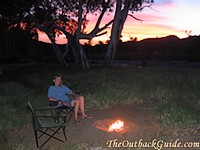 As a result the area is devoid of people and has this powerful sense of remoteness and isolation that always captivates me.
Challenging four wheel driving, spectacular and extended walks, gemstone fossicking (even though they're garnets not rubies), water holes, fantastic bush camping...
For me this is paradise.
Read about other Tourist Attractions In Alice Springs
---
Return to Alice Springs, Australia index
Return from East MacDonnell Ranges to Outback Australia Travel Guide home page