Australian Outback Pictures

Outback Photo Gallery
You can find many Australian Outback Pictures all through this website (together with lots of information about Australian Outback travel), but they are small. I wanted to show some bigger photos.
So I went through all my photos and selected the best Outback pictures to create this photo gallery.
These pictures of the Australian Outback are grouped by location or theme. You can choose any of the links below, or follow the link at the bottom of each page to view the whole Outback photo gallery.
---
Australian Outback Photo Gallery
---
Australian Outback Pictures 1
Rocks And Wide Open Spaces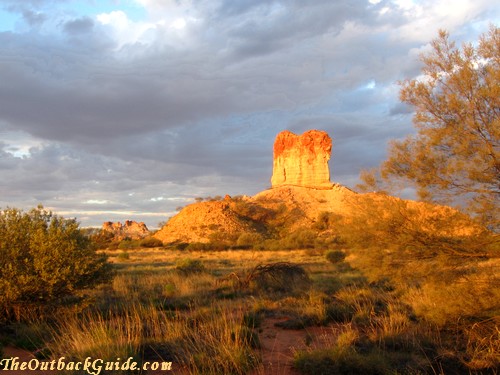 What do you think of first when you hear "Australian Outback"? Endless horizons? Red sand? Red rocks? Remoteness, solitude, and sleeping under a million stars?
This place south east of Alice Springs has it all. The rock is called Chambers Pillar, and it's much closer to a real Outback experience than Uluru will ever get.
Be here for sunset and you will go home with some Outback pictures that people haven't already seen a million times. (Who needs another picture of Uluru? We all know what that looks like, don't we?)
---
Australian Outback Pictures 2
Red Roads
This is what driving across the Australian Outback looks like a lot of times: an endless ribbon of red dirt, snaking towards an endless horizon, and big dust clouds announcing any oncoming traffic.
Actually, this is one of the few dirt roads left in this very touristy region south west of Alice Springs. It's the Mereenie Loop Road that connects the West MacDonnell Ranges with Kings Canyon and Ayers Rock.
---
Australian Outback Pictures 3
The Colours Of The Outback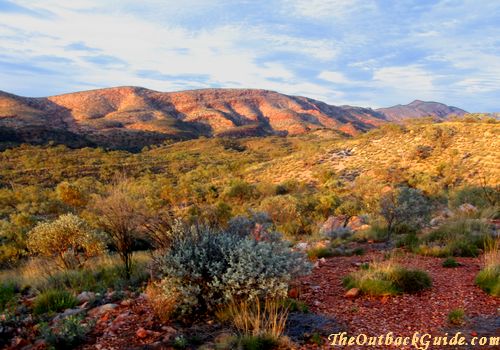 The Outback sun is harsh and pictures that were taken during the day often look flat and boring. But if you manage to be out and about around sunset you'll see some unbelievable colours...
I took this Outback picture when camping in the MacDonnell Ranges, just a few seconds before the sun completely disappeared..
---
Australian Outback Pictures 4
Outback Ranges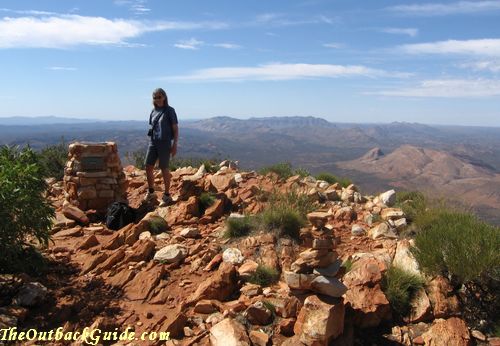 This Outback photo was taken the next day, on top of one of the highest points of the ranges. I don't think many people think of hiking as an Outback activity, but to me it's the only way to see the place properly.
(Plus, it's the best way to get away from the busloads of tourists that pour into this area every day.)
---
Australian Outback Pictures 5 and 6
Gorges In The Outback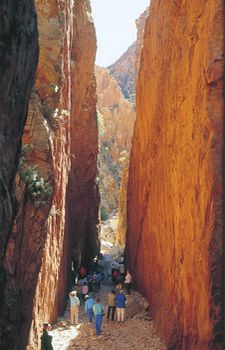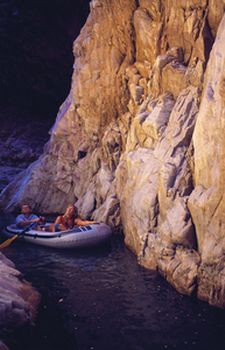 Wherever there are ranges in Australia you will find chasms and gorges. Some are dry and just offer spectacular views and scenery, but many have permanent waterholes at the bottom.
I guess swimming is another activity that's not always immediately associated with the Aussie Outback... Yes, we go swimming a lot!
---
Australian Outback Pictures 7 and 8
Outback Camping
And we go camping in the Outback. A lot!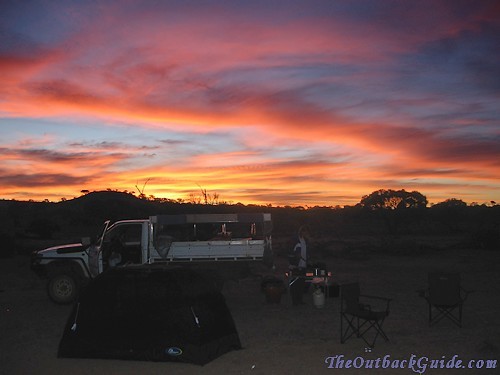 Next page: Outback Pictures II - the North West
---
Go to Australian Outback Travel Guide home page
(Copyright for pictures 2, 5 and 6 belongs to the Northern Territory Tourist Commission. © Tourism NT)