More Australian Beaches

Outback Photo Gallery
Here are some more pictures of the best Australian beaches. Of course all those beaches are in areas that qualify as Outback. Because what is one of the main criteria when assessing a beach? Right, the amount of people.
If you like crowded beaches you landed on the wrong site I'm afraid...
---
Australian Beaches 1
Supposedly The Best Of All Australian Beaches...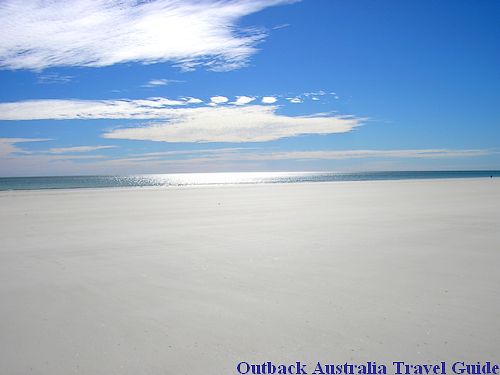 Here it is again, Cable Beach in Broome, supposedly the best of all Australian Beaches. (Must be, since it's the only one rated amongst the world's best beaches...) It sure is one of the most photogenic beaches in Australia.
This is a much newer picture than the photos on the previous page. It is also one that was actually taken by me, and not one of those artificial tourism industry pictures. (Though it could be one of those, couldn't it? Hmm, might need a palm tree...)
Anyway, this is what Cable Beach is all about: endless pristine powdery white sands.
So tell me: why is everybody so keen on this sort of Australian beach? What on earth do you do all day in a place like this, other than fry...?

---
Australian Beaches 2
The Most Colourful Australian Beach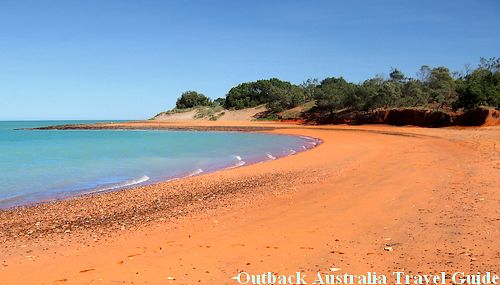 This isn't a beach for swimming or sun bathing. Actually, most times this part of Roebuck Bay in Western Australia is referred to as mudflats...
I took this picture at the Broome Bird Observatory, a world famous research facility. It's one of the world's top shore bird and wader locations and at the right time of the year you can watch thousands and thousands of birds on these beaches.
As you can see, it wasn't the best time for birds when I was there. I didn't mind. The pictures turned out beautiful, even without any birds in them...
---
Australian Beaches 3 and 4
You Will Never Run Out Of Things To Do At These Beaches...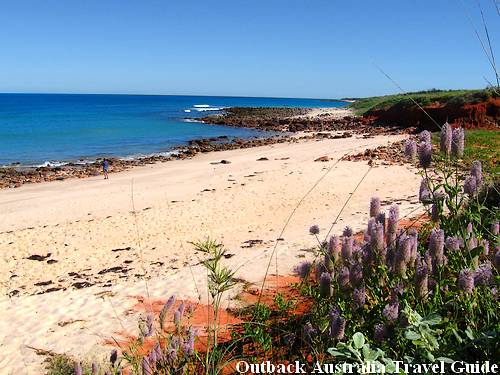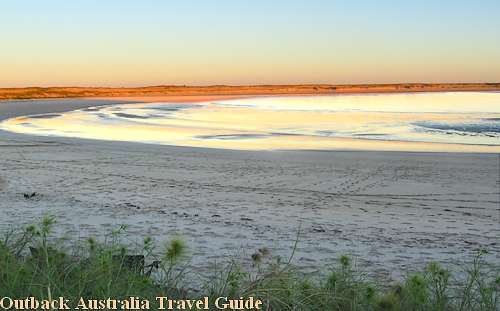 The first picture shows the beach at Quandong, the second one a sunrise at Middle Lagoon. Both beaches are north of Broome in Western Australia, and at this stage their existence is still a reasonably well kept secret. Most of the people you see here are locals. If you see anyone that is.
If I am to spend a whole day at a beach I need something to do, and that's why I love these beaches. Beaches need rocks. Rocks to climb over, with little pools and lagoons full of interesting things the tide left behind, rocks to snorkel around, rocks to fish...
The ocean here is so full of life, and the coastline is so rugged and diverse, it never gets boring. There are hardly any people here, and few rules. I like beaches best in the evening, at night time, and at sunrise. And at these beaches you can camp.
---
Australian Beaches 5 - 10
Actually, These Are The Best Of All Beaches In Australia...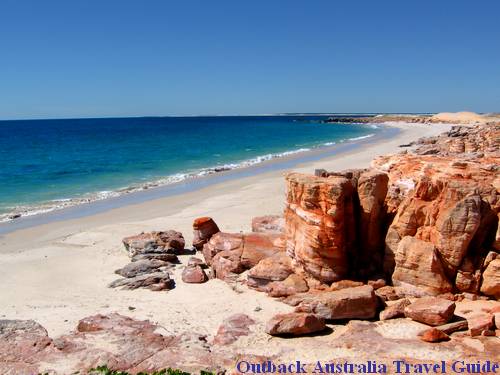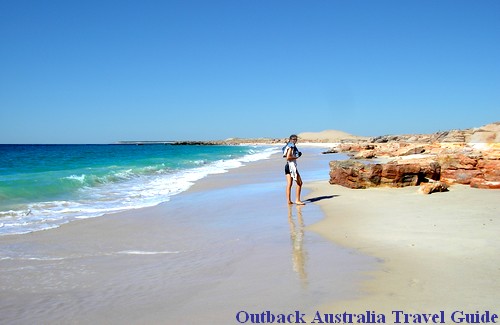 I'm not sure any single beach in Australia deserves the title "best Australian beach". There are so many that have absolutely everything you could ask for. It seems the best is often the last one you visited...

But if I had to vote for one single place, this would be it:
Cape Leveque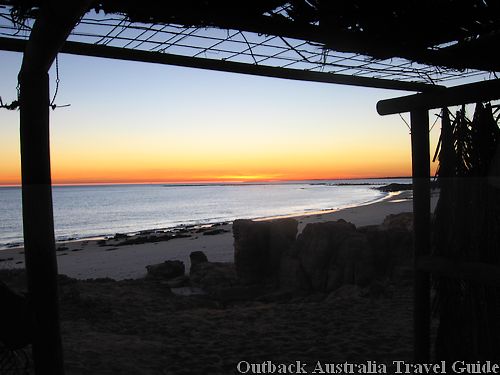 More Australia Beaches
Australian Outback Pictures Gallery main page
---
Return from Australian Beaches to Outback Australia Travel Guide home page