Kakadu Pictures

Outback Photo Gallery
These Kakadu pictures show my favourite places in Kakadu National Park, one of the most famous national parks in Australia.
Kakadu is hugely popular and sees a lot of tourists during the dry season. But if you know where and when to go you can still have a lot of this pristine wilderness to yourself.
Well, at least nearly...
---
Kakadu Pictures 1
The Secret Rockhole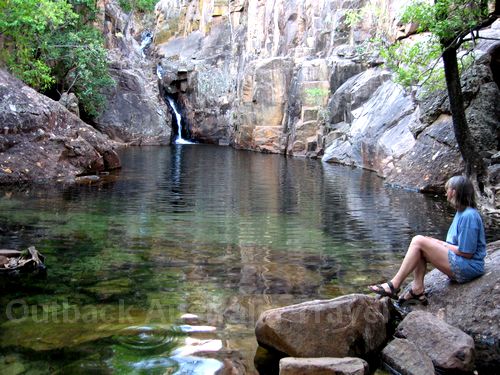 When I visit Kakadu National Park I usually reach it from the south. (That's because I live south of Kakadu). The little waterfall and rock pool in the picture are right next to the southern entrance of the park, and are neither sign posted nor shown on any maps.
It's the most beautiful little camping spot in all of Kakadu and we always spend the first night there. So far I never had to share the place with anybody else. (Could be because you are supposed to have a permit to camp there...)
---
Kakadu Pictures 2
Gunlom Falls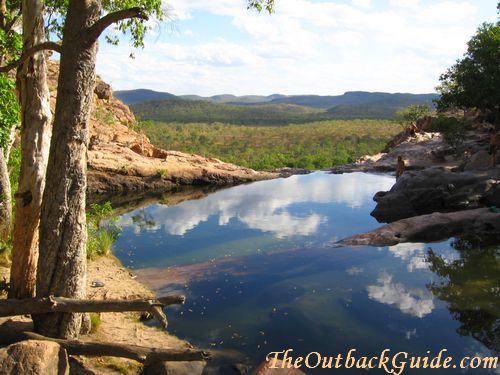 This is the view from the top of Gunlom Falls. Gunlom Falls is a very popular place in the southern part of Kakadu and it can get quite crowded on the little beach at the bottom pool. But with a bit of luck you can still find a quiet pool for a swim up here.
---
Kakadu Pictures 3
Koolpin Gorge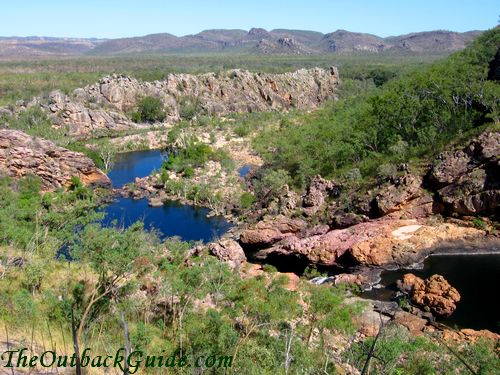 And this is my favourite, favourite place in Kakadu: Koolpin Gorge. It's not far from Gunlom, but the short distance makes a huge difference. Actually, it is the gate at the start of the access track that makes the difference. You need a permit to access Koolpin Gorge and only a small number of people are allowed in per day.
---
Kakadu Pictures 4 + 5
Maguk / Barramundi Gorge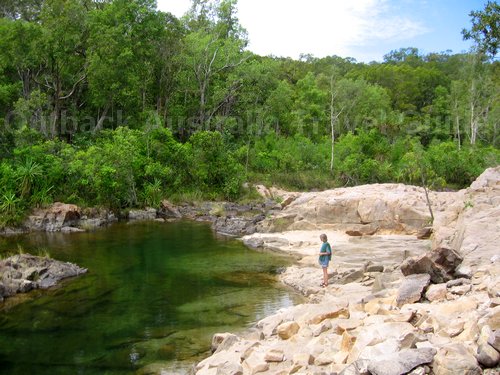 Here we are on the way to Maguk, also called Barramundi Gorge. That's also in the southern, less visited area of the park. As you can see, no cement path, no boarded walk way etc. The walk involves a bit of scrambling over rocks and boulders.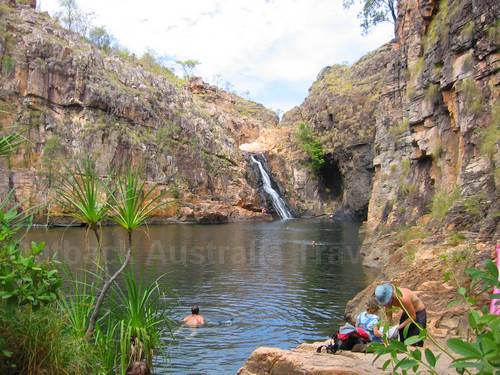 Barramundi Gorge is one of the most beautiful swimming spots in Kakadu National Park. And because you have to walk for 2 km to get there it is not as crowded as say Gunlom Falls, where you can pretty much drive right up to the water.
Another reason is that the track into Maguk/Barramundi Gorge is rougher than the well formed gravel road into Gunlom Falls. Most people prefer to have it easy and comfortable... I prefer to have it to myself ;-)
---
Kakadu Pictures 6 + 7
Jim Jim Falls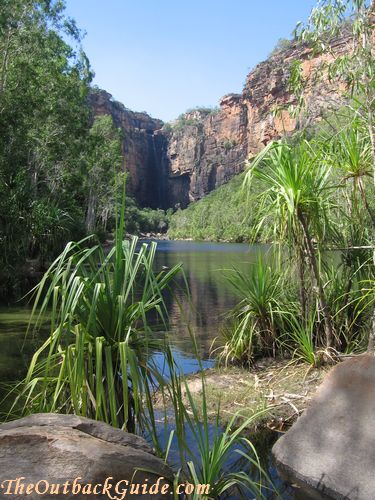 Here you are looking towards Jim Jim Falls. Not much of a fall happening. It's the dry season, though early enough in the dry for some water to still be coming down. The pool at the bottom of Jim Jim is huge and swimming is possible even late in the dry: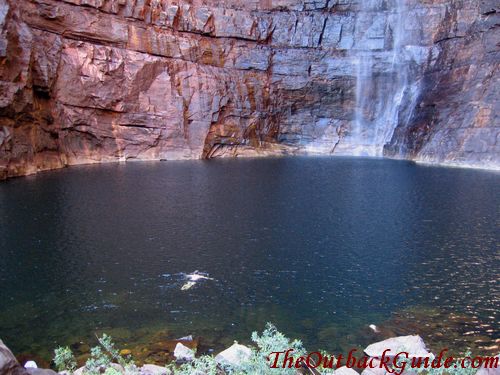 Jim Jim Falls (and the nearby Twin Falls) are among the best known attractions in Kakadu, but difficult to reach in comparison to other main sites. Difficult to reach usually equals fewer people, but in the case of Jim Jim and Twin Falls many people just hop on a tour bus, so you still have major crowds here during the main season.
You can read more information about Kakadu National Park and find some more Kakadu pictures here.
Next page: Katherine Gorge Pictures
Australian Outback Pictures Gallery main page
---
Australian National Parks Site Map
Go to Outback Australia Travel Guide home page