Koolpin Gorge - A Little Known Gem

In Kakadu National Park
If I had to choose only one place in Kakadu National Park it would be Koolpin Gorge.
Even if I had only one night to spend in Kakadu, that's where I'd go.
I just love that place.
Koolpin Gorge - Jarrangbarni by its Aboriginal name - is not a place for the average tourist, and not many people get to see it.
This has several reasons:
To start with you definitely need a high clearance four wheel drive to get there. It's not a difficult drive but you do need that clearance.
Secondly, there is only a little bush campsite at the gorge with no facilities other than pit toilets.
Also, there are no marked walking tracks, no easy to get to lookouts, boardwalks to photo taking platforms etc. The walk up the gorge is a real wilderness walk and requires you to be comfortable in very rough terrain and to be reasonably fit.
And last but not least, you can't just go there as you please. You need a permit and you need to organise that permit ahead, as only a small number of people are allowed in at any one time.
Add all that together and you have one awesome place and generally you have those waterfalls and rock pools and views all to yourself!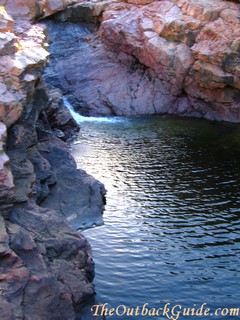 To get to those pools follow the track that starts from the campgrounds and turn right, following the creek upstream.
You will soon have to shed your shoes and wade across a deep pool. The next pool can be crossed by wading or rock hopping. Then follows a bit more rock hopping and a bit of a climb and you get to the two biggest rock pools, separated by huge pink rock slabs and both fed by waterfalls.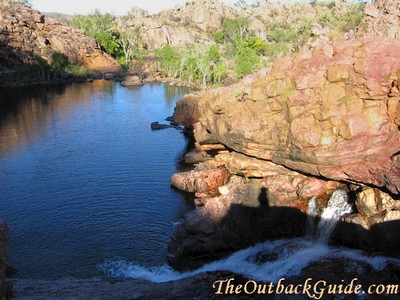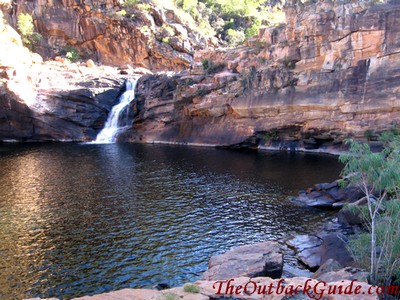 Many people don't go any further. This is a fantastic place anyway and you can easily spend hours here, swimming, birdwatching, lazing around or exploring.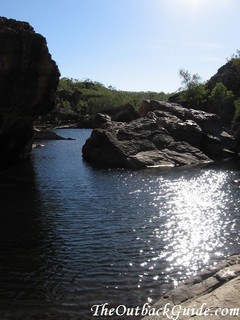 But many people also don't know that you can go further.
It looks as if there is no way up the tall cliffs at the back.
But if you go over to the right hand side of the pool (looking upstream) you can scrample up the steep hillside there.
You continue high above the next two pools before you descend again to get to more pools, beaches and rocky ledges, for more swims, picnics or lazing around.
You can follow the creek as far as you like.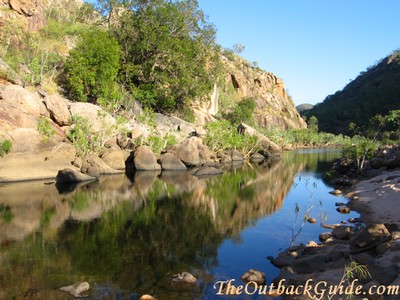 It's a huge area and 40 people totally disappear in it. Koolpin Gorge really still has this great wilderness feel to it, and the scenery is fantastic.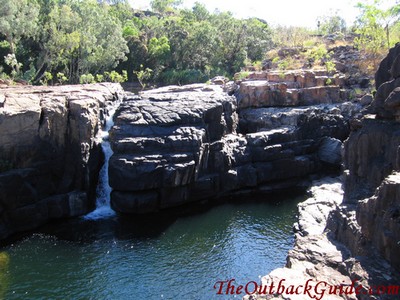 You can visit Koolpin Gorge just for a day, but it's better to spend one night, or better still, two. That gives you a full day, from early moring to sunset, to explore all those pools and waterfalls.
Where is Koolpin Gorge?
Koolpin Gorge is in the southern corner of Kakadu National Park, not far from Gunlom Falls. You turn off the Kakadu Highway at the sign posted turn off to Gunlom, only a few km from the southern entry to Kakadu (about 90 km south-west from Cooinda/Yellow Water or 135 km from Jabiru).
About 30 km down that road you get to an intersection. Turn right towards the Gimbat Picnic area. After another 10 km is a signposted turn off to Koolpin Gorge. And a locked gate...
How do you get a permit for Koolpin Gorge?
The number of people is restricted to 40 per night. The place is popular with the small, adventure style tour operators. They have access on a roster basis so there are always plenty of spaces left for independent tourists. But the earlier you apply for your permit the better your chances to reserve a place on your chosen date.
To apply, download the application form here, fill it out and fax it in.
(If you want to make sure that your chosen date will be available, just ring the permit office on 08 8938 1140 and ask first.)
And that's it. The permit is free. It will be e-mailed or sent to you, whatever you prefer. When you get to Kakadu you need to present the permit to the information desk at the Mary River Roadhouse (at the southern entry to the park) and they will give you a key to that locked gate.
You pay a $50 deposit for the key, which you get back when you return the key.
Access times are strictly regulated. On the day you leave you have to be out of the gate by 4 pm. And people who arrive can only drive in after 4 pm. That way the narrow track basically works like a one way road and you don't have to worry about oncoming traffic.
If you have the chance to go to Koolpin Gorge, don't miss it!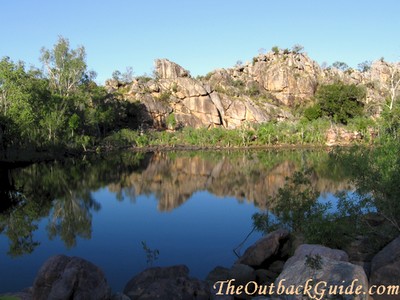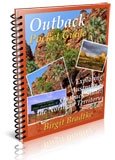 Travelling the Northern Territory?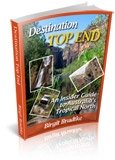 The free Outback Pocket Guide
is a great introduction to travel in the region.
The full Top End Travel Guide


shows you how to make the most of your adventure in Australia's tropical north.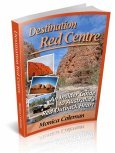 NEW! Destination Red Centre is the latest addition in this popular series. Monica Coleman takes you through Australia's red Outback heart, offering all the detail and insider tips that you have come to know and love about our guides. With special emphasis on Aboriginal communities and culture.

A must have if you travel to or from Alice Springs/Uluru.
Other popular places in Kakadu:
Kakadu National Park main page
---
Read about other National Parks in Australia
Australian National Parks Site Map
Outback Australia Travel Guide home page