The Alice Springs Reptile Centre
The Alice Springs Reptile Centre is another must visit place in Alice Springs, especially if you have children.
Have you ever held a python? Have you ever been kissed by a blue tongue lizard? This is your chance.
The Alice Springs Reptile Centre has a pretty good collection of Australian snakes and lizards, but the real attraction here is the show.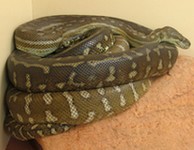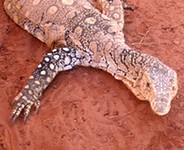 You learn a lot from the demonstrations. They show you some of the friendlier lizards and how to hold them and why. They explain why Australian snakes aren't as dangerous as people think, tell you how to react when you see a snake and why, and lots more.
And at the end of the demonstration you also get to hand feed or hold the friendlier animals that were in the show.
Don't worry, the snakes in the show are harmless olive pythons and they're used to being handled. But they're pretty big! The kids just love it.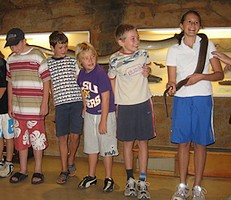 Apart from the show there are over 100 reptiles from nearly 40 different species at the Alice Springs Reptile Centre. All the poisonous snakes are there: Eastern and Western Browns, the Inland Taipan, the Death Adder, the Mulga Snake... There are also lots of different pythons, frill-neck lizards, goannas, a perentie...
An unusual resident, because he's not exactly a local, is Terry, the saltwater crocodile. Terry is 3.3 metres big and was captured in Darwin harbour. He's been living at the Alice Springs Reptile Centre since 2002. So now even people who can't make it that far north have the chance to see a saltwater crocodile. From an underwater viewing area, no less.
The Reptile Centre is definitely well worth a visit.
Alice Springs Reptile Centre Visitor Information
The Alice Springs Reptile Centre is near the town centre, at 9 Stuart Terrace (in the same corner as the Royal Flying Doctor Service and the National Women Pioneers Hall of Fame).
Entry fee is $14 for adults as of 2012.
The Reptile Centre is open seven days a week from 9.30 am to 5 pm, and the shows start at 11 am, 1 pm, and 3.30 pm.
I think the show lasts about half an hour, and one hour should be enough to look at everything else.
Read about other Tourist Attractions In Alice Springs
---
Return to Alice Springs, Australia index
Return from Tourist Attractions in Alice Springs to Outback Australia Travel Guide home page