Ayers Rock Sunset - Sunrise At Uluru
The Colours Of Uluru - Pictures And Videos
of Sunrise and Sunset At Ayers Rock

A picture of Ayers Rock at sunset:
The quintessential image of the Australian Outback, a must have trophy for nearly every Australia traveller...

Photo: Paul Arps

Photo: F Delventhal

It's the most intriguing feature for many visitors: the everchanging colours of Ayers Rock at sunset and sunrise.
Photographers set up for days to record the different light and changing moods of Uluru. Sunset and sunrise tours are popular with tourists.
I particularly like the story of one traveller, who describes riding his push bike on the ring road around Uluru at sunset...
He kept going round and round and on every lap he saw a Ayers Rock glow a different colour... What a great way to see the sunset. Beats the crowded Ayers Rock sunset viewing areas any day.
(If you have a great tip or a story about Uluru, please share it here.)
According to my observations many tourists never even get to see the actual sunset at Uluru, they only see the little preview on their camera, until they get home and watch their video...
But jokes aside, the changing colours of Ayers Rock at sunset are a fascinating spectacle.


I am grateful to all the people who took the amazing photos and videos that decorate the Uluru section of the Outback Guide.
This one is a particularly nice one.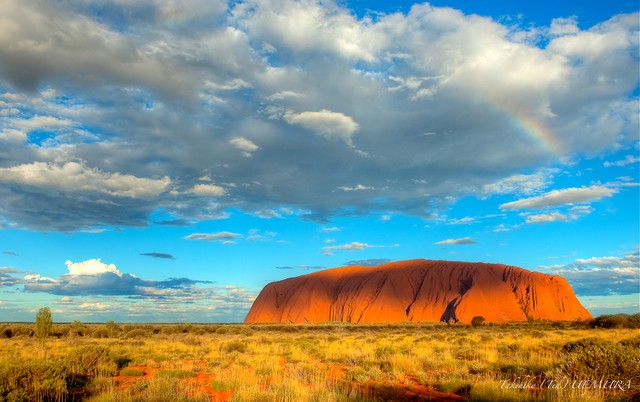 Photo: Ted W

And here is another one. As you can see,  Ayers Rock sunset pictures look more interesting when there are also some clouds in the sky.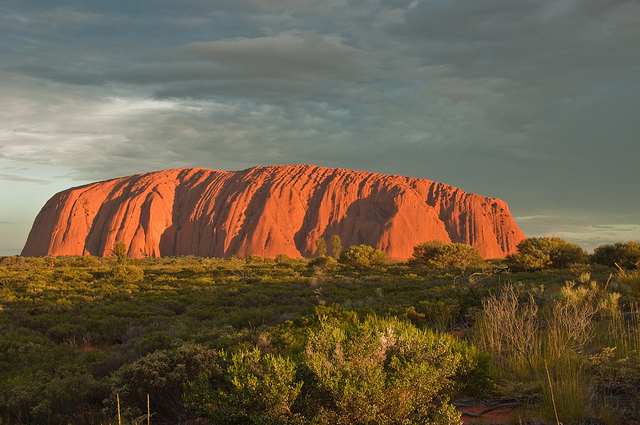 Photo: Graeme Churchard

No picture is more often associated with Australia than a photograph of Ayers Rock at sunset. It is a compelling picture: the deep orange, glowing above the already darkened expanse of the Outback, perfectly flat, the endless horizon... No wonder Uluru is a magnet to tourists.
If a picture alone can instill such awe, how much more spell binding must the real thing be?
Sunset At Ayers Rock - The Reality...
Um, actually, that can vary greatly...
Because of the huge number of tourists who visit Uluru-Kata Tjuta National Park there are lots of rules and regulations, you can't just do what you want and go where you like.
Dedicated Uluru sunset and sunrise viewing areas on the ring road are the only places where you are allowed to stop. And you are not allowed to leave the bitumen and wander of into the fragile dune area.
Those Uluru sunset viewing areas are big car parks, parking bays as far as you can see, and every single bay is occupied by the time the colours of Uluru start changing.
Here is another video, a very short one, that gives you a more realistic impression of what a sunset at Ayers Rock, viewed from the viewing area, may feel like...


How you will experience your Ayers Rock sunset (or sunrise) depends on your expectations. It may very well blow you away, despite all the people and the touristy aspects.


Photo: Kyle Taylor

But if you've been travelling in the Australian Outback for a while, if you've spent time camping in the desert, watching the sun set in the Australian Outback, nights under the stars at the camp fire, and if you love that kind of thing...
The Ayers Rock sunset can be a bit of a shock to the system:
Tourists pouring out of vehicles and setting up all their video equipment...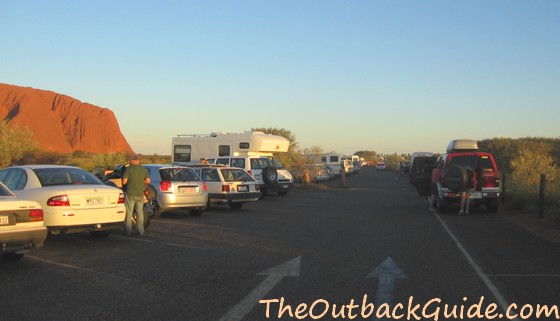 Tour guides whisking out tables and champagne glasses...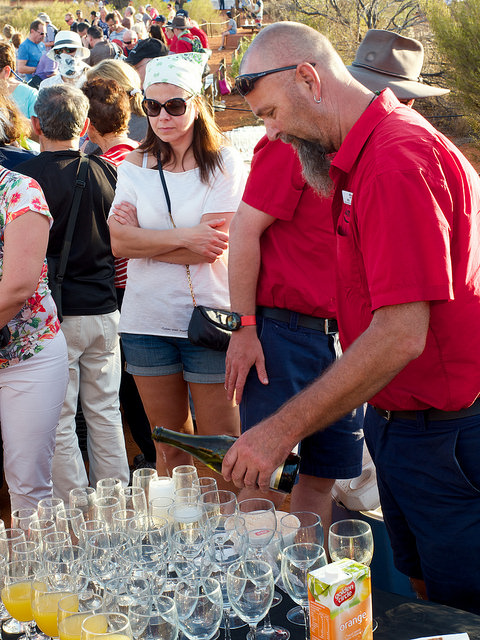 Photo: Dainis Matisons

Not exactly the serenity you had hoped for...
There are two sunset viewing areas, one for cars, one for big buses. The view from the bus parking area is the nicer view in my opinion. Unfortunately that area gets closed one hour before sunset and is only accessible for the bus tourists and their champagne experience...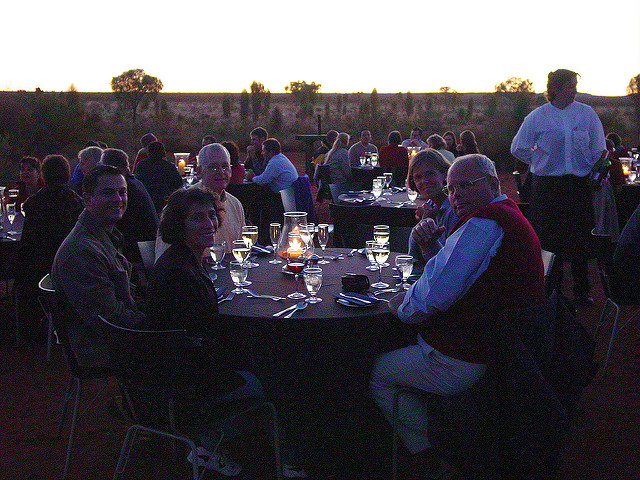 Photo: F Delventhal

Most people rave about this champagne experience, the "Sounds of Silence" dinner that is staged there. (It can be booked at the Ayers Rock Resort Yulara, where you will be staying).
Champagne to watch the Ayers Rock sunset, a delicious buffet style dinner by the light of hurricane lamps, star gazing with a qualified astronomer...
Even if you are not into camping, you can't travel to the centre of Australia and not spend at least a few hours enjoying a starlit night in the desert.
And it is easy to set up your own champagne dinner, for those who are not into organised events or don't want to pay the steep price.
Yes, alcohol is banned from all Aboriginal lands in the Northern Territory. But the four areas overlooking Uluru are exempted from the ban. You can have your wine and cheese with your Uluru sunset.


Ayers Rock Sunrise
I will leave you with two sunrise videos. Everything I said about the sunsets applies to the sunrise at Ayers Rock as well.
The first one is a beatuifully done time lapse, overlayed with fitting music...


The second one is less professional and much more realistic. It is taken from the ring road (near the official viewing area) and you can guess the amount of traffic and people, even though they are behind the person filming...


So... Know what to expect!
Uluru sunsets and sunrises are a great opportunity to capture some stunning photos and videos, if you know what you are doing.
But to get a spellbinding outback experience you are going to have to get a bit creative...
Travelling to the Northern Territory?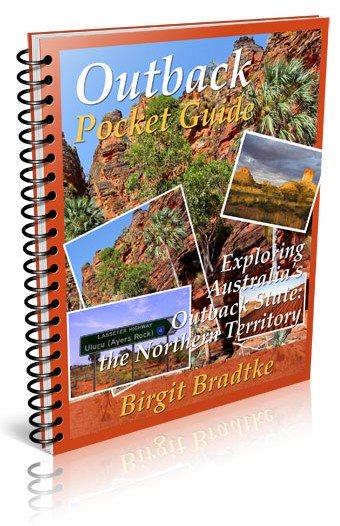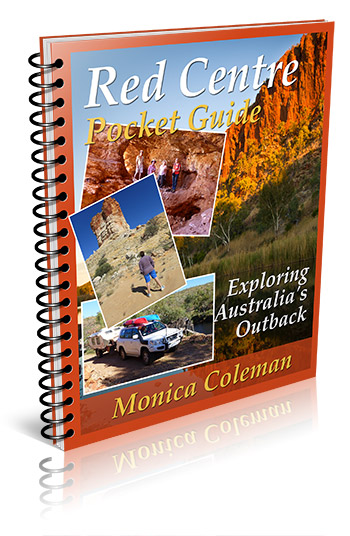 Then don't forget to grab your
two FREE Pocket Guides here!

NEW! Destination Red Centre is the latest addition to the popular Destination series. Monica Coleman takes you through Australia's red Outback heart, offering all the detail and insider tips that you have come to know and love about our Destination guides. With special emphasis on Aboriginal communities and culture.

A must have if you travel to or from Alice Springs/Uluru.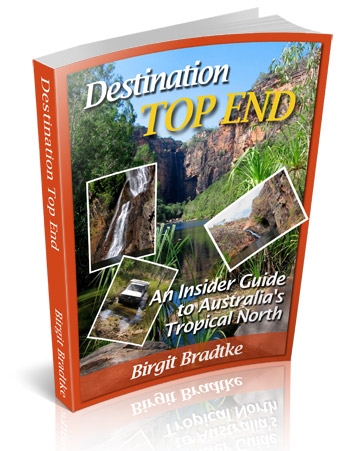 Destination Top End offers the same comprehensive, detailed insider information for the tropical regions of the Northern Territory. Be the best informed traveller in the Kakadu, Litchfield and Katherine Gorge national parks and beyond!

A must have if you travel to or from Darwin.