Ayers Rock Accommodation

Ayers Rock/Uluru Hotels and Budget Accommodation
Most visitors to Uluru spend at least one night at the Uluru-Kata Tjuta National Park.
Ayers Rock is 462 km from the nearest town, Alice Springs. Driving there and back in one day would be a bit much. (Though that doesn't stop tourists from trying...)
I suggest you spend at least one night at Uluru National Park, two nights would be ideal.
Note that I said at the park, not in the park. The only accommodation near Ayers Rock is located at Yulara, a township/resort 8 km from the Uluru-Kata Tjuta National Park entrance and 18 km from Ayers Rock itself.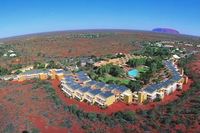 The entire Yulara Resort, also known as just Ayers Rock Resort, is owned by the company Voyages and is a huge but pleasant (if overpriced) affair.
You can find seven different Ayers Rock accommodation options here, ranging from five star Uluru hotels, over serviced apartments and a backpacker style hostel to a well maintained campground. Enough room for 5000 people...
Lush green lawns, 120 000 flowering shrubs and trees, shops, restaurants, mini market, swimming pools, tennis courts, art gallery... you name it, the Ayers Rock Resort has it somewhere along the ring road that circles the complex.
No matter in which Uluru accommodation you are staying, you are allowed to use the facilities of all the other Ayers Rock hotels inside the resort as well. And since the place is so huge there is also a free shuttle bus service to take you around.
Here is a map of the Ayers Rock Resort.
The Ayers Rock Resort is totally self sufficient for power and water, police and fire services, rescue and medical facilities. After all it has a permanent staff community of 550, which means even without the guests this place is bigger than many other Outback towns...
Lets' look at the different Ayers Rock accommodation options that are available.
Choosing Accommodation at Ayers Rock
Ayers Rock hotels: four different hotels are located inside the resort. You can also find self contained apartments here. The 5 star Voyages Longitude 131 is in a separate location outside the resort.
Finding cheap hotels Ayers Rock: this page shows you how you can find the best deals for any Ayers Rock hotel accommodation.
The Ayers Rock Campground: you guessed it, the editor's choice.
Ultra cheap Ayers Rock accommodation: the cheapest option is of course free. If you have camping gear you can get free "accommodation" near Ayers Rock.
---
Read about other National Parks in Australia
Australian National Parks Site Map
Return to Outback Australia Travel Guide home page