Alice Springs/Uluru with small children in January
by Ginny
(Manchester, UK)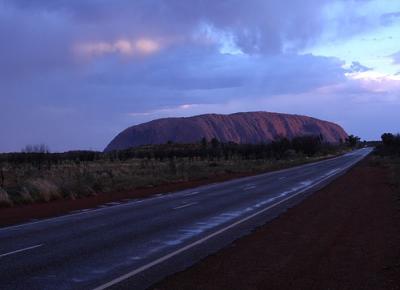 Cloudy Uluru Sunset
We (2 adults, 2 children - 5 & 8) would like to do a trip into Alice Springs/Uluru at the beginning of January, for about a week, after spending Chrsitmas in Melbourne.

What are the advantages and disadvantages of going at this time of year? Do you you have any tips?


Photo by Sassacass76 via Flickr
Re: Alice Springs/Uluru with small children in January
Hi Ginny,
The biggest disadvantage is that January is simply the hottest month of the year in
Alice Springs
and at
Uluru
. You are looking at an average daily maximum of around 37°C. (Average means it can very well soar above 40°C.)
Another disadvantage is the possibility of rain and cloudy skies. To me that is a big bonus, everybody who lives in the outback loves rain. The place turns green and comes to life and it cools things down.
But to tourists it's normally a disadvantage as it ruins their
Uluru sunrise and sunset
photos.
Another problem at that time of the year are the flies. You can't go anywhere without a fly net around your head.
Tips? Avoid New Year. It's peak travel time for Uluru and the airfares and other rates will be outrageous. The longer you leave it after New Year the quieter things will be.
The advantages then are the usual advantages you have anywhere in the off season:
It's quiet and peaceful, it's easy to get a room and a hire car and a seat in a restaurant and you will likely get much better rates than you would during the main season (June to August).
---
Return to Outback Australia Travel Guide home page