The Ayers Rock Campground
Finally we get to the Ayers Rock Campground, the only reasonably priced accommodation at Ayers Rock Resort.
Many people complain that even the campground is ridiculously overpriced, but look at what you get for your money, and then compare it to campgrounds in similarly remote areas.
Many people who come to Ayers Rock seem to forget how far away from everything they are.
I think the reason the Ayers Rock Campground seems so expensive to many people is that you don't pay per site but per person. For a whole family that raises the price a fair bit.
But I am used to paying per person. In my experience that's the case in most remote areas, and the per person rates for the unpowered and powered sites at Ayers Rock Campground are very reasonable.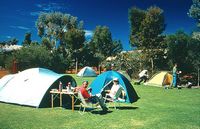 The campground has nice lawns, a pool, excellent facilities and great water pressure in the showers. How many campgrounds can claim that?
There is also a small shop to get bread and milk if you don't feel like making the trip to the resort supermarket (on the free resort shuttle bus), and even a free airport shuttle service.
Also don't forget, you have complimentary use of many of the facilities at all the other Ayers Rock hotels in the resort.
You can also rent air-conditioned cabins (which have linen, a fully equipped kitchen and even a TV) or what they call village tents (permanent tents with a wooden floor, two beds, chair lamp and heater/ac).
The cabins and rented tents are a bit dearer, but still easily the best deal in the whole resort if you don't have your own camping equipment.
The Ayers Rock Campground is located on the southern side of the Ayers Rock Resort, right next to the Outback Pioneer Hotel. That means you can walk over in the evening for a meal the Pioneer Bar & Grill. (If you stay at the Ayers Rock Campground you also usually get a voucher for a free drink at the Outback Pioneer.)
The reception at the Ayers Rock campground opens at 7 am amd check out time is 10 am. You can not book ahead or make a reservation. If you arrive during peak season, all you can do is get in line at the reception and wait for something to become available. And unless you get there early you may have to wait for several hours.
This wraps up the list of accommodation at Ayers Rock. If none of this suits you and you want to avoid the pricey Ayers Rock Resort altogether, read my page for shoestring budget travellers: the cheapest Ayers Rock accommodation can be found 85 km outside the park and is totally free.
---
Return from Ayers Rock Campground to Outback Australia Travel Guide home page