Ayers Rock Map - Uluru Map
On this page you can find more than one Ayers Rock map.
The links below will open up showing maps of different scales, starting with an overview and then zooming in closer to show you all the details.
Some of the Ayers Rock maps on this page are printable and there is also an interactive map.
---
The first map shows where Ayers Rock is in Australia: right in the middle, as far away from any city or town on the coast as possible...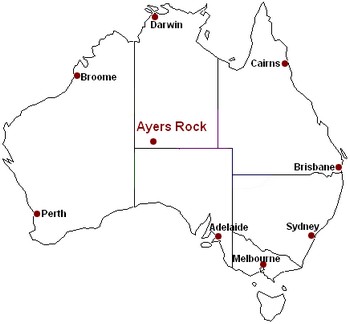 ---
An Uluru map showing all of the Stuart Highway:
Here is a map of Ayers Rock and the Northern Territory. Ayers Rock is in the bottem left corner, highlighted red.
Map of Ayers Rock and the Northern Territory
This is another one, showing more detail of the area around Ayers Rock.
Map of Ayers Rock and Central Australia
---
Here is a map of Uluru and Alice Springs, including the other famous national parks in the area.
You can see the route to Uluru that you will be taking from Alice, turning right at the Erldunda roadhouse. The red numbers indicate kilometres. Don't underestimate the distance between the Uluru - Kata Tjuta National Park and Alice Springs. To visit Uluru in a day trip means spending most of the day in a car or bus.
You can see how Yulara, the Ayers Rock Resort, is located outside the actual national park, but very close to Ayers Rock itself. You're better off spending at least one night there.
Map of Uluru and Alice Springs
---
Interactive Uluru Map
Use the arrows to move around, and the (+) and (-) buttons to zoom in and out.
What I love about this map is that if you switch to satellite view or hybrid view (hybrid gives you the satellite image overlaid with the map) you can actually see Ayers Rock! And you can zoom in a lot closer still...
(Satellite and hybrid view is not recommended for dial up users. It takes way too long...)
---
Printable Map
This map might be nice to have as you are reading about Ayers Rock and the other attractions in the central regions of Australia:
Printable map of Ayers Rock and central Australia
(This is a .pdf document and you need Adobe Acrobat reader to view and print it. If it's not installed on your computer get it here for free.)
---
Map of Uluru - Kata Tjuta National Park
Detailed maps of Ayers Rock and the Olgas/Kata Tjuta
The government's official website has some great maps. The detailed maps in particular are helpful. You can see the road circling Ayers rock, the Uluru sunset viewing areas, and all the walks and points of interest.
Map of Uuru - Kata Tjuta National Park
Detailed map of Ayers Rock/Uluru
Detailed map of the Olgas/Kata Tjuta
---
Need maps? This is a free online Australia map service:
Uluru - Kata Tjuta National Park map
Ayers Rock map
Go to Ayers Rock Australia - Index
---
Read about other National Parks in Australia
Australian National Parks Site Map
Return from Ayers Rock Map to Outback Australia Travel Guide home page