Uluru - Kata Tjuta National Park
Essential Information For Visitors
Uluru National Park At A Glance
On this page you find an overview of essential visitor information for Uluru-Kata Tjuta National Park as well as links to more information:
The climb, the walks, the sunsets...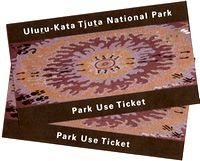 Getting To Uluru
Flying
You can fly to Alice Springs, and drive or join a tour from there. Or you can fly directly to Ayers Rock Airport.
Qantas flights depart daily from all major cities in Australia.
(Trip Advisor often has good deals for flights and car rentals as well as hotels.)
Driving
Distance from Alice Springs: 461 km to Uluru (443 km to Yulara, the Ayers Rock Resort)
Distance from Erldunda turn-off (Stuart Highway, 200 km south of Alice Springs): 262 km to Uluru
Distance from/to Kings Canyon: about 310 km
Uluru Accommodation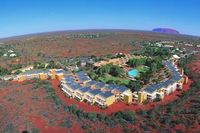 Yulara, the Ayers Rock Resort, is located 8 km from the park entrance (18 km from Uluru) and offers accommodation at all price levels, from camping to ultra luxurious.
The resort has the reputation of being an overpriced rip-off place. There is no accomodation inside Uluru-Kata Tjuta National Park. (Read more: Ayers Rock accommodation)
Shoestring budget travellers can camp for free at Curtin Springs, 92 km from the park entrance. (Read more: Ayers Rock budget tips)
If you join one of the Outback safari style tours available you will be camping at a private bush camping site outside the national park.
Trip Advisor often has good deals for hotels as well as flights and car rentals.
Prices and Fees
Entry fee for Uluru-Kata Tjuta National Park: A$25 per person. The pass is valid for three days. There are no one day or two day passes. Children under 16 are free.
Accommodation and most restaurants at Yulara are overpriced (with the exception of the Outback Pioneer BBQ). Camping fees are reasonable, so are the prices at the cafe inside the national park. (Note: Ayers Rock Resort and the Uluru National Park do not belong together! Totally different management.)
There is a supermarket at Ayers Rock Resort, which has normal prices, and a service station. (Fuel prices are reasonable for the location, too.)
Opening Hours
Uluru-Kata Tjuta National Park opening hours vary over the year:
December-February: 5am - 9pm
March: 5.30am - 8.30pm
April: 6am - 8pm
May: 6am - 7.30pm
June/July: 6.30am - 7.30pm

August: 6am - 7.30pm
September: 5.30am - 7.30pm
October: 5am - 8pm
November: 5am - 8.30pm
Cultural Centre opening hours:
7am - 6pm (entry closes 5.30pm)
Information Desk opening hours: 8am - 12 noon, 1pm - 5pm
Attractions/Things To Do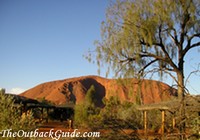 Cultural Centre: located 13 km after the park entrance, and 2km before Uluru. The journey through the "Tjukurpa Tunnel" in the Cutural Centre introduces you to the culture of the Anangu people and Aboriginal law (Tjukurpa).
Entry is free, the centre offers great information materials, and brochures about Uluru's history, geology and environment.
Climbing Ayers Rock is not allowed any more!! On October 26, 2019, to coincide with the 34th anniversary of the return of Uluru to traditional owners, the ban on climbing Uluru came into effect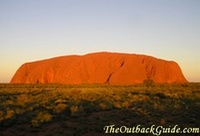 Uluru Sunset and Sunrise Viewing is only possible from designated parking and viewing areas.
You will be told the exact times of sunrise and sunset upon arrival at your accommodation, or you can check at the Cultural Centre.
Update: as of September 15 alcohol is banned from all Aboriginal lands in the Northern Territory. The only exception are registered tour operators. If you want to enjoy a glass of wine or champagne with your Ayers Rock sunset you have to join the masses.
Another update: (October 30) The authorities have backed down and the four areas overlooking Uluru are now exempted from the ban! You can have your wine and cheese with your Uluru sunset.
Uluru Walks
Dune Walk: 500 metres return/20 min
This short walk starts from the bus sunset viewing area and gets closed for all other visitors one hour before sunset.
Liru Walk: 4km return/1 hour
Walk from the Cultural Centre to the base of Uluru.
Kuniya Walk: 1km return/30 min
Short track to a permanent waterhole at the base of Uluru.
Mala Walk: 2km return/1 hour
In my opinion the best walk at Uluru. Can be done as a self guided walk, following the booklet "An Insight Into Uluru". (Available at the cultural centre.)
Rangers conduct daily free guided walks here, starting 8am (Oct-Apr) or 10am (May-Sep). Meet the ranger at the Mala Walk sign.
Uluru Base Walk: 9.4 km/3-4 hours
Circles the whole base of the rock. (The Kuniya and the Mala walks are part of the Uluru Base Walk.) Start early and take water!
Kata Tjuta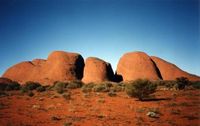 Also located within Uluru-Kata Tjuta National Park is Kata Tjuta, formerly called The Olgas.
Kata Tjuta is a 50km drive from Uluru. It consists of 36 steep sided monoliths, which, just like Uluru, look most impressive at sunrise and sunset. Again you have to stick to the official sunset viewing area to see the spectacle.
Of the twelve walks that used to wind through the valleys here, only two remain. The rest are closed to enable the Anangu to hold their traditional ceremonies. (As you can imagine, there are no more ceremonies amidst the carnival at Uluru.)
Walpa Gorge Walk: 2.6 km return/1 hour
Leads up a rocky slope and then into a shady, moist gully where it ends on a viewig platform.
Valley of the Winds Walk: 7.4km circuit/3 hours
To me this is by far the best walk in all of Uluru-Kata Tjuta National Park. It retains a sense of wilderness and the scenery is just spectacular. Kata Tjuta is nowhere near as busy as Uluru, and if you pick a good time (like very early or late in the day) you may be alone for much of the walk.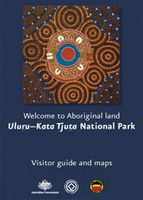 Download The Uluru-Kata Tjuta National Park Visitor Guide And Maps [pdf]
For more information contact:
Phone: (08) 8956 1128
Fax: (08) 8956 2360
Email
www.deh.gov.au/parks/uluru
Ayers Rock, Australia, main page
---
Read about other National Parks in Australia
Australian National Parks Site Map
Return to the Outback Australia Travel Guide home page