Kununurra

"Gateway to the East Kimberley"
Kununurra in the Kimberley in Western Australia is an oasis in the Australian Outback and popular with travellers from all over the world.
There is no better place to base yourself if you want to explore the fascinating Kimberley region. The town has lots of established tour operators offering aerial, land and water based tours, fishing or crocodile sighting safaris, canoeing, abseiling... you name it, Kununurra has it.
What it doesn't have is the commercial appearance that so many other popular tourist destinations in Australia have. The Kimberley isn't overrun with tourists yet, and won't be for a long time. It's just too vast...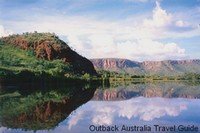 The contrast is what makes this region so unique. The Kimberley is a harsh and rugged place. But around Kununurra the red rocky Australian Outback meets "the big waters".
(In the local aboriginal dialect Kununurra means "The Meeting of the Big Waters".)
Big tidal rivers and two lakes support an abundance of plants and wildlife, a paradise for fishermen (and -women!), bird watchers and nature enthusiasts. And so much to see and do!
It is hard to put the beauty of the Kimberley into words and pictures will never do it justice... You'll just have to come and visit us!
history | getting there | things to see and do | accommodation
The very short history of Kununurra
The Kimberley was originally discovered as cattle country, a time that is well documented in Mary Durack's books (Kings in Grass Castles and others).
Kununurra itself was founded as part of the Ord River Irrigation scheme. This ambitious scheme changed the face of this area forever...
Kununurra's Diversion Dam, creating Lake Kununurra, was built in 1963. The Main Ord Dam 50 kms upstream was completed in 1971, and Lake Argyle now covers an area of 1000 sq kms (2100 sq kms at maximum flood level). Imagine 18 times the area of Sydney Harbour to get an idea of the massive dimensions of this project...
The water is used to irrigate the Ord River farm lands around Kununurra. The first farmers and settlers arrived in late 1963, and Kununurra was established around the same time. Today 16,000 hectares are under irrigation with plans to expand the eventual growing area to 63,000 hectares. Kununurra has become the tropical fruit bowl of Australia.
The main dam also supplies hydro power to Kununurra, to the port town of Wyndham and to the Argyle Diamond Mine.
Today Kununurra, one of the youngest and fastest growing towns in Australia, is a lively hub for the tourism, farming and mining industry in the East Kimberley.
And backpackers on a working holiday, take note: It is also the best spot in Australia to look for fruit picking jobs! Which, by the way, is how I ended up here in the first place...
How to get to Kununurra
Qantas offer daily flights from anywhere to Darwin, and from Perth to Broome, as well as a weekly direct flight from Perth to Kununurra (twice weekly during the main tourist season May - September). Go here to check the current time table.
Airnorth fly from Darwin or Broome to Kununurra at least once a day, more often during the tourist season. You can view the current schedules here.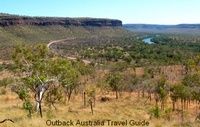 Kununurra is located 1040 kms east of Broome, or 825 kms from Darwin. Either way it's a long drive, but definitely worth it.
If you are able to take a few days for the trip, drive. Especially the stretch of road between Katherine and Kununurra is simply spectacular. So is the road from Kununurra to Halls Creek.
Read the page about national parks in Australia to find the parks to visit on the way.
And of course, for the really adventurous and the four wheel driving enthusiasts, there is the Gibb River Road from Broome to Kununurra. A 660km stretch of unsealed road through the heart of the Kimberley and to some of the most remote and beautiful places on this planet.
What to see and do in and around Kununurra
Oh my, where to begin? Probably the best starting point is Kununurra's Visitor Centre at 75 Coolibah Drive (+61 8 9168 1177). The friendly staff have answers to all your questions, and a huge range of maps, brochures and detailed information on absolutely everything that might interest tourists.
A good place to get an overview over the area is Kelly's Knob Lookout, a popular spot to catch the sunset.
Places of interest close to town are the Diversion Dam and Lake Kununurra (swimming, water skiing and boat tours).
Several tropical fruit farms around Kununurra offer tours of their operations. Barra Barra on River Farm Road is the most popular, with their lovely cafe out on the lawn overlooking the water.
If you follow Ivanhoe Road you will get to Ivanhoe Crossing, the place where the old road to Wyndham crosses the Ord River (The new highway goes over the dam). This is a very popular spot with locals, to sit in the water on a hot afternoon, and to go Barramundi fishing for dinner.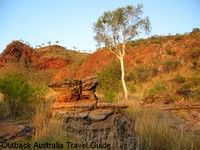 The "City of Ruins" is located along Weaber Plains Road, about 5 kms out of town.
As always, late afternoon is the best time for a walk to appreciate the intense colours of the unusual sandstone formations which are supposed to resemble the remains of an ancient city.
Mirima National Park, or "The Hidden Valley" as we call it, is only a few kilometres from town. Again, magnificent sandstone formations (resembling Purnululu National Park) and great bushwalking. Mirima National Park is also a good place to spot dingoes.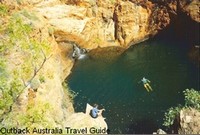 Swimming! Very important, as it can get hot here... I already mentioned the lake, but I prefer our waterfalls.
Valentine Springs, Middle Springs and Black Rock Falls are all within easy reach, popular with locals, and are all at their best during or after the wet season.
A bit further from town, about 30 km, is Molly Springs, a gorgeous small pool with a little waterfall that flows all year, not just during and shortly after the wet season like many others.
The Grotto is a spectacular rock pool and waterfall 30 kms out of Wyndham. Wyndham with it's crocodile farm and other attractions makes a great day trip from Kununurra.
If you own or rent a 4x4 you can take the original road to Wyndham, Parry Creek Road. Stop at Parry's Creek Farm and Resort for a refreshment, lunch or dinner, and observe hundreds of birds at Marlgu Billabong.
Harry's Hole is my absolute favourite swimming hole - actually a series of pools and waterfalls that takes a day of swimming, climbing and walking to explore - but it isn't easy to get to. If you are confident in your four wheel driving skills and have time to camp there for a night, don't miss it!
Enquire first at the Visitor Centre about the road conditions and the current regulations. The Aboriginal owners had at one point closed access. The only way to get there was with one of their tagalong tours.
Lake Argyle of course is another fantastic day trip from Kununurra. I often take visitors just for an afternoon, as the drive itself is so magnificent in the afternoon sun.
But you might want to go early and catch one of the boat cruises.
Visit the Argyle homestead, the famed original homestead built by Patsy Durack. It had to be moved when it's original site was flooded by the dam, and has been reconstructed as a museum.
The Argyle Diamond Mine is the world's largest producing diamond mine. It can be visited on a road tour, a direct flight, or a scenic flight including Purnululu National Park. All options include a site tour.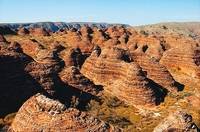 And of course you can visit the famous Bungle Bungles from Kununurra.
Choose one of many available tours or drive yourself...
Well that's a start, but don't think that's all there is to Kununurra. I have lived here for many years and still haven't run out of things to do. What I've listed above are activities that would interest most tourists who arrive here for the first time, and who have limited time. But there is a lot more to do, depending on your particular interests.
If you love fishing, you will immediately notice the boats in nearly every yard in town. You'll be in heaven here and will never want to leave. The Kununurra Visitor Centre will help you with tips and directions, and you can choose from a huge range of tours. Of course, the best way to get insider directions is to befriend the locals at the pub...
If you have a 4x4 and know how to drive it your options are endless.
Ask for directions from Kununurra to Cape Domett, Kalumburu, the Mitchell Plateau...
If you enjoy a bit (or a lot) of luxury during your holidays rest assured that the Australian Outback isn't all rough. The Kimberley offers luxurious bush retreats as well. You could look at the El Questro resort, and at Faraway Bay Bush Camp.
Faraway Bay can only be reached by plane, but the El Questro Wilderness Park is also accessible for day trips.
It has, in addition to the luxurious homestead stays, a range of affordable accommodation options including camping, and many tours and activities for eco-tourists, sportsmen, photographers... or people like you and me!
It is very commercial, though. If you don't need the luxury aspect call in at Home Valley Station on the other side of the Pentecost River. Much more friendly, much more ambience, and the best chef in the Kimberley...
Go here to find accommodation in Kununurra.
---
Find more information about the Kimberley Australia
Go here to get help with planning your trip to the Kimberleys in Australia.
Return to home page of Outback Australia Travel Guide