Coober Pedy Underground Homes

Think A Dugout Is A Hole In The Ground? Think Again!
Coober Pedy underground homes are not what you expect. The idea of living underground usually triggers thoughts of dark, damp and cramped spaces.
It doesn't help that those underground homes are called "dugouts" in Coober Pedy... Or that people are told that they are abandoned mine shafts...
But as I said, Coober Pedy dugouts are not what you think...
You really have to go and have a look at some of those homes yourself, or stay in underground accommodation in Coober Pedy. You'll probably end up dreaming of an underground home yourself. I certainly did.
Historic Coober Pedy Dugouts | Modern Coober Pedy Underground Homes
Historic Coober Pedy Dugouts
The early Coober Pedy dugouts were indeed the holes that had been dug in search for opal.
Back then opal mining was back breaking manual labour, so the earliest Coober Pedy homes were no bigger than they absolutely needed to be.
(Neither were the churches. The image shows the hand dug St Peter And Paul Catholic Underground Church in Coober Pedy.)
But people kept digging, always in search for the next big opal find, and the homes were constantly expanded.
A wonderful example of an early dugout that has been expanded into an impressive underground residence is Faye's Underground Home.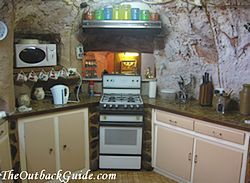 It started out over 60 years ago, as a one room dugout, used by the mail truck driver. Faye Nayler bought it of him, and that original room is now the kitchen.
The home you see today was built over ten years, by hand, using only picks and shovels, by Faye and two of her lady friends.
And they did at an excellent job.
Three bedrooms with walk in robes, living room, bar, wine cellar... What else could you want?
Billiard room and swimming pool? Believe it or not, she added it!
Faye is still alive and lives in Queensland now. Luckily there is a lovely caretaker couple living in her Coober Pedy underground home.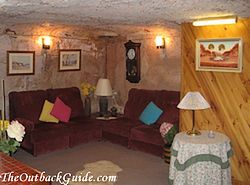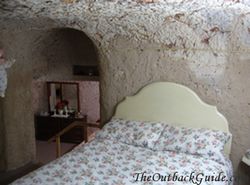 And even though it is a private residence visitors are welcome. Faye's is the only Coober Pedy underground home open to all visitors that is actually lived in.
(There are other, museum style display homes, for example in the Old Timers Mine.)
Of all the things I saw and did in Coober Pedy, Faye's home and her life story (you'll hear it when you visit her home) made the biggest impression on me. This one is definitely not to be missed!!
Follow the signs on the Old Water Tank Road and just knock on the door. (The entrance fee is $4.50.)
Modern Coober Pedy Underground Homes
Today opal mining in the town area of Coober Pedy is not allowed any more. But hey, you can always renovate or expand, just like Faye did...
Need another shelf? Dig a hole in the wall. Shelf not big enough for the new stereo? Dig a bit deeper. A walk in robe? Dig a big hole. Another bed room? Not a problem! And always the off chance of finding some opal...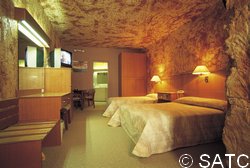 In reality nobody digs by hand any more.
Any new building work is done by modern tunneling machines.
Building a new home is a breeze, compared to conventional building methods. And much cheaper!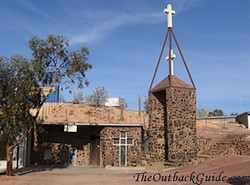 Also, the homes aren't the deep caves that people imagine. They are actually dug into the hill sides.
The entrance is usually at street level, and the rooms extend towards the back into the hill.
This is for example the entrance to an underground church.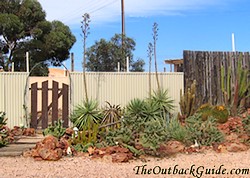 People even have small front gardens at the entrance, despite the lack of water.
Bougainvilleas in pots add bright and cheerful colours, and of course all desert plants are popular.
This is a picture of part of Faye's desert garden.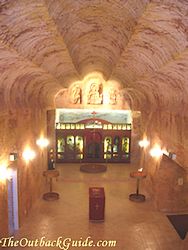 The sandstone in Coober Pedy is perfectly suited for underground homes. It is easy to dig through, like all sandstone, but it is very strong and stable.
No need to worry about cave ins, no complicated engineering necessary to calculate ceiling heights or spans. Just dig away...
The Serbian Orthodox church demonstrates very impressively what can be done in terms of size.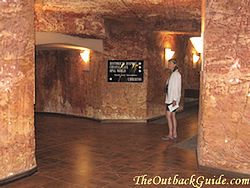 The tunneling machines leave an attractive pattern on the walls, and the sandstone itself has beautiful maroon and rose coloured swirls, so warm and friendly, it's absolutely gorgeous.
When the building work is finished the sandstone is sealed with a clear sealer, otherwise an underground home would be rather dusty.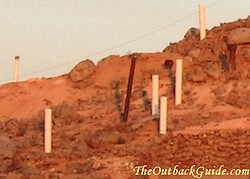 All rooms are ventilated via narrow vertical shafts.
You can see the top of those shafts poking out of the hills everywhere in and around Coober Pedy.
That are the give away signs, the only hint of the hundreds of underground homes in Coober Pedy.
Often there is also natural light entering areas like the kitchen and the living room, through wider shafts. The bedrooms are kept at the back of the house. It's an amazing experience to sleep in an underground room. No noise penetrates, the stillness is absolute. It was the best night's sleep I've ever had.
The climate underground is also fantastic. Whether it's below zero or above 50°C outside, the temperature in an underground home is always perfect. And so is the humidity, which is really pleasant compared to the bone dry air in the desert outside. It's a nice relief for the skin and the lungs.
I'm someone who loves wide open spaces and easily gets claustrophobic. So if I feel perfectly comfortable in a Coober Pedy underground home or bedroom, then they must be great.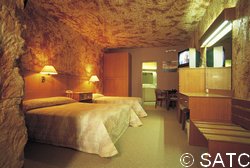 Want to experience the feeling of underground living in Coober Pedy? Not a problem.
There is a range of options for underground accommodation in Coober Pedy:
Hotels, motels, backpackers, bed & breakfasts, there's even an underground campground!
By the way, guess who pioneered the idea of offering underground accommodation to tourists? No other than Faye Nayler...
---
Return to Coober Pedy, Australia index
Return from Living Underground to Outback Australia Travel Guide home page
(Images marked © SATC are courtesy of the South Australian Tourism Commission. Copyright belongs to the SATC.)