Katherine Gorge Cruises

Katherine Gorge Tours and Scenic Flights
Katherine Gorge cruises are the most popular way to get a look at Nitmiluk (the Aboriginal name for Katherine Gorge).
In fact, the Katherine Gorge cruises are so popular, better book well in advance if you would like to do one during the main tourist season (May-September).
Read about the different Katherine Gorge tours available, how much time and what else you need to bring, and when and where to book.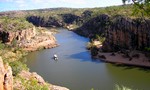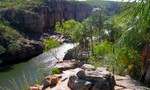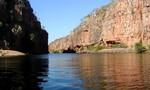 In most people's eyes Katherine Gorge boat tours offer many benefits over other ways of exploring:
They operate all year round (canoeing and extended hikes are out of the question in the wet season)
You get a good look at the gorge in a shorter amount of time. This is important if you have limited time available on your Australia visit.
Peace of mind. They can easily be booked online and well in advance. Important if you want to visit us at the peak of the tourist season.
They don't involve any physical exertion. (Canoeing or hiking in Katherine Gorge is strenuous, believe me...)
But all cruises involve some easy walking as well, and you will get a close look at the plants and wildlife.
Knowledgeable guides explain the flora, fauna, geology and history of the area and answer your questions.
A steady stream of tour boats leaves from the jetty near the Nitmiluk Visitor Centre where you can buy tickets if you didn't book in advance.
You can choose between Katherine Gorge cruises of different length:
The standard 2 hour Katherine Gorge cruise takes you to the second gorge and includes a 800m easy walk. Bring sensible shoes!
A 4 hour Katherine Gorge cruise takes you to the third gorge, and includes 1200m of walking and the opportunity for a swim. So bring sensible shoes and your bathers/a towel.
There are also breakfast, lunch, cafe and sunset/dinner cruises. The last two have a special focus on Aboriginal culture and rock art.
(For information on bus transfers from town see the page Getting to Nitmiluk National Park.)
If you bring your own boat you can of course cruise Katherine Gorge to your hearts content. Just make sure you register first at the Nitmiluk Visitor Centre and find out about the current regulations regarding private boating.
The same applies if you want to do some fishing. Lure fishing is allowed but certain restrictions apply. They can change so it's best to check with the Nitmiluk Visitor Centre about the current situation.
As I already mentioned on the page Hiking in Katherine Gorge National Park: an interesting, short, but steep walk leads from the jetty up to a cliff top lookout. It's the perfect way to use the waiting time until the next boat leaves, or after your Katherine Gorge cruise. Allow about 2 hours for the Lookout Loop Walk. You'll need less time if you just want to climb up and down the same way.
2 hours might seem like a lot of time, but let me warn you again. These Katherine Gorge cruises are very popular. Unless you booked your Katherine Gorge tour in advance there will be some waiting time...
Contact details for enquiries and bookings are on this page: Nitmiluk National Park Visitor Information
Exhilarating Katherine Gorge Scenic Flights
Katherine Gorge scenic flights are even more convenient than Katherine Gorge cruises and they are spectacular.
You can take helicopter flights from within the park. There is a range of different length flights, some with landings to view rock art or to swim at a remote rock pool.
There are also flights that leave from the Katherine airfield and most operators offer courtesy hotel transfers.
The flights operate all year round. You can see the Katherine Gorge and all its waterfalls at their best even when the roads into the park are cut due to flooding. Flights are definiteley the way to go during the wet season.
You will see a lot more in a lot less time than any hikers, canoers or people on Katherine Gorge cruises ever could.
Helicopter rides simply are an exhilarating experience. I suggest you choose the helicopter, but airplane flights are also available.
The only restriction is that you need to fill up the helicopter/plane to make it leave. The minimum number of people is usually three (two for flights from within the park).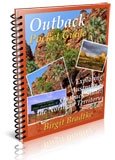 Travelling the Northern Territory?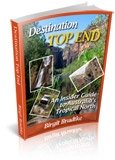 The free Outback Pocket Guide
is a great introduction to travel in the region.
The full Top End Travel Guide


shows you how to make the most of your adventure in Australia's tropical north.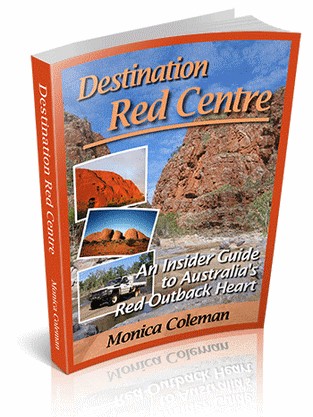 NEW! Destination Red Centre is the latest addition in this popular series. Monica Coleman takes you through Australia's red Outback heart, offering all the detail and insider tips that you have come to know and love about our guides. With special emphasis on Aboriginal communities and culture.

A must have if you travel to or from Alice Springs/Uluru.
Read about other ways to explore Katherine Gorge and Nitmiluk National Park
---
Read about other National Parks in Australia
Australian National Parks Site Map
Return from Katherine Gorge Cruises to Outback Australia Travel Guide home page