Katherine Gorge in the wet season
by Allan
(McKinnon, Victoria)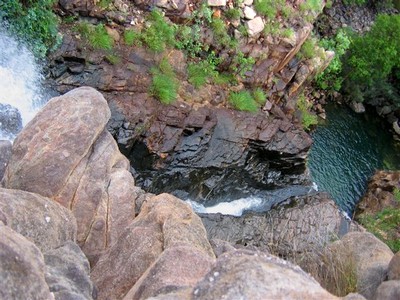 From the top of the falls, looking down into the Southern Rockhole
We visited Katherine Gorge in the wet, and that's a great time to go. We were there when the water was high enough for the jetboats to go straight over the rapids.

We did the Windolf walk as we were only there for a day (unfortunately). It rained, but it was so warm we just got soaked and it was very pleasant. Besides the clouds kept the sun at bay, and there would not be a lot of shade if you are trying to do it in the dry season.

We only met one other couple on the way to the Southern Rockhole, and they had been lucky enough to overnight there. It's a great place with a waterfall plunging into an Olympic sized pool!! It was great watching the fish nibble our toes on the bottom through the crystal clear water, and trying to swim against the flow near the waterfall was great as well.

After climbing back to the top of the waterfall and checking out the lookout over the gorge we reluctantly headed back, vowing to return to Katherine Gorge for one of the longer walks again in the wet season.


Related info:
The walks in Katherine Gorge National Park.


---
Return to Outback Australia Travel Guide home page