Camping and canoeing in Katherine Gorge
by Mai
(US)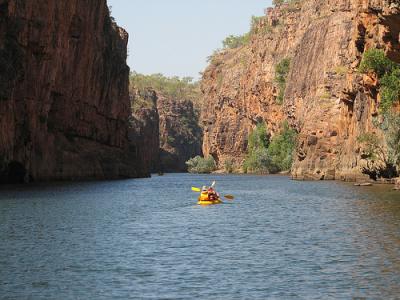 Canoeing in Katherine Gorge
Me and a friend are planning to camp and canoe the Katherine Gorge in early June. We have a couple of questions.

1. We are beginner canoers and are wondering how many days it would take to canoe the gorge in a leisurely pace?

2. We have done some tent camping here in the States and were wondering if our camping equipment of tent, sleeping bag, and pad would be enough for camping in the park.

3. We are planning on backpacking, no suitcases. Would it be easier to bring our own camping equipment or buy some there? Budget is also a concern.

We are very excited about this trip. We love to camp and canoe. I look forward to your tips and advices.

Re: Camping and canoeing in Katherine Gorge
1. You are only allowed to spend one night in Katherine Gorge if you are canoeing. (In the past you could do two, but not any more.) That's enough to go to Smitt's Rock and camp there, and explore a bit further. The way back is much easier as it's downstream, so you can still use the morning for further explorations.
2. Sure. Just make sure your sleeping bag is warm enough for that time of the year. (In Katherine Gorge it should be ok, but in other places it may get pretty cold).
3. Bring it. It will be easier for you to find the best deal for your money at home than it would be here. Also, the you don't have to waste your precious travel time running around trying to find gear. You don't need much. A little dome tent, a good sleeping bag, one of those insulating pads/mattresses.
I think you will enjoy that trip! It's one of the best things you can do over here.
Photo by Vaka0627
---
Return to Outback Australia Travel Guide home page