Litchfield National Park

Visitor Information
On this page I tell you how to get to Litchfield National Park, about the best time to visit, where you can camp, and what you can see and do there.
Litchfield National Park - Getting There
Litchfield National Park is in the north of Australia's Northern Territory, not far from Darwin, so it's ideally suited for day trips. There are three ways to access (or leave) the park:
From Darwin follow the Stuart Highway to Batchelor and turn right. From there it is not far to the main park entrance. This is the most popular access route because it is all bitumen.

Follow the Stuart Highway for only 57 km. Turn right in Berry Springs (following the sign to the Territory Wildlife Park). From there it is another 58 km to the northernmost park entrance. This route includes 42 kilometres of unsealed road. That's not a problem during the dry season, but during and shortly after the wet season (Nov - April) access may be restricted or require four wheel drive.

The Southern Access Track can be reached via the Daly River Road. The access track is four wheel drive only. It's a good route to take for people coming from the south, or continuing their journey from Darwin towards Katherine. This part of Litchfield National Park is obviously less crowded than the main sealed road. The downside is that the road is closed during the wet season.
Once inside the park you will find that all the attractions are very close together, so you really can spend most of your day swimming or exploring rather than driving.
Litchfield National Park - Best Time
Litchfield National Park can be visited all year round. The main road is all bitumen. But the four wheel drive tracks will usually be closed during the wet season (Nov - April), so some areas will be inaccessible (The Lost City, Tjaynera Falls, Surprise Creek Falls).
But the main attractions, like Wangi and Florence Falls, can be visited all year. The wet season is actually a good time to see them. The falls will be thundering, not just dribbling, and there are fewer tourists around. Litchfield National Park gets very busy during the peak of the dry season (June-August).
My favourite time is the very beginning of the dry season, as soon as the roads open up again. There is still a lot of water around, lots of wildflowers are at their peak, but there aren't too many tourists.
Litchfield National Park - Facilities and Fees
Entry into Litchfield National Park is free.
The only accommodation available inside the park is camping. You can camp at Wangi Falls, Florence Falls and at the Buley Rockholes. Caravans are only allowed at Wangi Falls, but there are no powered sites.
If you have a four wheel drive there's also Sandy Creek (Tjanyera) Falls, Surprise Creek Falls and the 4WD camping area downstream from Florence Falls. Or you go for a short walk to one of my favourite campsites along Walker Creek.
A small fee is charged for most of the sites.
If you need a powered site or want to avoid camping you can choose from several accommodation options just outside the park.
Litchfield National Park - Things To Do
I have made a whole page where I tell you more about the attractions in Litchfield, so I'll keep this short:
Most people come here for a swim and a picnic, and to do some of the short walks. All the attractions are so close together that you can see quite a bit in one day.
Most of the walks are very easy, as in concrete paths and boardwalks etc. There are good picnic facilities, and many informational displays at the start and along the walks. And there are many people...
But if you bring some time you can certainly leave the well beaten tourist track and turn your visit to Litchfield National Park into a real bush experience. I talk more about that on the next page:
Litchfield National Park Attractions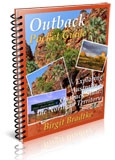 Travelling the Northern Territory?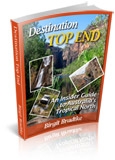 The free Outback Pocket Guide
is a great introduction to travel in the region.
The full Top End Travel Guide


shows you how to make the most of your adventure in Australia's tropical north.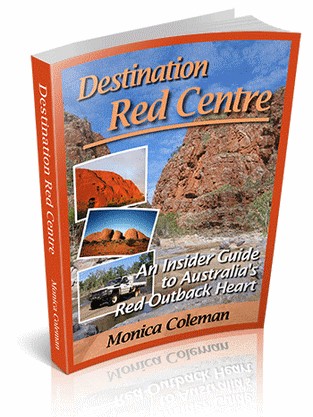 NEW! Destination Red Centre is the latest addition in this popular series. Monica Coleman takes you through Australia's red Outback heart, offering all the detail and insider tips that you have come to know and love about our guides. With special emphasis on Aboriginal communities and culture.

A must have if you travel to or from Alice Springs/Uluru.
Return to top
Return to Litchfield NP main page
---
Read about other National Parks in Australia
Australian National Parks Site Map
Return to Outback Australia Travel Guide home page