To Ghan or not to Ghan?

"Thinking of committing to the Ghan Train?"
Thinking of committing to the Ghan?
I do not use the word lightly – if you board the Ghan train with its distinctive red locomotive (There is one named for Steve Irwin) you will be its prisoner for a full 2979 km and over 50 hours!
These figures tell you straight away that crossing the Red Centre of Australia is an epic travel adventure that most folk will only do once. Getting it right first time is therefore only sensible!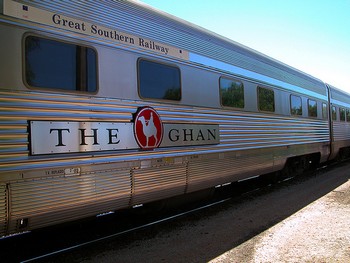 Photo by AbsoluteWade
The Ghan Train: Quick Facts
Route: Adelaide - Alice Springs - Katherine - Darwin
Distance: 2979 km
Duration: 2 nights / 50+ hrs (varies slightly)
Timetable: departs Adelaide Sun, departs Darwin Wed (details).
Fares: (one way)
Platinum Service - A$3319 (details)
spacious double or twin cabin, ensuite with full size shower, includes all meals and morning and afternoon tea, optional in-cabin breakfast, welcome drinks and nibblies, nightcap, hotel transfers.
Limited to 24 cabins, only available Wed ex Adelaide or Sat ex Darwin
Gold Service - A$2498
twin cabin with ensuite or single cabin with shared amenities, main meals and 24 hour tea and coffee included.
Red Service - cabin A$????, daynighter A$???
sleeper cabin or daynighter seat, shared amenities, all meals and drinks extra.
(All Ghan details)
There are three classes on the Ghan: Red Kangaroo, Gold Kangaroo and Platinum, with Platinum being twice the size of the Gold service.
The beds unfold across the train and the sideways movement can take some getting used to. Do book a cabin that is not over the wheels and take note that the air conditioning will be turned off at night.
The meals are friendly affairs and you might decide to share a reasonably priced wine with other travelers at one of the four seater tables. If you choose the second dinner service you should be prepared to drink your cognac standing as there is often very little bar seating left!
Remember that this is not called the Red Centre for nothing so plan to travel during the cooler months from May to early November (at the latest!)
The Ghan train fare is substantially more than what it would cost you to fly – and if you plan to stay over at Alice or Katherine you should make sure that your budget can stretch to cover the sightseeing activities.
Finally – only hand luggage is allowed on board… so pack carefully.
In a Nutshell?
Although all your basic needs are catered for, the amenities are compact and you should not undertake the Ghan railway journey purely for the service experience, because you are on a strict budget or when your time is limited.
Which brings us to the true motivation for taking the Ghan and following in footsteps that reach back into history over 40 000 years.
The country that you will cross on the Ghan journey is quite literally the stuff of legends. If you notice any date palms along the way take a moment to think of the people who planted them.
The Afghans were imported along with their Ships of the desert (camels) to help conquer and supply the outback. Traveling by foot or by camel does not happen any more and the days when the Ghan was stranded on the narrow tracks long enough for the driver to go out and shoot something to feed the passengers are long gone.
But the Ghan continues to deliver a sense of the majesty and sheer magnitude of the Outback... That unique land where doctors make house visits in aircraft, children go to school by radio and people race leg powered bottomless boats down dry riverbeds!
You could also do it for the chance to see real live wild kangaroos (more difficult than you might suppose), or maybe for the opportunity to see a camel, ride a camel, EAT a camel – or indulge in all three!
There is a lot of Outback to do between Adelaide and Darwin. In fact once you have made time for sleeping and eating you might actually complain about the lack of time to stare at the passing scenery! The easiest remedy is to personalize your Ghan trip. Log on to www.HotelsCombined.com and pick the perfect hotel to match your budget and allow you time to explore.
Top picks?
Have you always wanted the perfect excuse to wear a classic Crocodile Dundee hat? Kakadu National Park is it. You can easily spend two or three days exploring more than 7800 square miles.
If time is short then consider a visit to Kakadu's smaller cousin the delightful Litchfield National Park.
Katherine
The Katherine River Gorge system can be appreciated from a helicopter or you could opt for a leisurely boat cruise. If you make it out to Edith Falls DO indulge in some croc free freshwater swimming!
People either love or hate Alice! If you have time plan to use Alice as your Outback basecamp and wait for the next Ghan that comes through to pick you up.
This will give you time to visit Uluru ... and even allow for a stint in Didjeridoo University. If you are of the less touristy variety you should not miss Kata Tjuta. Twenty five kilometers west of Uluru the highest of these rock formations lie 546 m above ground level. In the town of Alice the Araluen Centre and the Desert Park are both worth a visit.
Finally the Ghan train is the perfect railway journey to catch up on your reading.
Remember to pack your favourites...
Great Books for a Ghan Train Journey
Transcontinental Train Odyssey: The Ghan, the Khyber, the Globe by Tim Fischer
Thumbs Up Australia: Hitchhiking the Outback by Tom Parry
The Songlines by Bruce Chatwin
The Dig Tree: The Extraordinary Story of the Ill-fated Burke and Wills 1860 Expedition by Sarah Murgatroyd
A Secret Country by John Pilger
No Worries: Journey Through Australia by Mark Mccrum
The Singing Line by Alice Thomson
A Traveller's History of Australia by John H. Chambers
A Town like Alice by Nevile Shute
We, the Aborigines by Douglas Lockwood
---
Read about other ways to travel Australia
Return from The Ghan, Australia to Outback Australia Travel Guide home page