General tips for visiting Uluru
by Paul
(Norfolk England)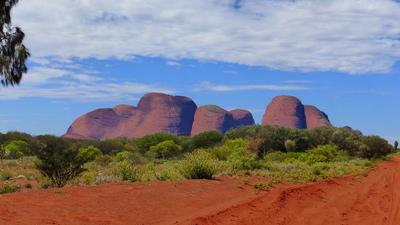 Kata Tjuta - "The Olgas" - In Uluru Kata Tjuta National Park
Read all you can before you go as I am not going to tell a granny how to suck eggs.
Make sure you ingest the advice and be wise to the risks, it gets mighty hot out there.

Ayers Rock is a sacred place and remember that. Would you like someone to climb your sacred cathedral/mosque etc? Thought not.
But if you must, then remember that advice you read about and USE it, DON'T ignore it, it may be fatal if you do.

Hire a car as this gives you more freedom and time AND will save you lots of money on the things you want to do. Weigh up the costs beforehand against supervised trips or a DIY approach.

You can buy tickets for the park at the entrance. 25 dollars for a three day pass, you HAVE to pay this.
Visit Kata Kjura, it's beautiful.

Get up early to take in the sunrise and also
take in the sunset as both can be spectacular and watch as Uluru changes colour.

DON'T scratch your name and your beloved into the rocks, that's pathaetic.

Take in the field of lights. This is the only one I know of that you HAVE to go on an organised tour but it is well worth it. You will either strike it lucky and get to enjoy the silence or there maybe lots of excited orientals about. Normally the rangers will be on hand to try and keep things in order.
You will get a good couple of hours there. Enjoy, it is special.
Visit the Indigenous centre, it's free but some of the prices are high.

Take any litter home.

Enjoy the resort of Yulara, there is lots there. Do your research beforehand.
You have choices from tents to lodges within the large complex.
There is a petrol station and a supermarket and a good range of shops and bars and swimming pools.

3 days should be enough to do all of it.

And one more bit of advice: respect it for what it is, a sacred place.
And just one more thing: if you DON'T like a fly or two buzzing around your mush then buy a flynet from the supermarket, 3 dollars. If not be prepared to be crazed, there's millions of them!!
Join in and write your own page! It's easy to do. How? Simply click here to return to Ayers Rock Australia - Uluru Australia.
---
Return to Outback Australia Travel Guide home page