Visit Kakadu National Park

Getting There and Getting Around
...how to get to Kakadu: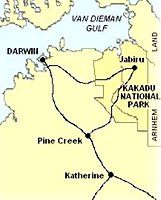 Darwin - Kakadu National Park
Kakadu lies in the far North of Australia. If you started your travel somewhere in the South-East - like Sydney or Melbourne - you need to get up here first. The distances in Australia are huge, so the best option is to fly into Darwin, the laid back capital of the Northern Territory.
(Most airlines offer international flight packages that include one or two inland flights. Such a package is the best option if you don't want to restrict your Australia visit to only one corner of the continent.)
Those who have more time have other options:
You could fly to Alice Springs or Ayers Rock, hire a campervan and - after exploring the "red centre" - drive north on the Stuart Hwy. This is a drive I love. The scenery is magnificent and there are tourist attractions to visit on the way, like the Devils Marbles, the Mataranka Hot Springs or Katherine Gorge, to name a few. But beware, we're talking about 1200km to the southern entrance of Kakadu, and nearly 1500km to Darwin.
Of course you could also drive all the way from Adelaide or Cairns, from anywhere, really, several thousand kilometres....
How To Get To Kakadu National Park Itself
Kakadu has two entrances. The northern entrance can be reached via the Arnhem Hwy and is roughly 150 km south-east of Darwin. Most people and all organised tours start from Darwin and take this route.
But if you drive from anywhere else but Darwin you will reach Kakadu from the south on the Stuart Hwy. To get to the southern entrance you need to turn right in Pine Creek. Pine Creek is 230km south of Darwin, nearly 1300km from Alice Springs and some 90km north of Katherine. From the Pine Creek turn off it's another 60km or so along the Kakadu Hwy to the actual park entrance.)
How To Travel Within Kakadu National Park
What kind of transport you choose to get around Kakadu depends on your personality and the amount of time you have.
Many people join an organised Kakadu tour. There are literally hundreds of options. 1, 2, 3-day or longer trips. Big coaches or small four wheel drive buses. Tours specifically for young people, for the adventurous, for those interested in nature, those interested in Aboriginal culture. There are tours that will take you to a bushcamp at night, and tours that put you in a luxury hotel room.
I'm sure you will find something to suit you.
The other option is self-driving, be it your own car or a rented vehicle.
The two main roads through Kakadu - the Arnhem and the Kakadu Hwy - are bitumen roads. Most other roads in Kakadu National Park are well maintained gravel roads and there are also some real four wheel drive tracks.
While most of the "big attractions" of Kakadu National Park are accessible by two wheel drive, all the great gorges, waterfalls and rock pools for swimming are along unsealed roads. Beware that hired 2WD vehicles are not allowed to drive on unsealed roads!
Read more here: 2WD or 4WD for Kakadu?
Main page: Kakadu National Park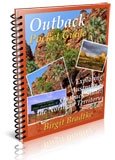 Travelling the Northern Territory?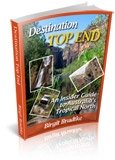 The free Outback Pocket Guide
is a great introduction to travel in the region.
The full Top End Travel Guide


shows you how to make the most of your adventure in Australia's tropical north.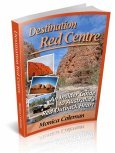 NEW! Destination Red Centre is the latest addition in this popular series. Monica Coleman takes you through Australia's red Outback heart, offering all the detail and insider tips that you have come to know and love about our guides. With special emphasis on Aboriginal communities and culture.

A must have if you travel to or from Alice Springs/Uluru.
---
Read about other National Parks in Australia
Australian National Parks Site Map
Return to Outback Australia Travel Guide home page