Kakadu National Park

An overview, introduction, and a detailed guide
Let me take you on a trip through Kakadu National Park. Just a quick one.
I'll point out what there is to see and do, how much time you need to bring, where the crocodiles are and where you can swim, and so on.
I'll give you some maps to look at, and links to more information about certain topics or areas of the park.
And for those who want to know more there's even a link that lets you download and print the whole official Kakadu National Park Visitor Guide. (That's the guide that you can usually only get in the park itself.)
A Trip Through Kakadu National Park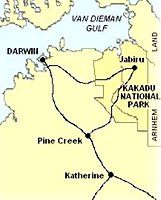 There are two highways leading through Kakadu National Park, and therefore two entrances.
Coming from Darwin you reach the northern entrance along the Arnhem Highway, and coming from Katherine via Pine Creek you will enter Kakadu through the southern entrance on the Kakadu Highway.
Most of the attractions and waterfalls are along the Kakadu Highway, but most tourists come from Darwin via the Arnhem Highway.
Their first day in Kakadu National Park usually involves a lot of driving through never changing savannah woodlands. There are a couple of turn offs of interest to fishermen, people with boats and experienced four wheel drivers and bush campers, but the only popular attraction along that first stretch, 90 km after the entrance, are the Mamukala wetlands.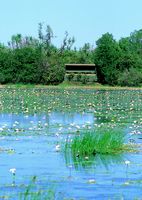 Mamukala is the place where the Kakadu webcam is located. The wetlands are famous because incredible numbers of birds congregate here late in the dry season, but you can see lots of birds and wildlife all year round.
There is a shaded observation platform near the water, and a short walk along the edge of the wetlands.
And that's pretty much it along the Arnhem Highway. At the end of the highway (another 30 km) you come to an intersection where you will have three options:
One is to continue to get to Jabiru, the small town inside Kakadu National Park. It's nothing fancy, but it has stores, mechanical services, accommodation etc, and many tourists stay here for the convenience of it. The Jabiru airport, the place for scenic flights, is not far, and beyond Jabiru lies the Ranger Uranium Mine, which you can visit with a tour group.
If you take a turn to the left instead you will, after nearly 40 km, get to Ubirr, the Border Store, and the East Alligator River which marks the border between Kakadu National Park and Arnhem Land.
Near Ubirr you can take a short hike up onto the rock plateau, which offers fantastic 360 degree views over Arnhem Land, the escarpments and the flood plains of the Magela River.
(This is the place where Crocodile Dundee took Sue to show her "his territory".)
Ubirr is one of the most important Aboriginal rock art sites in Kakadu National Park, and the rangers give regular free talks here.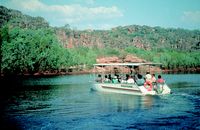 If you want to learn more about Aboriginal art and culture you can join Guluyambi Cruises (buy tickets at the border store) for a fascinating trip up the East Alligator River, past saltwater crocodiles and myriads of birds into Arnhem land.
Those cruises are led by Aboriginal guides and you will learn a lot about traditional Aboriginal law and culture, survival skills, bush food etc...
(More about the East Alligator area.)
Back at the big intersection there is only one option left now, and that is to finally head down the Kakadu Highway. Not far from the intersection is the Bowali Visitor Centre, a must stop. It's a shame that it is so deep inside the park. You can learn a lot about the history of Kakadu National Park here, about its Aboriginal traditional owners, about the plants, the wildlife, the way the park is managed. You can also pick up lots of free information materials and guides here. And the centre is air conditioned...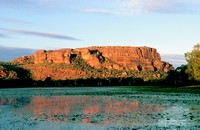 Your next stop, after another 30 km, will likely be Nourlangie Rock, the other major Aboriginal art site in Kakadu National Park. This one gets very busy... Again there are free guided walks and talks, and there are also a few more nice hikes in the area, up to lookouts and around wetlands. Read more here.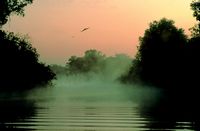 From here it's over 40 km to the next big attraction, probably the busiest of all places in Kakadu National Park: Yellow Water. The best time to take a cruise here is the very early morning or late afternoon, when the wildlife is most active. But you are pretty much guaranteed to see big crocodiles at any time of the day.
The Warradjan Aboriginal Cultural Centre is just next door, and is another good place to check out for people interested in Aboriginal art and culture. (Also in the area is Gagudju Lodge Cooinda, where you can stock up on fuel, supplies, souveniers, book tours and get accommodation.)
Now just before you got to Yellow Water there was a turn off to the left. That is the track that would take you to Jim Jim Falls and Twin Falls, the two most famous waterfalls in Kakadu National Park.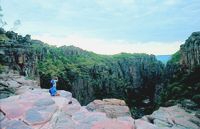 They are a fair way off the beaten track, so you need some time, and you definitely need a four wheel drive to get there. The falls are spectacular when flowing, and those are two of the few places in Kakadu National Park where it's safe to swim.
(More about the Jim Jim area here)
From Yellow Water/the Jim Jim Falls turn off it's nearly 90 km to the southern entry/exit, and there are two more well known waterfalls on the way: Maguk and Gunlom Falls in the Mary River area. Both are along dirt roads, but both these tracks could be negotiated in a normal car as well. I love both places. Beautiful drives to get there, nature walks nearby, rock pools to swim in, and you can even camp there. What more can you ask for?
---
So these are the biggest attractions in Kakadu National Park, and their relative location within the park. During the season you will find all these places very busy. The closer to the highway they are the busier they are.
If you combine that with a tight schedule you end up spending most of your time in your car and seeing mostly other tourists. No wonder many people end up thinking Kakadu National Park is overrated. (To see everything I mentioned above you need at least three to four days.)
But this is actually only a tiny fraction of what Kakadu has to offer. There are many walking tracks, four wheel drive tracks and bush camping areas that not many people go to or even bother finding out about. There are places like Koolpin Gorge or Graveside Gorge that you need a permit to get to and only a limited number of people are allowed into.
Many of the small group four wheel drive tour operators combine some of the big sights with a few off the beaten track experiences and bush camping. I don't know of any overseas tourists who didn't enjoy that kind of tour.
If you book a tour make sure they don't just cart you from big sight to big sight. If you drive yourself and have little time I'd recommend you do the same. Rather than trying to tick off all the big sights in only two days, get off the beaten track a bit, go bush for one night or do one of the longer hikes. That way you have a much better chance to find out what it is that makes Kakadu National Park so special.
To find out about all the other hikes, bush camping areas and remote tracks that I didn't mention start with the Visitor Guide. The info is summarised on the pages where I list all the Kakadu attractions, Kakadu accommodation and campgrounds in Kakadu. Or you can download the whole guide here.
(It's a .pdf document and you need Adobe Acrobat reader to view and print it. If it's not installed on your computer get it here for free.)
And if that's still not enough and you want to find out about permits to go to places like Koolpin Gorge, on overnight hikes, or deeper into Arnhem Land, then you can contact the Bowali Visitor Centre for more information:
PO Box 71, Jabiru NT 0886
Telephone: 61 8 8938 1120
Facsimile: 61 8 8938 1123
Email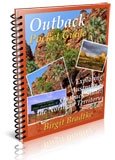 Travelling the Northern Territory?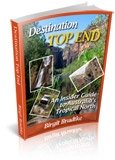 The free Outback Pocket Guide
is a great introduction to travel in the region.
The full Top End Travel Guide


shows you how to make the most of your adventure in Australia's tropical north.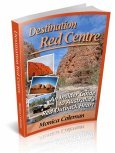 NEW! Destination Red Centre is the latest addition in this popular series. Monica Coleman takes you through Australia's red Outback heart, offering all the detail and insider tips that you have come to know and love about our guides. With special emphasis on Aboriginal communities and culture.

A must have if you travel to or from Alice Springs/Uluru.
Kakadu National Park main page
---
Read about other National Parks in Australia
Australian National Parks Site Map
Return to Outback Australia Travel Guide home page
(Pictures on this page courtesy of Tourism NT, © Tourism NT.)