Facts On Australia

Quick facts on Australia, a page for people in a hurry!
All the important facts on Australia are neatly compiled in a list of facts and numbers. But if you find just facts about Australia a bit dry, you will also find links to more detailed info about Australia.
---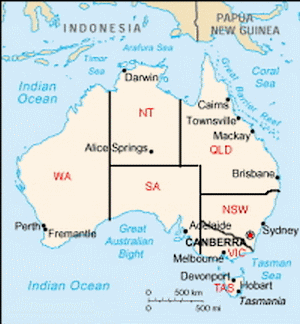 ---
Australia is the only nation that governs a whole continent. It is the sixth-largest country in the world.
Country Name: Commonwealth of Australia
States (6) and Territories (2): Australian Capital Territory, New South Wales, Northern Territory, Queensland, South Australia, Tasmania, Victoria, Western Australia.
Capital: Canberra
Australian Flag:

---
Australia is both the largest island and the smallest, flattest continent on earth.
The name indicates the location: 'Terra Australis' means 'Southern Land'. Australia lies between 10 and 39 degrees South latitude, between the Indian and the Pacific oceans.
Land Area: 7,617,930 sq km. Only 6.55% of this area are considered arable.
Lenght of Coastline: 25,760 km
Lowest Point: Lake Eyre -15 m
Highest Point: Mount Kosciuszko 2,229 m
---
Australia is the driest continent after Antartica, which makes it the driest inhabited continent on earth.
Climate: arid to semiarid; semiarid in the west and centre, the south and east are temperate, the north tropical.
40% of Australia is tropical, but in the Australian Alps it snows at times.
Most of Australia's interior has a desert climate. It is usually referred to as the Australian Outback.
Read more about the Australian Climate.
Read more about the Australian Outback.
---
Australia is the world's most urbanised country. 70% of the population live in the 10 largest cities.
Population: 21,766,711 (estimated July 2011)
Age Structure:
0-14 years: 19.8%
15-64 years: 67.2%
65 years and over: 12.9%
Age Average: 36.56 years
Ethnic Distribution: Caucasian 92%, Asian 7%, aboriginal and other 1%.
Population Growth Rate: 0.87%
---
The major means of transport in Australia are planes, trains and automobiles.
Airports: 448 (2004); runway over 3km: 10; and runway over 2.5km: 12
Highways: 811,603 km (Read about driving in Australia)
Railways: 54,439 km (Read about train travel in Australia)
Waterways: 2,000 km
---
Some miscellaneous facts on Australia:
Currency: Australian dollar (AUD or AU$)
Read more about the Australian currency
Telephone System: Excellent domestic and international service, country code -61
Time Zones: UTC +8 to +10, with daylight saving +11. (More on time zones and daylight savings)
---
You can find links to more detailed facts on Australia at this page: Australia Facts
Return from Facts on Australia to Outback Australia Travel Guide home page