4WD trip Coober Pedy to Arkaroola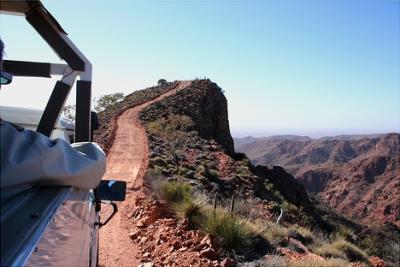 Ridgetop at Arkaroola
Is it feasible to drive from Coober Pedy to Arkaroola within one day using a 4WD car? This trip will be part of a 10 days travel from Alice Springs to Adelaide in the period 3/1/08 till 12/1/08.
Thank you in advance for a quick reply.
Kind regards,
Jos & Rosita


Response to:
4WD trip Coober Pedy to Arkaroola
Hi Joe & Rosita
I'm embarassed to admit that I had to look up where
Arkaroola
is. Wow! It's time I finally make it down south to the Flinders Ranges.
Driving there in one day from
Coober Pedy
...
Hm, difficult question. That's a good 600 km on roads that may or may not be pretty rough. I assume you are asking because you just do not have the time for one more stopover?
It can be done if there has been no rain and if all the roads are in good nick. If that's the case then it shouldn't be too much of a problem.
But the weather has now become so erratic that just about anything could happen. And I'm not sure how often those roads get graded, and when. It could also turn into an awfully long day, and you risk that the weather or the road conditions ruin your plans, because you don't really leave any breathing space in the schedule.
Have you contacted the people at Arkaroola with that question? I think they would know the roads in the area better than I do. I'm sure they have many visitors coming from or leaving towards Coober Pedy, so they may even have experience with that particular question.
Photo by FourthFloor
---
Return to Outback Australia Travel Guide home page