A little bit of "Old Spain" in Western Australia.
by Chris Ryan
(Perth WA.)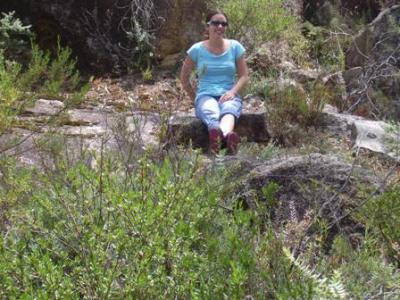 Jo, Jo
An Aussie adventurers trip to New Norcia.

Date Line: 5 am Oct 28th 2007
Here we are (Chris Ryan & my lovely assistant Jo, Jo) about to set off on our wonderful adventure tour to New Norcia and then on to Geraldton.

The weather is dry and warm with temperatures expected to reach 25c to 30c / 77f to 90f.

We are driving North from Perth's northern suburbs towards New Norcia, about 11/2 hours by car.
As we left home I noticed the sun rising in the eastern sky, and what a beautiful dawn it was as the the rising sun lit up the bottom of the clouds in vivid oranges and yellows interspersed with darker patches not yet exposed to the new sunlight. Certainly a dawn to cherish.

Arriving at New Norcia at 6.30am we have a look around.
At 1st glance, New Norcia appears to be a bit dry and dusty but nothing could be further from the truth.
The town of New Norcia is unique in Western Australia as it was designed and built as a little bit of Spain nestled in the heat of the Western Australian wheat belt. Truly amazing as you pop over the top of the hill and there it is, New Norcia, a little bit of Spain in the 1800's.

New Norcia is steeped in the history of the area's early days and the Benedictine Monks will be delighted to show and explain to you the areas history and highlights.
In the monastery you will see the wonderful icons and paintings not only of the early monks themselves but of many religious paintings drawings and icons of this early era.

Part of the appeal of New Norcia is that it is, in many ways, a living museum.
New Norcia has an info bay, Police station, Pub (hotel), accommodation, fuel, eats and drinks and several churches plus the not to be missed monastery.

There is a typical country pub at New Norcia which serves good meals, so no need to go hungry.

Plus of course there is the magnificent monastery which you can tour. You should see the inside of the absolutely magnificent New Norcia Monastery.

New Norcia is an ideal day trip from Perth and should not be missed.

Anyway, time to move on northwards, towards Geraldton 292km / 144 miles.

There are plenty of coastal towns between Perth and Geraldton where you can enjoy the sun, surfing, fishing and sight seeing.

These towns are worthwhile destinations in their own right.

It is absolutely beautiful driving along this highway with the air conditioner running and the music cranked up. Off the sides of the road there are massive displays of wild flowers in all of the colours of the rainbow.

The wildflowers are right beside the road.
And there are fields of them. And even more fields of wildflowers.
As you wander amongst the wild flowers you can smell the delightful aromas emanating from them.
I reckon there are about 100 types of wild flowers just in this one spot, incredible.

Just up ahead on the left side of the road there is a mob of kangaroos.

Time to slow down to avoid hitting a 'roo.

They are inclined to cross in front of a car and if you hit one it's bye, bye trip, a damaged car and a dead 'roo, so slow down, the 'roos will thank you and you will be able to complete your trip.

There must be 200 to 300 of them and Jo has never seen a big mob before.

1/2 an hour out of Geraldton and Jo and I pass a dozen emus standing on the road verge, they are healthy looking, fully grown birds who didn't seem at all bothered by a roaring V8 heading in their direction.

Ahh!! we have just topped the hill and there is Geraldton laid out before our eyes.

But that's a story for later.
Chris and Jo.

For a great vacation in a Sun Drenched Paradise visit http://www.perth-getaways.com

Join in and write your own page! It's easy to do. How? Simply click here to return to Outback Travel Tips.
---
Return to Outback Australia Travel Guide home page