Aussie want to travel, very little money...
by Megs
(Brisbane)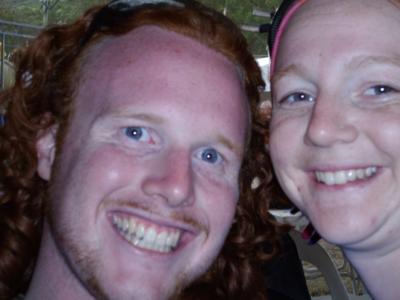 Me & My Lil Bro
Hi mate, I really want to travel around (home) prob with my brother, but don't know how to start. If I get a kombi (that I have always wanted!), how do I go traveling about and the cost as I have very little cash (and debt to get the kombi... yet worth it !!!!!)

I have worked in bars and admin, my lil Bro Young with some job skills, festivals and stuff. If you have any info that could help us plan that would be great.
Thanks mate, hope to hear from you soon.
Megan.

Re: Aussie want to travel, very little money...
Hi Megs,
I like your photo :-).
Well there isn't much you can plan. You just jump in the kombi and go, and find jobs on the way.
One good way to minimise the costs of travel is to offer other people a ride and share the fuel costs. If you find two backpackers to come with you for any long drive that you plan, then you cut your costs in half.
In the past the good old notice board in the backpacker hostels was the best place to offer rides and find people. These days you can also do it online (for example on sites like
www.shareyourride.net
). Though I still think the best way is to go to the hostels directly.
As for finding jobs, it's a bit hard to give specific advice, not knowing where you want to go, when and for how long. Every area is different, but I never had a problem myself finding work in any part of Australia.
If that aspect really worries you, then just follow the harvest trail.
Fruit picking
may not be the most lucrative or cushiest job out there, but the good thing about it is that there is always something in need of picking somewhere, so if you are really stuck for money, you can make some.
Similarly, you can't go much wrong if you arrive in touristy areas at the very beginning of the tourist season, 'cause everybody will be looking for staff then.
It's just a matter of being in the right place at the right time. In my experience, the closer you are to the big cities and the populated areas of the south and east, the harder it is to find work. The more you get away from that, the easier it becomes.
It also becomes easier to find the necessary information. Just talk to the people you meet, and they will point you in the right direction.
For accommodation, just stick to the hostels like the backpackers do, or get some camping gear and live out of the kombi.
In the hostels and campgrounds you'll also meet lots of other backpackers and Aussie travellers, doing the same thing, and they will help you with tips and their experiences.
Such a trip is the kind of thing that you just do, and you learn as you go.
Anyway, it wouldn't hurt if you had a least some cash in your pockets when you first get going, to see you through until you figure out how the whole living on the road thing works.
Then just pick a place that you've always wanted to see, and go. (Or throw a dart at a map if you can't decide...)
I know, to actually jump and do it is the hardest step. Everything after that will be easier!
I believe it's something that everyone should do for at least a year, at least once in their lives :-).
Join in and write your own page! It's easy to do. How? Simply click here to return to Australian Outback Travel Questions.
---
Return to Outback Australia Travel Guide home page