Australian Outback Hats

"If you go to Australia you need a hat. You may as well
look the part and make it an Australian Outback hat!"
Australian Outback hats are an essential part of our "traditional uniform".
Once you leave the populated coastal areas and the big cities you will see hats of all makes, styles, colours and materials on heads everywhere.
If you go to Australia you need a hat, and you may as well look the part and make it an Australian Outback hat.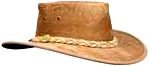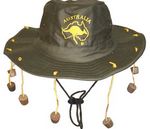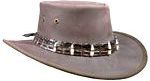 Outback hats protect the hard working men and women in the Australian Outback and people anywhere else in rural Australia from the sun, heat, rain or snow. I have one, my friends do, everybody I know has an Australian hat of some sort... (Though nobody has corks dangling from it or a fly net with it. That stuff is strictly for tourists...)
You could say the Outback hat is the Australian version of the American cowboy hat. It was developed under similar circumstances. The early Australians needed better than average hats, similar to the Americans of the West. And just like those Americans the Aussies had to make the hats themselves.
The resulting Australian Outback hat is nowhere near as drastic as the American cowboy hat. The teardrop shaped crown is only about 4" high, and the brim usually 3" to 4" wide. That brim is only slightly rolled up on the sides, and may be turned down at the front and back.
Outback hats can be made from a variety of materials such as different leathers, fur felt, wool felt, straw or canvas.
Australian Outback hats make a great gift or souvenir, and not only for tourists. Take our famous Akubra hat: it very much has icon status and is the national gift that is presented to visiting statesmen.
Australian Outback Hats - Brands And Styles
Akubra Hats
Akubra has been making Australian Outback hats for over 100 years, though the trade name "Akubra" has only been used since 1912.
Benjamin Dunkerly started the hat making business in 1874 in Tasmania, and in 1902 was joined by Stephen Keir I. Stephen married Benjamins daughter, and the Akubra hat business has been in the hands of the Keirs ever since. The current general manager is Stephen Keir IV, the son of Stephen Keir III... How much more traditional can you get?
Akubra hats have stood the test of time in the Australian Outback and all over the world, and they still do. A result of a dedication to quality that you only find in owner operated factories...
So what exactly are the features of an Akubra hat?
This particular Australian Outback hat is made from rabbit fur felt, preferably from wild rabbits, which gives a better quality fur. Inside the hat is a leather sweatband which should be the only part of your hat that touches your head.
The most popular style is the "Snowy River".
(It was Disney's release of "The Man From Snowy River" that made the Australian Outback hats popular in America.)
The Snowy River is a pre-creased stockman's hat (a stockman is an Australian cowboy), sides rolled up, front and back turned down, with a 3.5" brim. This hat will be recognized everywhere as an Australian Outback hat...
BC Hats
BC stands for Bill Conner. Bill was the man who created Australia's first leather hat with a shapeable brim (by inserting wire into it). Though he started out making leather goods of all kinds (in 1969 sandals were still his biggest seller...) his hats soon became the most popular product.
His original design and construction method is world renowned today, and the quality is unsurpassed. Another owner operated family business...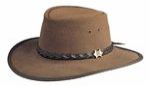 Bill Conner's original Australian Outback hat style is "The Stockman".
It's made from very durable steer hide and will adapt perfectly to the shape of your head within a short time making it very comfortable to wear.
The brim is reinforced with fencing wire and can be shaped, and the sweatband is made from soft suede. This hat really is an Australian icon, too, and recognized worldwide.
Barmah Hats
The unique feature of Barmah Hats is that they are flexible and foldable (not a bad thing if you are a traveller). They call those foldable Australian Outback hats "Squashy". The original term was "hat-in-a-bag" and it does indeed come in a bag.

The Squashy hats are made from Australian kangaroo leather which is the strongest leather for its leight weight (you can get cow leather hats and canvas hats, too). Barmah also has those Crocodile Dundee type hats with crocodile leather hat bands and crocodile teeth.
I guess the Barmah hats are great for tourists. The light weight of the kangaroo hats and the fact that they can be squashed and packed makes them easy to take home. And the crocodile teeth stuff is more popular with tourists than with us, too. We just want to keep the sun off our heads...
Cork Hats
An Outback hat with corks on strings to keep the flys of your face. Does anybody really think we'd wear something like that? Or that it would work? Just wondering...
It's the best Australian Outback hat for fancy dress parties, though...
What kind of hat do I wear?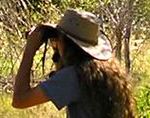 Actually, I don't know, it doesn't say.
It's comfortable, it was very affordable, and it keeps the sun off my head...
---
Read more about the Australian Outback
Return from Australian Outback Hats to Outback Australia Travel Guide home page