Camping in Oz with a dog and a 2 year old
by Ian Godwin
(Forster, NSW)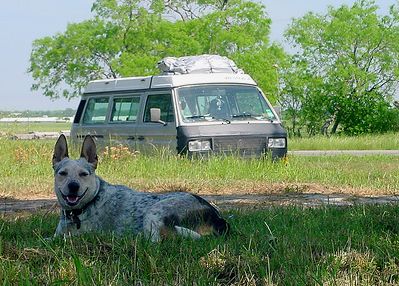 Camping With A Dog...
We will be traveling in a tent around Oz for a year or more. 2 adults, a 2 year old boy and a 6 year old cattle dog. Sydney, Adelaide, Alice Springs, Darwin, Broome, Perth and on. We want to see and do as much as we can leaving in March.

We would like any tips on travel, accommodation tips and sites, finding work, things to see and do. Please don't say leave the dog at home as we are his home. Though good tips will make our trip great.


Response to: Camping in Oz
with a dog and a 2 year old
Hi Ian,
I will focus most of this answer on the camping with a dog question
, since this is the only specific issue you bring up. For your general request for tips please see the website. Whatever knowledge and tips I have to offer are covered there, about 200 pages of information...
With big cities (Sydney, Adelaide, Perth) I can't help at all. Haven't been to any in many years...
Finding work:
by far the best part of Australia to find work is the north west. Darwin, Kununurra, and then along the west coast... That part of Australia has exploded with the mining and resources boom. There is also plenty of work, any kind of work, during the tourist season from May to October.
For more info and resources see the
work and travel Australia
section. It is directed at overseas travellers with working holiday visas, but anybody travelling and working should find useful info there. (There will be more pages coming in the next two weeks, I just started making that part.)
Ok, camping with a dog:
This one comes up every now and then and there is no info on the site yet, so thanks for asking.
If you are set up for bush camping then I can't recommend
Jan Holland's books
enough. Don't look at buying those books as an expense, it's an investment. She will save you loads of money. And for every campsite she covers she tells you if pets are welcome or not.
At most campsites in the books pets are welcome!
Unfortunately she only has books about the Northern Territory and Western Australia, but I think you will find that this is the part where you need help the most. It is a lot easier in the more populated parts of Australia to find pet friendly sites and also to find people happy to look after a dog for a day or two.
Of course, you may not want to do anything where you can't take the dog, but keep in mind that
you can't take the dog into any national parks, conservation parks or nature reserves
, and that pretty much ALL the attractions in the centre and across the north west lie within some sort of protected area.
Here is another book that may be of interest to you:
Holidaying With Dogs
(not available at this link any more)
I don't know it, but it looks real good to me. I suspect that it will be thinner on info for the remoter areas and have more for the south east, so it may be a good addition to Jan Holland's books.
Another book is
Bush Camping With Dogs
. Also don't know it so I can't say much about it.
This is what the authors say about it:


Featuring more than 1100 campsites which allow dogs in over 500 parks, reserves, forests and rest areas around Australia.


The book includes location maps and campsites for each state with a full table of facilities and activities for each location.


All contact details now provide web links where applicable with the rear of the book comprising an index to campground and camping area place names.


I guess which one you get depends if you want to focus on bush camping or more on commercial campgrounds.
I hope that gets you started. I don't have any personal experience to share as I leave my dog at home. (She'd freak if torn out of her usual surrounds...)
If any readers have anything to share it would be great to hear from you in the comments!
And if you yourself come across any good finds, or would like to
tell us about your experiences
when you get back, it would be fantastic. You are certainly not alone in your wish to take your dog camping, and it is near impossible to find good info for travelling dog owners.
Photo by R Peterson
---
Return to Outback Australia Travel Guide home page