Best Time To Visit Outback Australia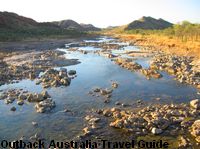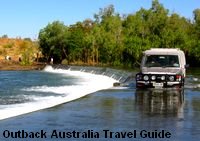 "When is the best time to travel through Outback Australia?" is a question that I hear asked a lot. There is no simple answer to it.
It depends mostly on where you want to go. The Outback in Australia is huge and spans several climate zones. (We will look at them on this page.)
It also depends on what kind of activities you are interested in and by which means you travel. The weather will be of more importance if you want to go camping. Or if your car doesn't have air conditioning. Or if you want to go swimming.
In my opinion any time is a good time to visit the Australian Outback. There will always be a part of Australia for which the time you chose is just perfect...
The Arid Regions of Outback Australia
The weather in arid inland Australia is characterised by extremes, hot days and freezing nights. Overall there are hotter days and milder nights in summer, compared to bearable days and freezing nights in winter. You choose. Of course keep in mind that the seasons are opposite to the northern hemisphere's.
I should mention here that the temperatures alone don't tell the whole story. Humidity is a huge factor as well. The drier the heat the less you will feel it. Less humidity and cloud cover also means that heat is not retained at night. You can have very hot days but the nights are still pleasantly cool. Very hot in Alice Springs feels a lot better than somewhat hot in Darwin. Always look at temperature and humidity, like this map does.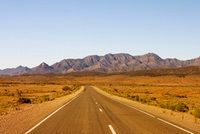 Having said that, the driving distances in Outback Australia are huge and if you are driving you will spend a lot of time in your vehicle.
If you want to drive through Outback Australia in summer do yourself a favour and make sure the car has air conditioning.
I'll tell you a "secret" for how to deal with the heat. Drink, drink, drink! Water, that is, not sweet sodas. If you go for walks always take a water bottle. As I said above, you don't feel the heat much if it is dry, but you will lose even more moisture. Drinking enough water is the single most important thing you can do to feel well in higher temperatures! It can make all the difference.
Northern Outback Australia
Northern Outback Australia is tropical and has a distinct dry and wet season. The dry season from April/May to September/October is considered to be the best time for travel with pleasant day temperatures and mild nights. Beginning and end of 'the Dry' can be hot and humid, with temperatures up to 35oC (95F) and above. On the plus side there are fewer tourists and lower prices.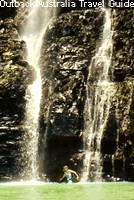 The 'Wet' is considered by many locals to be the best time of the year in the Outback in Australia.
It is the breeding season and wildlife abounds. Our red world gets covered in a lush green lacework of fresh vegetation and all the waterfalls in our favourite swimming spots are raging.
Of course it doesn't rain every day, most rains happen in the evening or wee hours of the morning. The lightning show accompanying the tropical thunderstorms has to be seen to be believed.
But travel can be restricted. The many unsealed roads in Outback Australia are closed, and even highways get cut off at times. It is something I would only recommend to people who have a lot of time. (And did I mention another reason why we locals love the Wet? We have the place to ourselves again.)
For the advantages and disadvantages of travel in the North at different times of the year see this page in the Kakadu National Park section.
Find more articles and information about the Australian Outback, like:
---
Return to Outback Australia Travel Guide home page.